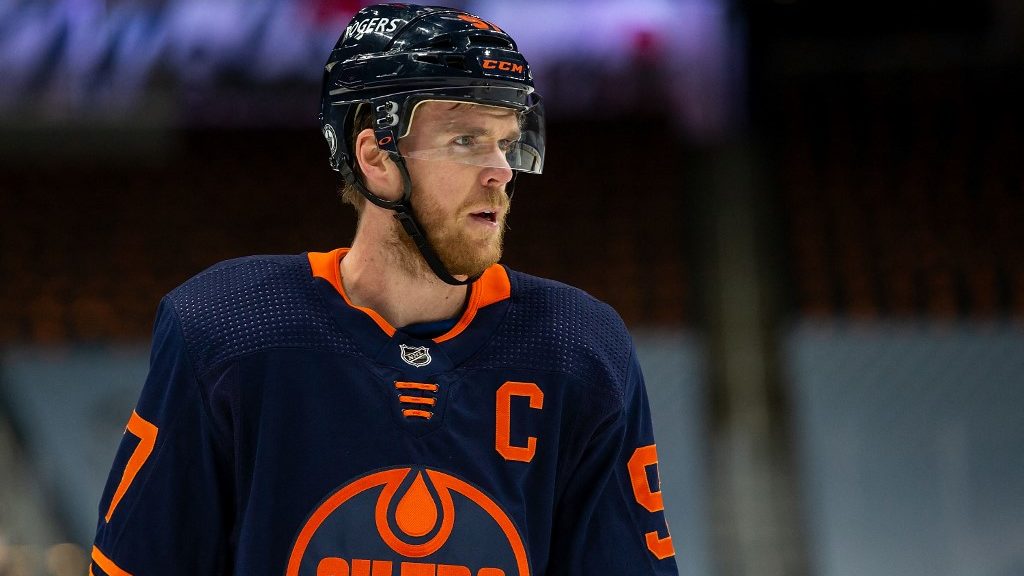 Is there anyone that can give Connor McDavid a run for his money in the race for the 2022 Hart Trophy? If the NHL odds were any indication, the answer is a resounding no. McDavid is the short-odds-on favorite by a country mile, no matter which sportsbook is in question. The next best bets are more than double the odds on McDavid.
In this column, we look at other Hart Trophy candidates and review their NHL odds for the prestigious honor. McDavid may be the favorite, but that doesn't mean that he's a sure bet to win it. Winning back-to-back Hart Trophies is no mean feat. And it's been over a decade since Alexander Ovechkin won the award in consecutive seasons (2008 and 2009).
Connor McDavid, once again, leads the race for the Hart Trophy in 2022. The Edmonton Oilers star is priced at +250 odds with Bovada (visit our Bovada Review) to win a career third Hart Trophy and a second in as many seasons.
McDavid set the league ablaze in his first NHL season, and he hasn't looked back since he was drafted first overall in 2015. He's won two Hart Trophies in his career, including the 2021 Hart Trophy after leading the league with 105 points and claiming the Art Ross Trophy. He's only 24 years of age, so the sky is the limit for the league's pace-setter.
To date, Wayne Gretzky owns the record for the most Hart Trophy nods. The Canadian legend won an incredible nine Hart Trophies in his illustrious career – eight straight between 1979 to 1988 and one more in 1989. Fellow Canadian, Mario Lemiuex, disrupted Gretzky's stranglehold on the honor.
Since the Great One's run, only Dominik Hasek and Alexander Ovechkin have won two straight Hart Trophies. So, if McDavid comes through on his favorable NHL odds at the end of 2022, he would join an exclusive group of NHL players.
Nevertheless, it's going to be challenging for McDavid to pull off the feat in 2022. Never mind, duplicate his 2020-21 campaign. McDavid finished with 21 points more than his nearest rival, Leon Draisaitl (84). McDavid and Draisaitl finished in the Top 2 in 2019-20 as well, but the competition was much closer that season.
The 2020-21 NHL campaign was unprecedented and featured several key changes to the league's schedule and format. Namely, the Edmonton Oilers were lumped into an all-Canadian group due to the pandemic-induced travel restrictions imposed between the United States and Canada. It's fair to say, with games against the Calgary Flames, Vancouver Canucks, Winnipeg Jets, Ottawa Senators, Toronto Maple Leafs, and Montreal Canadiens alone, the competition was questionable over the course of the 56-game NHL season.
The NHL is planning a return to normal when the 2021-22 season gets underway. This means McDavid and Draisaitl will be faced with stiffer competition and challengers again. According to the NHL future odds, those are Nathan McKinnon (+650) Austin Matthews (+700), Nikita Kucherov (+800), David Paternak (+1200), Artemi Panarin (+1200), and fellow teammate Leon Draisaitl (+1200).
By all accounts, Austin Matthews strikes an interesting pose as a value bet beyond McDavid for the Hart Trophy. Matthews led the league with 41 goals and at +700 to win the Hart Trophy he strikes an attractive pose. The Maple Leaf's center is coming off a stellar season, although the Leafs crashed and burned in the first round of playoffs (l. tp Montreal Canadiens). If Matthews can bounce back in 2021, he's certainly going to be a player worth considering. The Leafs are amongst the Top 10 Stanley Cup bets in 2020 NHL Futures.
Arguably, though, Nathan McKinnon at +650 is a value bet worth considering. The Colorado Avalanche is amongst the top favorites to win the Stanley Cup in 2022 after clinching the President's trophy this year. The Avs. fizzled in the second round of the playoffs, but they're primed for a solid return. A lot of Colorado's success will depend on how McKinnon plays. That in of itself makes McKinnon worth a tickle for NHL picks.
Alex Ovechkin, who is chasing Wayne Gretzky's record goal tally, is an interesting longshot bet to consider for the Hart Trophy. The Washington Capitals captain recently signed an extension with the franchise that will see him play for another five years. Ovechkin has 730 regular-season goals. He's 164 goals shy of Gretzky's record of 894.
Ovechkin would need to average 33 goals a year for the next five seasons to break Gretzky's record, which is a tall order seeing as he's no spring chicken anymore. However, the Russian has made no secret about his ambition to try to match Gretzky. That could be a huge motivating factor for 2022, now that he knows he's going to remain a Capitals for the foreseeable. It could propel him towards a banner season. It's a longshot bet, but it is something to consider outside of the Top 5 bets. Ovechkin is priced at +3300 to win the Hart Trophy.