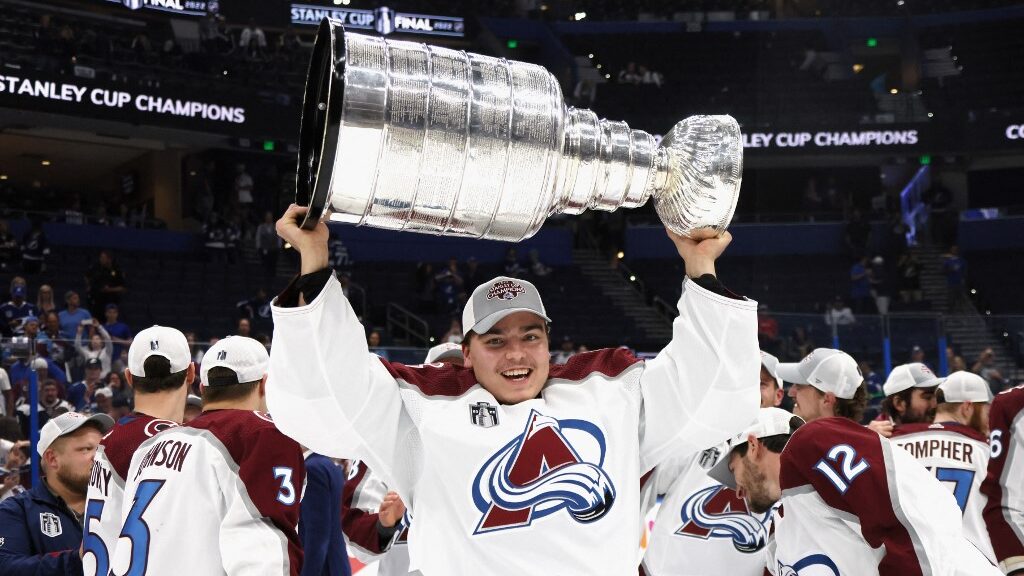 The sportsbooks got the NHL futures market bang on the money this season as the preseason favorites Colorado Avalanche went on to lift this year's Stanley Cup at NHL odds of +600.
Tampa Bay was this year's runners-up and priced at +800 preseason to lift their third Stanley Cup in a row, but it wasn't to be as the Avalanche came out on top to claim the top prize in the NHL since 2001.
What's next for two of the best teams in the NHL? Will we see a decline in Tampa? Are the Avalanche creating their own dynasty?
Avalanche vs. Lightning 2022 Series Recap
Game 1
The first game of the series started off in a very competitive fashion as the game ended 3-3 and went to overtime, something we thought we would see a lot more of in the series, but it was only one of two games throughout the finals that the two teams went to overtime.
Colorado took game one in overtime, just 83 seconds after it began.
Game 2
Game two of the series was an absolute blowout with Colorado winning 7-0, it well and truly looked like the fatigue of the previous two seasons and their current Stanley Cup run had set in for Tampa, but they fought back.
Game 3
Down 2-0 but facing back-to-back games on home ice the Lightning came up with a 6-2 win in game three to claw back the series, then the pivotal game.
Game 4 and Game 5
Tampa Bay on home ice had a chance to bring it 2-2 and put themselves right back in contention, but it wasn't to be with an overtime winner for Colorado.
Tampa Bay took the next game 3-2 in Denver but with the Avalanche needing to win just 1 of the next three games it was always going to be an uphill battle for the back-to-back Stanley Cup champions.
Series Final
Undoubtedly the most boring game of the series was the final one in which we had seen just three goals scored in a 2-1 Colorado win.
Overall Tampa Bay tried to make the series competitive, and they can thank goaltender Andrei Vasilevskiy for even keeping them in it for six games.
Tampa Bay looked jaded and tired and their new 3rd line combination didn't produce the goods, but kudos to them for making it to three Stanley Cup finals in a row.
What's Next for Colorado Avalanche
First things first, Colorado is now 2023 Stanley Cup favorites at +500 with BMR's top-rated sportsbooks and betting sites. No surprise there, but will they be able to go back-to-back? They certainly have the roster and now belief to do so.
Colorado not only beat any old team in the finals this year, but they also beat the best team over the previous two years and then-current champions, they dominated Tampa Bay in the series final, and things can only go up from here.
Whether the Avalanche have the ability or true grit to see back-to-back Stanley Cups is debatable from our end, sure they are an amazing team, and will most likely go deep in the playoffs for the foreseeable future but back-to-back cups in today's world is pretty hard and the fact Tampa made it to three finals in a row is extremely impressive, especially after they lost their whole 3rd line.
Avalanche Roster Highlights
The good news for Colorado is most of their main roster is under 30 and they have the 12th youngest team in the NHL, they will certainly be a force to be reckoned with and although they still have some gaps to fill in the off-season, they should keep the core of the team.
For us, the Avalanche can win another Stanley Cup in the next 2-3 years, it's just hard to tell if they will be able to go back to back.
What's Next for Tampa Bay
No one can question Tampa Bay's defeat in the finals this year, they have done so off the back of two Stanley Cup championships which is impressive enough without getting to three Stanley Cup finals in a row, it's crazy to think that the previous three finals have all featured Tampa Bay.
Undoubtedly any team featuring Andrei Vasilevskiy in the crease along with Victor Hedman, Steven Stamkos, and Nikita Kucherov have a great chance of going deep again next season. Tampa Bay's current NHL odds to win it all next season is +900.
This is still a force to be reckoned with but they do have an aging roster and Nick Paul along with Ondrej Palat are unrestricted free agents this offseason and it could be difficult to keep both.
We are confident whether they stay or go this will be a strong team again next year, but at what stage do the Lightning stop going for glory and start the rebuild? We reckon next season could be their last hurray before they attempt a rebuild.
Lightning Roster Highlights
Either way, they are to be respected next season, another Stanley Cup appearance might be just beyond reach as they no longer have "the best" roster in the league, and many teams who underachieved this season will undoubtedly have improved, we see the Lighting making it to the playoffs but how deep they will go only time will tell.
*The line and/or odds on picks in this article might have moved since the content was commissioned. For updated line movements, visit BMR's free betting odds product.