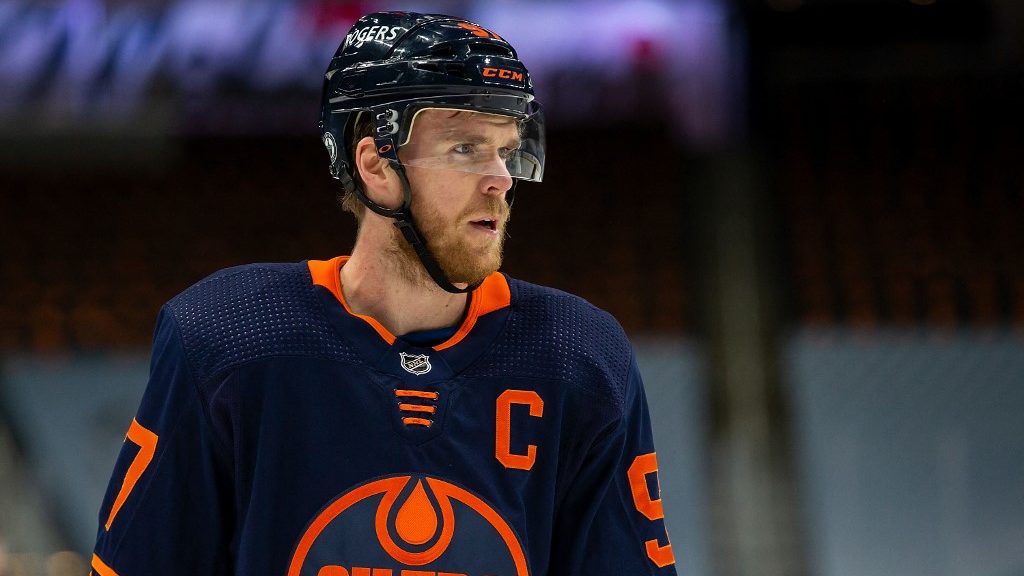 Connor McDavid leads the charge in 2022 Hart Trophy betting, a good distance ahead of his nearest challengers Nathan McKinnon, Austin Matthews and Nikita Kucherov.
As per BetOnline Sportsbook (visit our BetOnline Review), the Edmonton Oilers star is priced at +200 while McKinnon comes in as the second-best bet at +600. Matthews and Kucherov are tied as the third-best bet at +1100. (See Top 20 bets listed below with Harty Trophy odds included). Kucherov won the Hart Trophy in 2020 on the heels of a standout season that saw the Tampa Bay Lightning win their first of back-to-back Stanley Cups.
McDavid had a standout 2021-22 campaign, even though the Oilers were eliminated in the first round of the playoffs pretty badly. McDavid put up an NHL-leading 105 points and claimed the Art Ross Trophy, He was also the Hart Trophy winner, getting the MVP nod for the second time in his career. McDavid first won the coveted honor in 2017.
Can McDavid win a third Hart Trophy in 2021-22? Evidently, bookmakers seem to think so, giving McDavid the best odds in a wide field of contenders across multiple sports betting platforms. It's worth noting that no player has won back-to-back Hart Trophies in a decade – so, in a sense, its possible to suggest that McDavid is a longshot NHL pick as a result of this interesting NHL trend.
If there was a player that could snap that trend, it's probably McDavid. Since being drafted first overall in 2015, he's taken the league by storm. And at merely 24 years of age, he's barely hit peak potential in the eyes of many. In five seasons, McDavid has put up 100-points or more four times. What's most impressive about last season is the fact that he put up more than 100 points in what was an abbreviated season due to the coronavirus pandemic.
McDavid and teammate Leon Draisaitl are an incredible pairing and one of the league's best two-punch frontline players. It's clear that they compliment the others' game nicely, as they've taken it in turns winning the last two Hart Trophies. The 2020 winner, Leon Draisaitl is the fourth-best bet at +1600.
Austin Matthews was the league's top scorer in 2020 and he strikes an attractive pose as the alternative bet to McDavid at +1100. Certainly, there's more value in Matthews for NHL picks, who actually finished in second-place behind McDavid in the voting.
McKinnon is coming off a standout season with the Colorado Avalanche, who won the President's Trophy. But an early exit in the playoffs marred his 2020 campaign. He'll be motivated to atone for his side's postseason shortcomings, which could see him give McDavid a run for his money as the second-best bet. McKinnon finished third overall in the voting for the Hart Trophy.
Kucherov as the joint third-best bet with Matthews is an intriguing prospect. The Russian is talented and a former winner. However, taking the shine off of his NHL odds is fitness. He's suffered several injuries in recent seasons, including missing a good chunk of last season. A similar such occurrence would negate him from consideration.
Other noteworthy names on the list include former winners Sidney Crosby (+2800) and Alex Ovechkin (+3300). Crosby won the Hart Trophy in 2014 while Ovechkin seized it in 2013. In the meanwhile, Taylor Hall won the award in 2018 when he was playing for the New Jersey Devils. He's since been traded to the Boston Bruins, but he doesn't even make the shortlist of contenders.
BetOnline Sportsbook Odds – Hart Trophy Odds
Connor McDavid +200
Nathan MacKinnon +600
Auston Mathews +1100
Nikkita Kucherov +1100
David Pastrnak +1600
Leon Draisaitl +1600
Artemi Panarin +1600
Sebastian Aho +1600
Mikko Rantanen +1600
Andrei Vasilevskiy +1600
Brayden Point +1600
Mitch Marner +1800
Brad Marchand +2000
Mathew Barzal +2000
Patrick Kane +2000
Cale Makar +2800
Alexander Barkov +2800
Mark Stone +2800
Jonathan Huberdeau +2800
Sidney Crosby +2800
Alex Overchkin +3300