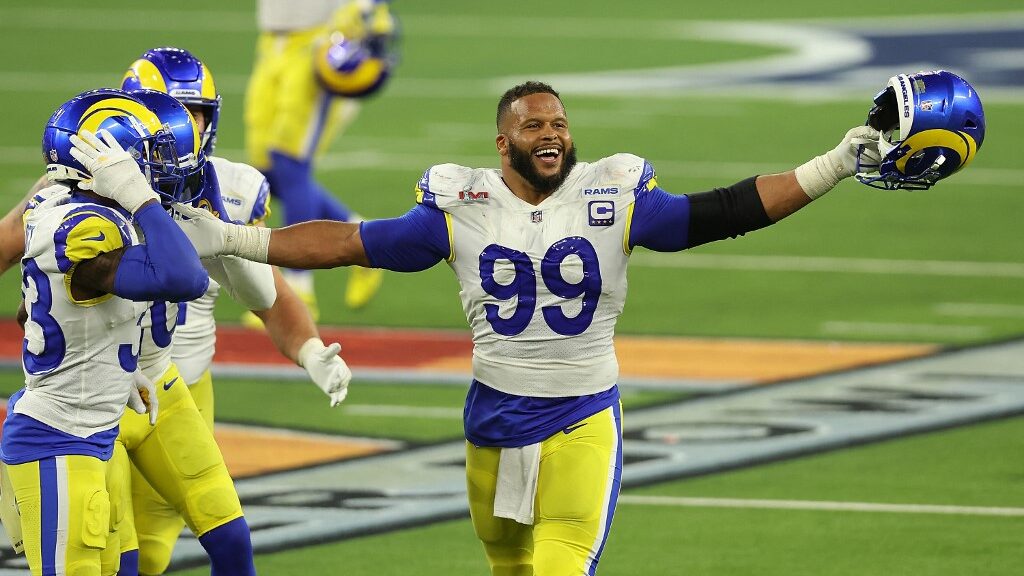 The Los Angeles Rams won it all last year, and they are in a great position to make it back to the Super Bowl this season. That is because of the front office's eagerness to invest in star players. They happily give away draft picks and pay players on the roster what they deserve to make. In key moments, the top-level talent made plays that carried the Rams to glory.
One of the best players on the roster (and in the NFL) is Aaron Donald. Donald is a freak of nature, and he made key plays in the final seconds to secure a win for the Rams.
He now has a restructured deal, and is the highest-paid non-quarterback in the NFL.
You can't deny his talent, but is Donald being overpaid? Here is why he is worth every penny of his restructured contract. After all, he's an interior defensive lineman making more than any:
Left Tackle
Corner
Receiver
Edge Rusher
We'll start simply with his talent. This is what Aaron Donald does that sets him apart from other defensive linemen.
Aaron Donald Is a Game-Breaker
You've seen large defensive linemen. You've seen athletic NFL players. However, you've never seen someone do what Aaron Donald does as an interior pass rusher. He single-handedly breaks games with his speed and strength.
Speed
Donald can destroy running lanes on every down and get to the quarterback in a flash. No interior lineman stands a chance without help, and he can still beat a triple-team on occasion.
Strength
While Donald sees half the offensive line trying to stop him, other pass rushers can get to the quarterback without hesitation. His value goes beyond his personal stats.
There's a unique value in having an interior pass rusher. Quarterbacks can usually step up in the pocket to avoid someone coming off the edge. If someone comes up the middle, a quarterback has nowhere to go. That is why Donald's consistent ability to break the pocket is so valuable. He wears down interior offensive linemen and makes plays for four quarters.
While Donald's play has value, this also makes sense for the Rams specifically. This is why they wanted to pay Donald so much.
Rams Culture
The Rams are seen as a good team to play for. You're playing for a young coach who understands players, in one of the best cities in the country with a new stadium. You're also competing for championships.
What really sets the Rams apart, though, is the fact that they take care of their own players. Every team has to make business decisions, but the Rams won't take advantage of their key stars. They make massive trades to get better, and they will restructure deals when they need to.
This helps morale and chemistry, but it could help in free agency as well. Teams want to play for the Rams, and they feel comfortable working with that organization.
Aaron Donald was simply underpaid before, so he deserved a raise. This new contract pays him what he deserves, and it is a sign to every free agent that the Rams will take care of you if you are performing well. Even if the Rams didn't want to pay, however, they were in a sticky situation.
Donald Had All the Leverage
Aaron Donald had the leverage in this negotiation. He's easily been the best defensive player in the NFL over the past few seasons. He made game-changing plays in the Super Bowl, and the Rams realize they have a short championship window.
Without draft picks, they can't pivot out of this situation. They have to double down and invest in franchise cornerstones right now.
The Rams have +1200 odds to win the Super Bowl next year. Donald had to come back for them to have a chance, and he was seriously considering retirement. He had to be paid significantly to stay in the NFL, and the Rams knew that.
You couldn't justify underpaying Donald anymore, and we're in a rare situation where everyone wins. Well, everyone except the poor offensive linemen tasked with blocking Donald this year.