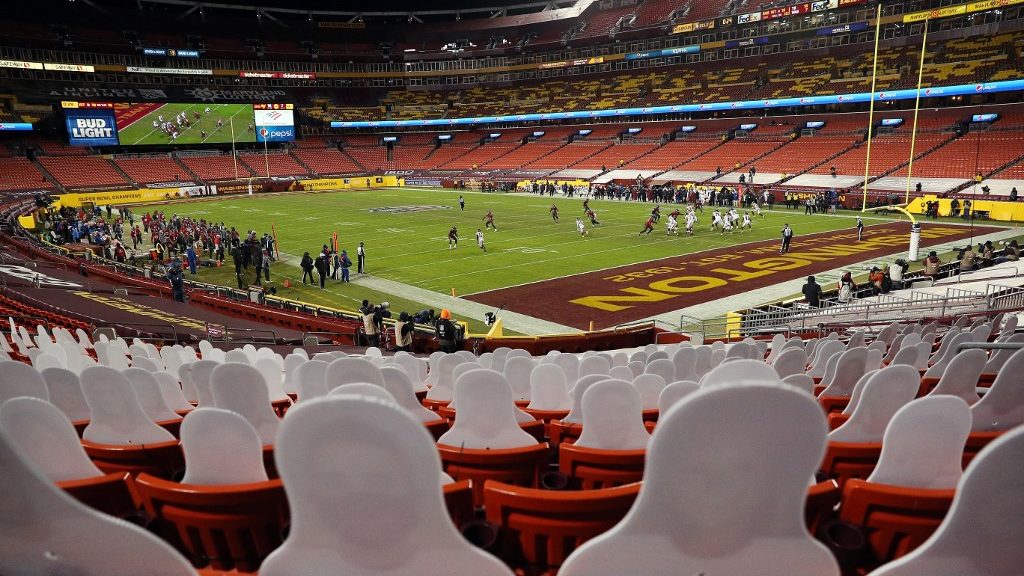 The Washington Football Team plans to play one more season under this moniker before unveiling a new name for 2022. As they can honor the great 1991 Super Bowl team for their 30-year anniversary, it is a stark reminder of just how little success Washington has had in the salary cap era. The team is trying to win its first playoff game since the 2005 season and make consecutive trips to the playoffs for the first time since 1990-92.
But to say Washington is coming off a good or even normal playoff season would be a lie. By coincidence, head coach Ron Rivera has twice won a division without winning more than seven games. His 2014 Panthers won the NFC South with a record of 7-8-1 and now his first year in Washington saw him overcome a 2-7 start to finish 7-9, beat cancer along the way, and claim a division title in the worst division race in modern NFL history.
Enter quarterback Ryan Fitzpatrick, who is on his ninth team in 17 seasons. He has never been to the playoffs before, but he picked the right division to give it another shot this year. Many of the top sportsbooks have Washington with an over/under of 8.5 wins, which puts their expectations in second place in the division. Can Fitzpatrick finally taste the postseason?
On the Last Season of Football Team: A Movie Script Ending (Almost)
Washington's rollercoaster season took many twists and turns. Few would have imagined a win in Week 1 after the Eagles opened a 17-0 lead, but the defense set up short fields for Dwayne Haskins and the offense to take advantage of in a 27-17 comeback win. That ended up being the last win Haskins would start for the team. His poor play and work ethic led to him being benched after four games and eventually released in December after just 13 starts with the team. Ron Rivera went with Kyle Allen, who he also started in Carolina in 2019. Allen ended up producing the best stats of any Washington quarterback in 2020, but injuries ended his season after four games.
Rivera was reported to be battling cancer during the season, but he never missed a game. His new quarterback, Alex Smith, had not played since suffering one of the worst leg injuries football has seen in 2018. Neither Smith (34.8 QBR) nor Haskins (31.0 QBR) had enough snaps to qualify for ESPN's QBR, but they would have been the bottom two among 2020 starters. However, the offense showed a little more life under the veteran Smith, who still has not seen a check-down he didn't like. With Smith, the team just has to let the offense run through rookie back Antonio Gibson and take advantage of the defense playing well behind rookie stud Chase Young. Smith's job is to not screw things up.
Washington seemed in trouble going into Thanksgiving week, but the 2020 NFC East was a godsend with Dak Prescott suffering a broken ankle, Carson Wentz regressing into one of the worst quarterbacks in the league, and the Giants continuing to be bad. Washington even had a couple of quarterback injuries happen in games with their defense on the field as the Cowboys lost backup Andy Dalton and Cincinnati rookie Joe Burrow tore his ACL in Week 11. Washington won both games and completed its first sweep of Dallas since 2012 to get to 4-7.
But the turning point of the season came in Pittsburgh. Washington trailed 14-0 against the 11-0 Steelers before Smith had the game that locked up the Comeback Player of the Year award for him. He threw for 296 yards without a turnover as the Steelers were in a downward spiral of sloppy play. The defense intercepted a tipped Ben Roethlisberger pass to seal the 23-17 win.
Smith's leg was visibly bleeding in that game. He started the next week against injury-ravaged San Francisco, but he only threw for 57 yards before exiting early. Smith made one last appearance in Week 17 against the Eagles on Sunday Night Football, a game that would send Washington to the playoffs if it won. Smith threw a pair of picks but also a pair of touchdowns in the 20-14 win.
During a global pandemic, could the 7-9 team without a name, with the coach who beat cancer and the quarterback who nearly lost his leg, really go on a playoff run that would start with Tom Brady and the Buccaneers? It was so far-fetched that Hollywood asked for a last-second rewrite.
Smith was unable to go in the wild card game and he was replaced by Taylor Heinicke, who had one career start back in 2018 for Rivera in Carolina. With expectations so low, Heinicke was a pleasant surprise, throwing for over 300 yards and showing some impressive mobility. Basically, he played better than a hobbled Smith would have been capable of doing. Washington still lost 31-23, but who would have imagined that Heinicke and the worst offense in the tournament would give Tampa Bay a better game in the playoffs than Drew Brees and the Saints and Patrick Mahomes and the Chiefs did? Now Rivera has a much tougher job as it should take more than seven wins to win the division this time.
The Notable Changes for 2021
Washington had arguably the worst quarterback play of any team in 2020, so it is no surprise to see the offensive unit finish 31st in yards per drive and 27th in points per drive while the defense finished No. 3 in both categories. Clearly, the team needed to upgrade at quarterback. The Haskins era ended quickly, Smith retired this offseason, and Allen and Heinicke remain as backups behind a soon-to-be 39-year-old Ryan Fitzpatrick, who will call Washington his ninth team in 17 seasons.
A total of 59 quarterbacks have thrown at least 4,000 passes in NFL history, but only Fitzpatrick and Norm Snead (1961-76) have never played in a playoff game. No quarterback has more attempts, yards, or touchdown passes without a playoff appearance than Fitzpatrick. It is an amazing fact when you consider that Snead did not have the benefits of expansion and wild cards as Fitzpatrick has. Fitzpatrick has also twice been on 10-6 teams in the AFC East (2015 Jets and 2020 Dolphins) that did not qualify for the playoffs.
On the plus side, Fitzpatrick has played some of his best balls in the last three years with Tampa Bay and Miami. Since 2018, he has completed 64.8% of his passes for 50 touchdowns, 33 interceptions, and 7.9 yards per attempt. He can still scramble a bit, plays with no fear, and last year he had a ridiculously good season at throwing under pressure as evident by his big completion against the Raiders despite a roughing the passer penalty. That set up a game-winning drive for the Dolphins, and had Fitzpatrick never been replaced by Tua Tagovailoa, it is possible the Dolphins would have made the playoffs with Fitzpatrick.
But Fitzpatrick is a proven commodity in that he will throw picks more than you like, and he especially throws them at the worst moments. Despite some of the late-game magic last year that saved the Dolphins from slow starts with Tua, Fitzpatrick is one of the worst quarterbacks with the game on the line in NFL history. He is 18-49-1 (.272) at game-winning drive opportunities, the worst record among active starters (minimum 15 games). As for performing well against a good pass rush, that is a very difficult thing to do on a consistent basis, and Fitzpatrick has not shown he can do it year after year, so look for some regression in that area.
However, is Fitzpatrick an upgrade over the quarterbacks Washington used last year? Absolutely. If by some chance the division only requires nine or 10 wins to host a playoff game, then it is doable with Fitzpatrick and this roster. He helped DeVante Parker break out in Miami at wide receiver, and Terry McLaurin should appreciate his new connection after dealing with the quarterbacks he has in Washington the last two years. The team has also gotten a deeper receiving corps with Curtis Samuel from the Panthers and Adam Humphries from the Titans. Logan Thomas, a former quarterback, finally had a breakout season at tight end last year. Gibson looked very good at times as the lead running back, and J.D. McKissic is a decent receiving back.
The offensive line should be more than adequate for Fitzpatrick. He has one of the best guards (Brandon Scherff) in the league, and the team added veteran Charles Leno (Bears) at left tackle and drafted right tackle Samuel Cosmi in the second round. There are some bad-looking lines in the league this year, but this should not be one of them.
As for the defense, this is where four straight years of using a first-round pick on the defensive line need to pay off. Chase Young is the reigning Defensive Rookie of the Year, but this line also still has Montez Sweat, Daron Payne, and Jonathan Allen. It was actually Sweat who led the team in sacks (9.0) and pressures (31) last year. Young looks like the real deal, so if he explodes in his second season then this defense should be able to stay highly ranked.
Washington used yet another first-round pick in the front seven after selecting linebacker Jamin Davis, who could be a Week 1 starter. William Jackson III from the Bengals replaces Ronald Darby at the corner, but the secondary should look about the same as long as safety Landon Collins, who missed nine games last year, remains healthy after dealing with an Achilles injury.
Prediction
This is one of the hardest NFL picks of the season when you have to figure out if a 7-9 team that played a lot of bad football actually got a few wins better. On paper, this roster has a lot to like but little to hate or love. The offense feels like it should be adequate, but then you remember that Fitzpatrick has won more than six games as a starter once in his whole career. The defense feels like it could be elite, but then you remember that coordinator Jack Del Rio has finished 20th or worse in points allowed in seven of his last 11 seasons.
Rivera is a two-time Coach of the Year award winner and someone you can root for, but the fact is he has had a losing record in 70% of his seasons. That is not comforting. If this team is going to butter its bread on defense, then we should acknowledge that nearly half the quarterbacks they faced last year are not with that team in 2021. Just look at how much the division alone has changed. Jalen Hurts will not be a rookie for the Eagles who gets benched by Doug Pederson for Nate Sudfeld in the fourth quarter with the game on the line. Dak Prescott is back for Dallas, and he is 7-1 against Washington. Daniel Jones is 4-0 against Washington, which is half of his eight wins with the Giants so far.
Washington has road games this year with Buffalo (Josh Allen) and Green Bay (Aaron Rodgers) while also hosting Kansas City (Patrick Mahomes), Tampa Bay (Tom Brady), and Seattle (Russell Wilson). Injuries and upsets can happen, but that already looks like a much more stacked schedule than 2020. The closest thing to a "gimme" for Washington is a Week 11 trip to Carolina, but even that matchup was one the team blew at home last year in Rivera's first game against his old team.
Five division games to end the season could be favorable to Washington, but again, I do not see the team doing better than 3-3 in those matchups this year. Maybe the 17th game puts them over, but I see Washington flirting with 8-9/9-8 this year, so I would bet the under. Remember, under 8.5 wins would be a winning bet for 70% of Rivera's seasons.
2021 Washington Over/Under Pick: Under 8.5 wins (-105) at Bovada (visit our Bovada Review)
*The line and/or odds on picks in this article might have moved since the content was commissioned. For updated line movements, visit BMR's free betting odds product.