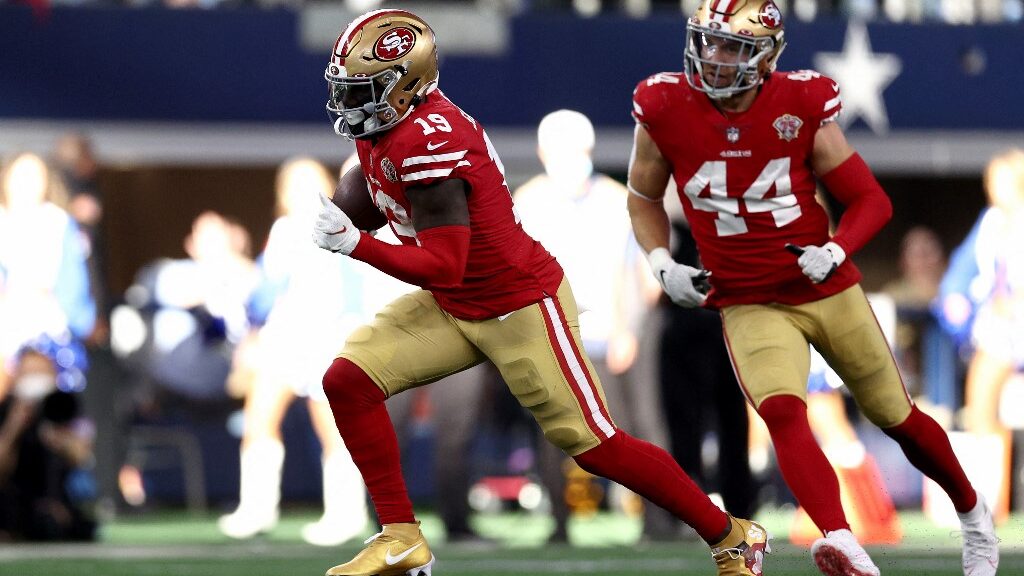 The deeper we get into the NFL Playoffs, the more exciting these games get. We are now in our Divisional Rounds and there is one matchup in particular that I think will be a hot one, and that is: San Francisco 49ers vs. Green Bay Packers.
Read below for my NFL Prediction. Remember to do all of your odds shopping at BookMakers Review.
San Francisco 49ers vs. Green Bay Packers
Saturday, January 22, 2022 – 08:15 PM EDT at Lambeau Field
San Francisco
The 49ers are coming off of a 23-17 win over the Cowboys during the Wild Card Weekend.
In their victory, the 49ers secured 341 total yards, and allowed the Cowboys to gain a total of 307 yards.
In more detail, the 49ers had 5.4 yards per play, passed for 172 yards and ran for 169 yards. Meanwhile, Dallas had 4.4 yards per play. 230 passing yards and only 77 rushing yards.
Green Bay
The Packers are coming off of a bye-week and will be fully rested for their visitors. But let's rewind back to week 18; the Packers lost to the Lions 37-30.
In that shocking loss, the Packers secured 5.7 yards per play with 256 passing and 122 rushing yards. The Lion finished their night with 6.8 yards per play, 305 passing yards, and 99 rushing yards.
Prediction
The Packers should be the favorites in this matchup. They have one of the best offenses in the league that has posted up 30 points or more in their last 6 out of 7 games. Overall the Packers have been unstoppable, until week 18 when they lost to the Lions. It was a shocking loss to me, but it happened. But that loss also does not make up who they are.
The 49ers, on the other hand, have powered through the playoffs so far and are hungry for more. The Packers will just have the advantage Saturday night because they had plenty of time to rest and are also playing at home.
NFL Playoffs: $1,000 Prop Bets Contest​
I'm going to give the 49ers the benefit of the doubt and stand by my thoughts of them thriving during the playoffs. These two should run head to head with points; San Francisco's defense doesn't get the recognition it deserves.
I would not be surprised if there was a last minute Rodger's miracle to get the Packers the big win, but I just don't think it will be enough to cover. The 49ers should put up a tough fight so I will grab the extra points.
NFL Pick: San Francisco 49ers +5.5 at BetOnline (Visit our BetOnline Review)