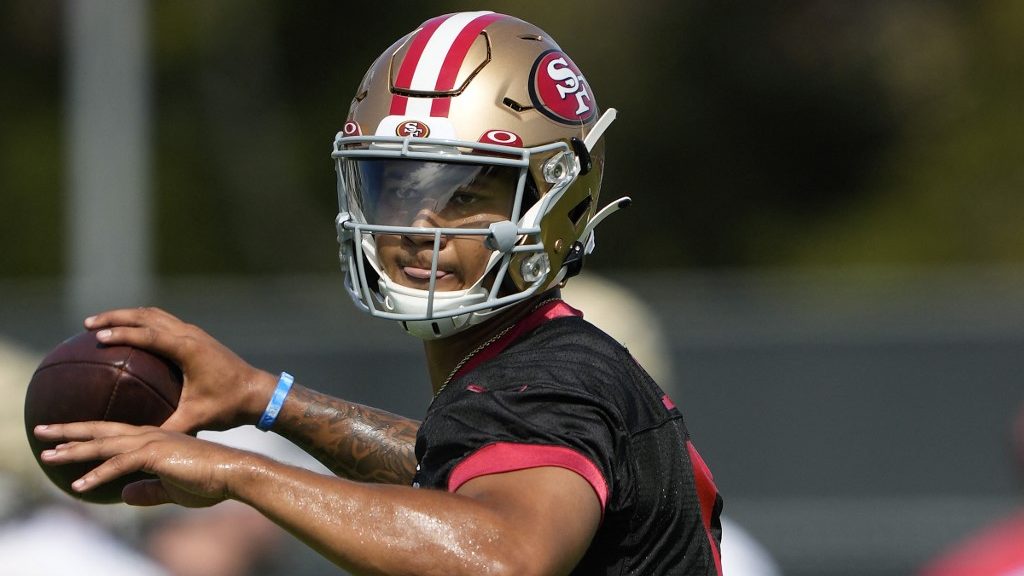 The San Francisco 49ers have the dubious honor of being the first team in NFL history to sandwich a Super Bowl appearance (2019) in between two seasons with double-digit losses. San Francisco's 10-22 (.313) record in the seasons before and after a Super Bowl appearance is the worst in NFL history, making one question if the team was just a one-year wonder. Head coach Kyle Shanahan enters his fifth season with a losing record (29-35).
But there is no denying that last year's disappointing 6-10 campaign had a lot to do with injuries at a scale we rarely see in the NFL. Starting quarterback Jimmy Garoppolo (10 games), superstar tight end George Kittle (eight games), number one wideout Deebo Samuel (nine games), number one running back Raheem Mostert (eight games), center Ben Garland (11 games), leading pass rusher Nick Bosa (14 games), 2017 first-round pick Solomon Thomas (14 games), and future Hall of Fame corner Richard Sherman (11 games) all missed at least half of the season. There were more injuries, but those were some of the most notable.
Any team would struggle if you took out their best player at those key positions for at least half of the season. Now with an offseason of rest and recovery, and an intriguing draft selection of quarterback Trey Lance, the 49ers look to get back into Super Bowl contention. Many of the top sportsbooks have the 49ers with an over/under of 10.5 wins, but the NFC West is projected to be the toughest division in the league this year.
Last Season of 49ers: MASH Units
The 49ers started 2020 much like they ended 2019 in the Super Bowl: Blowing a fourth-quarter lead on defense to a mobile quarterback (Kyler Murray) and failing to answer with a touchdown on offense. The Cardinals pulled off a 24-20 upset in San Francisco against what would be the healthiest version of the 49ers we'd see all year.
In Week 2 against the lowly Jets, the 49ers saw their season take a dark turn despite the easy win. Nick Bosa tore his ACL and missed the rest of the season. Jimmy Garoppolo suffered an ankle sprain that cost him the next two games. George Kittle already had a knee injury that cost him two games, but he came back to have a dominant 183-yard performance against the Eagles. Unfortunately, the 49ers blew another late lead and lost that one despite outgaining Philadelphia by 150 yards. Garoppolo's return against Miami was horrendous and the team fell 43-17, the worst loss in nearly two years, with the defense also getting badly picked apart by Ryan Fitzpatrick.
Garoppolo was able to rebound with a win over the Rams, and the 49ers ran wild on the Patriots in a 33-6 rout in New England to get to 4-3. But things never got better than that. Against the Seahawks in Week 8, Garoppolo aggravated his ankle sprain and never played the rest of the season. That same week Kittle had a broken bone in his foot, which cost him the next six games. The 49ers went 1-5 in that span, so it was surprising to see Kittle even return for two meaningless games at the end of the year.
On a short week against the Packers in Week 9, the 49ers were very short-handed on both sides of the ball. Green Bay rolled to a 34-17 victory against a team that was missing Garoppolo, Kittle, Mostert, Samuel, Sherman, Bosa, etc. Clearly, this was not the NFC Championship Game rematch we wanted to see. In this state, the 49ers were no match for the playoff-bound Saints and Bills either. After the bye in Week 11, the 49ers finished 2-4, but at least both wins were division road games against the Rams and Cardinals. Give those teams something to think about this year as they battle for a home playoff game.
Despite the injuries, the 49ers did not implode on either side of the ball. They were just mediocre and unable to play complementary football as they did in 2019 when they were so balanced and good. In 2020, the 49ers were 0-10 when they allowed more than 20 points and 6-0 when they did not.
The 49ers finished 14th in net points per drive, the best ranking in 2020 for a team with a losing record. San Francisco's scoring differential was only minus-14. In looking at the 21 teams in NFL history to lose 10-plus games with a scoring differential better than minus-20, they average 8.6 wins the following year. Eighteen of the 21 teams won more games the following year and nine out of 21 managed to improve to 10-6 or 11-5.
The 2021 49ers will hope to be the next successful rebound story, but it is unclear which version of the team we are going to see after an exciting draft night. Take it into consideration for your NFL odds.
The Notable Changes for 2021
With Garoppolo's extensive injury history and limitations with his play, general manager John Lynch jumped on an opportunity to trade two first-round picks to move up from number 12 to number three to take Trey Lance out of North Dakota State. This is a ballsy move that may define the Shanahan-Lynch era even more than Super Bowl LIV will. Obviously, the competition for Lance was not great, and he is a one-year wonder as a junior in 2019. But in that year, he threw 28 touchdowns to zero interceptions. He is a much better athlete to run the Shanahan-style offense that has been so successful for Matt Schaub, Matt Ryan, and Garoppolo in the last decade, but he is also one of the rawest, most inexperienced passers to get drafted this high in the NFL.
So, the bust factor could be quite high if the 49ers expect too much out of Lance right away. In his junior year, Lance led his team to a 16-0 record and championship. However, he only passed for 200 yards in four games and his team never allowed more than 22 points in any game. The quarterback in the NFL is such a more demanding job than that and he is going to face far better athletes than he did at the FCS level. I would start Garoppolo this season and only sprinkle in plays for Lance, but given Garoppolo's injury history, we could see Lance soon enough anyway.
If the receiving weapons can stay healthy, you could be looking at a dominant trio in Kittle, Samuel, and 2020 first-round pick Brandon Aiyuk, who could explode to star status in 2021. Kittle and Samuel are YAC machines in an offense that loves to design YAC plays. Mostert is also back as the lead back and Kyle Juszczyk is almost single-handedly keeping the fullback position alive in the NFL.
The left side of the offensive line is certainly old, but the 49ers hope to have fixed the health problems at center in recent years by adding Alex Mack. In his time with the Browns and Falcons, Mack made six Pro Bowls and has only missed 13 games in his career.
Defensively, there are arguably more subtractions than additions for 2021. Defensive coordinator Robert Saleh is off to coach the Jets after four years in San Francisco. Players loved playing for him, but they will have to warm up to first-time coordinator DeMeco Ryans, the former pro linebacker who has been coaching the position since 2018. Fred Warner, a 2020 first-team All-Pro at linebacker, has blossomed with Ryans as his position coach in that time, but Ryans will have to show he can handle the bigger role well.
Solomon Thomas left for the Raiders, but he was always a disappointing first-round pick for the team. Richard Sherman was released, and his career status is up in the air after some mental health issues this offseason. Counting on Jason Verrett to stay healthy at corner is a risky move, but despite everyone dropping like flies last year, he managed to play in 13 games, the second-highest total of his career. Third-round corner Ambry Thomas (Michigan) was the team's only defensive pick in the top 170 picks this year.
But beyond any draft pick or free-agent signing, getting Nick Bosa back is the key addition. The 49ers played much of 2020 without three of the top four pass rushers from 2019's Super Bowl team. Bosa tore his ACL, Dee Ford played only one game, and DeForest Buckner took his talents to Indianapolis. Now with Bosa and Ford back to pair with Arik Armstead, hopefully the defense can rush the passer better even if the unit is not as deep as 2019. Kerry Hyder is gone after putting up a career-high 8.5 sacks in his one season with the team, but again, Bosa is expected to surpass that production.
The good news with injuries is that an injury-riddled season usually regresses to the mean the following year. Some teams, such as the Colts and Chargers, have had bad misfortune of repeatedly having bad health seasons. Unfortunately, the 49ers have also had an increased number of injuries for the better part of the last decade. Given last year was the second-highest season since 2006 in adjusted games lost, a metric by Football Outsiders based on their injury database, we can feel confident that things will not get that bad again this season for the 49ers.
Shanahan basically got a pass for the 4-12 finish in 2018 since Garoppolo only lasted three games before he tore his ACL. Last year was even worse from an injury standpoint, but at least this time, the 49ers will have two quarterback options to explore. The passes are used up at this point. It is time for Shanahan to show that he can elevate a team into a consistent winner like his father once did for the Denver Broncos.
Game Prediction
Regardless of which quarterback the 49ers go with to start the season, they have a good shot of starting 2-0 with road trips to the Lions and Eagles. But things get much tougher after that when the Packers and Seahawks come to town. The division alone can hand the 49ers several losses. Russell Wilson is 13-2 against the 49ers going back to the 2013 NFC Championship Game. The 49ers have taken four straight from the Rams, but they are going with Matthew Stafford now. Arizona has played the 49ers really tough in all the games with Kyler Murray and Kliff Kingsbury.
The uncertainty at quarterback makes it a tough NFL pick. Rookies can be boom or bust, but Lance would be walking into a stacked receiving corps if it stays healthy this year. That is a big if with the 49ers' history of injuries. Throw in a history of losing most close games under Shanahan. His 8-21 (.276) record at game-winning drive opportunities is the worst among active head coaches with at least 20 games.
If the division plays out as stacked as it is on paper, then no one should win more than 11 games there. It could very well come down to that Week 18 game in Los Angeles. I would play it safe and bet the under on the 49ers this year. Make Shanahan and Garoppolo prove 2019 was not just a one-year wonder. Wait for Lance to show he is the next big thing in the NFL at quarterback.
NFL Pick: Under 10.5 wins (-115) at Bovada (visit our Bovada Review)
*The line and/or odds on picks in this article might have moved since the content was commissioned. For updated line movements, visit BMR's free betting odds product.