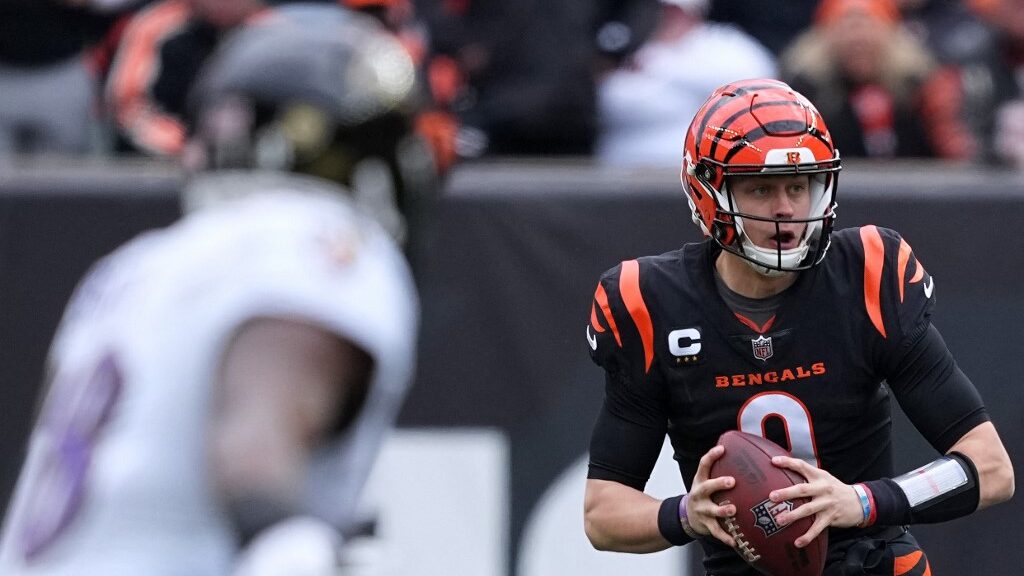 NFL Pick: Bengals -6.5 (-110) at Bovada (visit our Bovada Review)

The Cincinnati Bengals (12-4) won the AFC North and can beat the Baltimore Ravens (10-7) this Sunday night for the second week in a row to end their rival's season for good this time.
Everything is a bit up in the air for this game due to Lamar Jackson's health. Is he going to practice? Is he going to play? Will he be any good having not played since Week 13?
At least the spread suggests the Ravens will try a little harder this week after starting third-string quarterback Anthony Brown in Week 18's 27-16 loss that felt like it was never going to end. The Bengals are a 6.5-point home favorite with a total of 43.5 points at the NFL odds.
Look for Tyler Huntley at quarterback if Jackson cannot go. But no matter which quarterback the Ravens play, is Cincinnati the clear favorite in this matchup after overcoming a slow start and Week 5 loss to these Ravens?
Reminder: Cincinnati's 3 playoff wins last year are more than Baltimore's 2 playoff wins in the last 9 seasons since winning Super Bowl XLVII.
---
Baltimore Ravens vs. Cincinnati Bengals
Sunday, January 15, 2023 – 08:15 PM EST at Paycor Stadium
Season Series Recap: Tied 1-1
It is hard to say if either meeting this year has a lot of relevance for Sunday night. Week 5's 19-17 win by Baltimore was a long time ago, and clearly, the Bengals have only gotten better and more confident while the Ravens have fallen off on offense due to injuries to more than just the quarterback. Losing wide receiver Rashod Bateman has not helped matters, and tight end Mark Andrews has not caught a touchdown since Week 6.
Even in that first game, the Ravens blew another late lead after giving up a long touchdown drive to Joe Burrow and company, but there was more than enough time to set up Justin Tucker for the game-winning field goal.
Since that loss, the Bengals are 10-1 with 8 straight wins. They quickly led 17-0 at home Sunday against the Ravens, but Baltimore did not have Huntley at quarterback, nor did they suit up Andrews, Marcus Peters, J.K. Dobbins, and more.
The game was a brutal watch with the Bengals hanging on for a 27-16 win after the Ravens scored 16 points on 15 drives and turned the ball over 4 times. Anthony Brown got his first NFL start at quarterback and he was 19-of-44 for 286 yards with 2 picks.
Burrow's Challenge
But it's not like the Bengals were red hot with Burrow playing the whole game. In fact, Burrow's 23.5 QBR was his second-worst game of 2022, replacing his first game against the Ravens (32.0) on that list. Burrow only gained a first down on 27.0% of his passes against the Ravens in Week 5 and he wasn't much better at 27.3% on Sunday.
That is a far cry from last year when Burrow shredded the Ravens for 941 passing yards in 2 games, converting a first down on 38.5% and 53.1% (career high) of his passes in those meetings.
Burrow is 15-1 in his last 16 games when he averages at least 7.0 yards per pass attempt. He usually is money at home where he averages a full 1.5 more yards per attempt than he does on the road. But he will need to be sharper than he was Sunday for the Bengals to cover and move on comfortably in this game. This Baltimore defense is better than the 2021 version he destroyed twice.
---
Lamar Jackson vs. Bengals and the Playoffs
After resting J.K. Dobbins and Mark Andrews in Week 18, we know the Ravens will have more weapons to use on offense this week. But the question mark is going to be at quarterback and if Tyler Huntley will get the biggest start of his life, or if Lamar Jackson will return from his sprained PCL injury in his knee.
Insiders are casting doubt on Jackson playing this weekend, which would cast doubt on him playing in Baltimore ever again as he is an unrestricted free agent this offseason.
But if we just stick to this week for now, Jackson has a lot to overcome even if he does miraculously return in the nick of time for wild card weekend. While Jackson is 2-1 against the Bengals with Burrow at quarterback, his passing stats have been meager at best in recent games, not breaking 180 yards in 3 of the last 4 games. A lot of his best Cincinnati numbers came before the Bengals drafted Burrow.
Jackson would obviously be an upgrade over Huntley and a huge one over Brown, but no one knows how that knee is going to react and if it will take away from his running ability, which is what makes him so unique and tough to defend.
There is also the elephant in the room that Jackson has not played well in 3 trips to the playoffs:
1-3 playoff record as a starter.
More interceptions (5) than touchdown passes (3).
More lost fumbles (2) than rushing touchdowns (1).
Never led Ravens to more than 20 points in 4 games.
68.3 passer rating in the postseason (96.7 in regular season).
6.6 yards per pass in the postseason (7.4 in regular season)
Last Jackson's Playoff Game
In fact, the Ravens scored their season low in points with Jackson at quarterback in a playoff game 3 years in a row in 2018-20. That is hard to do that frequently. It happened one time total in 33 postseasons combined for Drew Brees, Ben Roethlisberger, and Aaron Rodgers.
The last time we saw Jackson in a playoff game, was the 2020 AFC divisional round in Buffalo. He threw a game-changing pick-six in the third quarter before leaving after a concussion in a 17-3 loss.
Last postseason, the Bengals showed the ability to adjust their defense and confuse Patrick Mahomes and the Chiefs so much that Mahomes played the worst half of his career in the AFC Championship Game.
These Bengals obviously know the Ravens well, and this current version of the Baltimore offense is arguably the least impressive of the Jackson era.
---
Ravens vs. Bengals: Betting Preview
Calling this season a frustrating disappointment for the Ravens would probably be an understatement. This team has blown 5 multi-score leads in the second half this season. The record could have been so much better, especially if the skilled players stayed healthy. But they blew those leads, and they did not stay healthy, 2 things that plagued them even worse in 2021 when they wasted an 8-3 start and missed the playoffs. They are back in the tournament this year, but like other recent trips, it will likely be a short stay.
This is not going to be a cakewalk for Burrow and the offense like the 2021 meetings were. He probably won't be throwing for 400 yards, but he doesn't need to against this Baltimore team. With his weapons, he can score 24 points and that will be enough for a win, if not the cover as well. The Bengals likely played a vanilla game on purpose Sunday knowing full well they could be right back here next week against these Ravens, and here we are.
The Bengals opened last postseason at home with a 26-19 win over the Raiders. This team is playing better with more confidence right now. The Ravens have not scored more than 17 points in the last 6 games. They even scored 13 points against Carolina with Jackson in Week 11, so the problems were there before his injury.
However, even if Jackson comes back, you should feel confident in the Bengals being able to win by a touchdown to cover this spread for your NFL picks.
For Cincinnati residents looking to bet on this game, you can do it at our top Ohio betting sites.
NFL Pick: Bengals -6.5 (-110) at Bovada
*The line and/or odds on picks in this article might have moved since the content was commissioned. For updated line movements, visit BMR's free betting odds product.