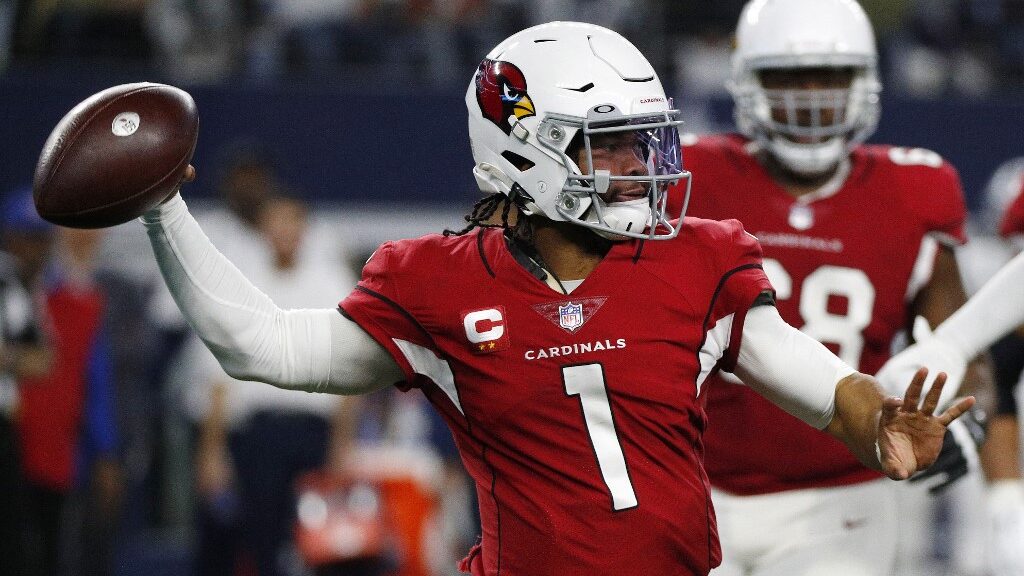 This week we have a duel in the desert between Doug Upstone and Swinging Johnson for the bragging rights of who can close out the regular season as a winner. Who gets it?
Seattle Seahawks vs. Arizona Cardinals
Sunday, January 09, 2022 – 04:25 PM EST at State Farm Stadium
Doug Upstone: Well congrats Swinger, Da Bears were miles ahead of the New York small men. In truth, I don't understand why the so-called Giants just didn't do a Chip Kelly and say their entire roster tested positive for Covid, having gone to Walgreens and say they self-tested and that was the result and unfortunately they were going to have to forfeit, which they pretty much did over three hours in Chi-Town.
Let's move ahead, to the Wild Card ro….., oh, I'm sorry, to Week 18, the final week of the regular season, which has more teams playing for nothing than a typical NBA weekend. You can pack all the division games into the final week of the season, but for all but a handful of teams, not much to be decided.
Arizona arose from the dead with a sterling performance at Dallas, knocking off America's Team 25-22 as 6.5-point road underdogs.
That kept the Cardinals' hopes up to still possibly win the NFC West. A victory by the Redbirds coupled with the Rams setback to the 49ers (something that has happened five straight times), would give Arizona the division title based on NFC West records.
Seattle, they are playing for the final paycheck. This is the first time in four years the Seahawks will miss the NFL Playoffs and just the second time in 11 years. The Cards are 6.5-point home favorites at Everygame and other top sportsbooks and that is the most points they have given to Seattle at home since it was -8 the year the movie – The Hangover, was released (2009).
Mr. Johnson, begin making your case for Russ and the fellas.
Swinging Johnson: Ah, it's good to start the New Year with a little pep in my step after I saw an opportunity last week with the Bears laying a tolerable six points against the woeful Giants and pounced like a fat guy eyeing the last hotdog on the grill.
But I'm not going to gloat about the past, nor will I revel in what will be another ATS cover with the Seahawks on Sunday. I am simply going to bask in the present. You know why, Doug? Because the present…is a gift. I just love that because it's so corny! A guy I know started listening to these motivational speakers and began quoting them in all their sagacious glory. I couldn't keep a straight face, especially when he would deliver gems like "the present is a gift".
Okay, let's get down to the Seahawks/Cardinals showdown in the desert. The line is killing me by the way. It's currently at 6 ½, just a half-point shy of one of football's magic numbers and it pains me not to get the 7 here. But we work with what the oddsmakers give us and then we crush them like the bugs that they are.
One of the disadvantages of writing about these games so early in the week is that we don't know who will catch Covid in the next few days and be ruled out. Nor do we know who will be sitting for the Seahawks because, as you stated, they are doing nothing but making vacation plans at this point which could prompt coach Pete Carroll to remove some of his starters sooner than later. It's very much a crapshoot but we can only write what we know several days before kickoff.
By the way, doesn't Pete Carroll have kind of a Richard Gere vibe? And is it odd I'm comparing two older, good-looking men in the middle of an NFL picks column? Well, I think it's perfectly inappropriate and a bit bizarre to say the least, but felt the need to share. And I know this will stay just between the two of us.
Okay, so these teams tangoed in Seattle six weeks ago and the Cardinals left with a 23-13 victory as 4 ½ point road dogs. You might recall that Colt McCoy was outstanding in replacing the injured Kyler Murray in tossing for 328 yards and a pair of touchdowns while Russell Wilson was still not right after returning prematurely from his finger surgery.
We should also note that the Hawks are finally getting a solid ground attack with the emergence of former first-round pick, Rashaad Penny, who is getting to run the rock instead of the pedestrian Alex Collins. Check this out, in three of his last four games in which he has had over a dozen carries, Penny has averaged 8.6 yards on 16 carries against the Texans, 7.9 yards on 17 carries against the Bears, and then 6.8 yards on 25 carries and two touchdowns in Seattle's 51-29 thrashing of the Lions last week.
Oh, and guess who's healthy again? Russell Wilson is and all he did was toss four touchdown passes last week. This is a different Seattle team than the one that faced the Cards in November. Your witness, counselor.
DU: Your man-crushes are good with me, Swinger. But I'd appreciate a picture or two if you could send me just to make sure you have not gone off the deep end and are buying - Just for Men – products trying to get that look of having "just the right amount" of gray hair.
You might have noticed ole Double K, Kliff Kingsbury has a few flecks of gray in watching the Dallas matchup with Arizona and that's what can happen when you go from the No. 1 seed to looking over the edge of not making the playoffs in the same season.
You are right, this virus thing is maddening and trying to make NFL picks is even more challenging than last season. Last year, we knew going it was going to be hard, but we started the season knowing that and were mentally prepared and we were thankful just to have the NFL because it was such a gift. (smarmy emoji here) But this year the virus caught us off guard and we've had to consider it for almost every game.
Sometimes it's hard to read the tea leaves, however, I think the Cardinals win over Dallas was HUGE for this team. Arizona stuck with the run, having 32 attempts, even without James Conner and that makes life so much simpler for any quarterback, especially one who was scuffling like Murray.
The Cards are more than respectable 9th in the NFL in rushing and in the last meeting they had 33 rush attempts. And that's the key because when the running game works, Murray has more time to throw and let those down the field pass routes develop.
Seattle's defense has been hard to fathom. The Seabags have hung around 30th in total defense all year, yet until the last two weeks, they were in the Top 5 in points allowed. In the last two weeks, they have allowed 25 and 29 points respectively to Chicago and Detroit, who are in the bottom quarter of the team scoring.
Now you know me SJ, I'm a straight shooter and I have had some trepidation with Arizona 3-11 ATS as a home fave since last year. Nevertheless, I put on my miners' hat with the lamp, always a great way to meet women by the way, OK maybe not, and dug up the Seahawks are 2-9 ATS on the NFC road and a deplorable 8-24 ATS off a home blowout win by 21 points or more.
One more round for you Swinger and I'm talking football betting, not at the bar.
SJ: Miners' hats work well with the fairer sex you say? Well, light my lamp and call me a blow torch.
That was fun, let's get back to this game, and here's the thing. The Cardinals' offense just isn't clicking like it was with DeAndre Hopkins operating at full capacity. In the last game he played, Hopkins had five receptions on 13 targets for a paltry 54 yards and no touchdowns. Arizona would go on to lose that game to the Rams, 31-23, and Hopkins has been gone ever since. And since that loss, the Cardinals have been defeated by the Lions and Colts before beating the Cowboys, 25-22, last week.
Now what we should consider is that the Cardinals have averaged only 17.6 points in those games without the services of the uber-talented Hopkins. So now you are going to lay 6 ½ points on a team whose offense is not clicking on all gears against an opponent that employs one of the most dynamic quarterbacks in the league, Russell Wilson, who is obviously healthy again after launching four touchdown passes last week. No sir, I will not allow it and I will summon the gendarmes if you persist!
What the hell is the matter with me? Your ball, take it home, and convince me and my legion of followers why we should switch sides and play for your team?
DU: Swinger, I know I cannot convince you on this, as mules are more open to change. I'll let the readers decide who they like for their picks.
Though it doesn't work out this way all the time, I'd rather be on a team that is playing a division title and headed to the postseason than a team on the road that is used to going to the playoffs and knows their season is over. It's that simple for me.
2021 Point/Counterpoint Records:
Swinging Johnson 3-6 ATS
Doug Upstone 6-3 ATS
NFL Picks
Swinger's Free NFL Pick: Seahawks +6.5 (-110) at Everygame (visit our Everygame Review)

Doug's Free NFL Pick: Cardinals -6.5 (-110) at Everygame

*The line and/or odds on picks in this article might have moved since the content was commissioned. For updated line movements, visit BMR's free betting odds product.