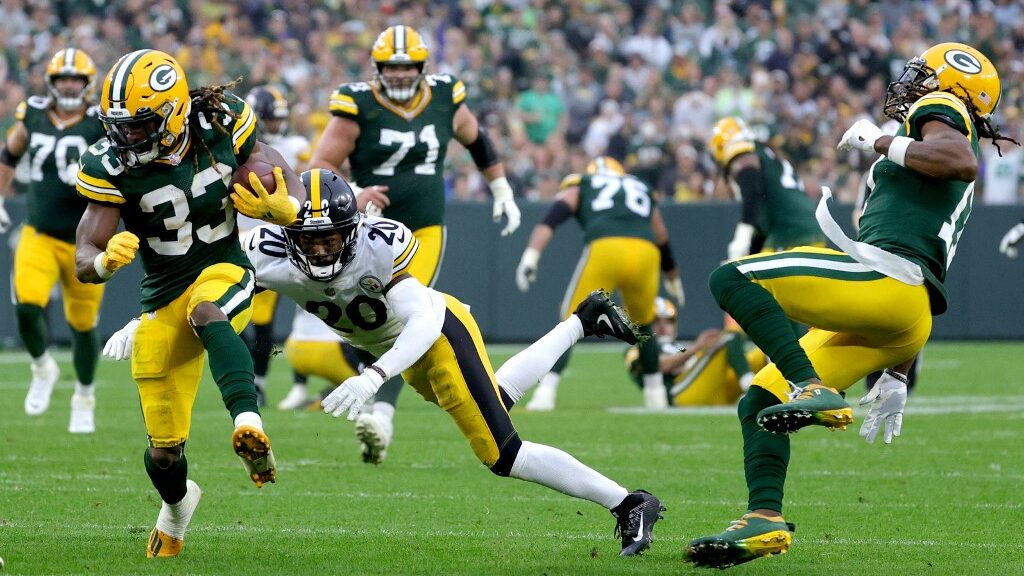 With a belly full of food from the Thanksgiving holiday weekend, Doug Upstone and Swinging Johnson are ready to line up against one another again.
These two nutjobs are so competitive, they sent pictures to each other about who ate the bigger turkey leg on Turkey Day. Let's find out what they have going on this week for the NFL odds.
2021 Point/Counterpoint Records:
Swinging Johnson: 1-2 ATS
Doug Upstone: 2-1 ATS
Los Angeles Rams vs. Green Bay Packers
Sunday, November 28, 04:35 PM EST at Lambeau Field
Doug Upstone: Hope you had a great Thanksgiving Swinging Johnson. Yes, my turkey leg was larger by centimeters due to mine having thicker skin. I digress as I get ready to make it two straight over you this week.
It's one thing to not being able to cover the spread at home against the victory-less club in the NFL, it's quite another not to do so against the infamous Lions backup quarterback Tim Boyle, which had to leave a boil on your backside not getting a winner with the instant magic (Baker) Mayfield at the control.
This week, we agreed on no more big spreads and we have a marquee matchup between the L.A. Rams and Green Bay.
Both teams should be plenty angry, with the Rams having dropped two straight and the Packers losing one at the buzzer in the Land of now 10,000 chilly lakes.
I'm backing the Pack, Swinger, despite them on the - losing starting player a week program, with left tackle and versatile offensive lineman, Elgton Jenkins gone to a season-ending torn ACL. Surprisingly the Green Bay defense looked like Swiss cheese against the Vikings after playing so well. The good news, however, is that Aaron Rodgers got into a groove and the offense came to life.
After a fantastic start, the Rams found out what Detroit fans already knew; Matthew Stafford is a good quarterback, not an elite one. His silly and careless mistakes were often blamed on his teammates in the Motor City. The interceptions Stafford has tossed the past two weeks are on him, which led directly to L.A. taking losses.
I'll turn the wheel over to SJ.
Swinging Johnson: Doug, you've certainly got a bigger turkey leg but as long as we're measuring appendages, I should tell you that my…okay, let's just leave it there.
Yes, my Browns defeated the winless Lions but couldn't cover the number. My penchant for chalky favorites was noticeably absent last year but this year I am Chalky von Chalkowitz.
It's always worse losing with a double-digit favorite than, well, just about anything. You take a shot with a big hound and it fails to cover, well, there's a little bit of swag, a dose of contrarian thinking that can at least be admired. But when you go down with a big ol' favorite, it's just so Joe Q. Public and nobody wants to be that guy.
Alright, so I trail 1-2 and I am hitching my wagon to the L.A. Rams as they invade the frozen tundra of the legendary Lambeau Field – which, by the way, is redundant because tundra is by definition, frozen. Just a tip of the hat to all of you wordsmiths out there. I see you…way back in the distance…getting pummeled by guys who like to bet and not listen to grammatical nonsense.
This is the marquee matchup of the Week 12 slate and in this one we have teams coming off losses, of which both would want a do-over. But of the two, I like the Rams to rebound after a pair of consecutive losses, and more consequently, the season-ending injury to wideout Robert Woods. Will Odell Beckham Jr. be able to fill that void? That remains to be seen.
But the Rams have been an overall healthy team and I believe Matt Stafford is the guy we saw at the beginning of the year more than the one who has had a case of the jitters recently. I should also note that the sharp money is coming in on the Rams as the Packers opened as 2-point home favorites to where it now sits at a pick'em at most of the online sportsbooks. I've got a host of reasons why LA is the play but I want to hear from you first as to why you believe the Pack will be back on Sunday afternoon. Your turn, Monsignor.
DU: The Packers are a beat-up team Swinger, as their seven Pro Bowlers from last year have combined to miss 36 games this season. The rose is off the bloom for Aaron Rodgers with his fake on getting vaccinated (I still don't know why Rodgers didn't go see former Packer Terrell Buckley, who was the self-proclaimed "Vaccinator"). And he does have similar traits learning from the master, Brett Favre, about being passive-aggressive when talking about his injuries.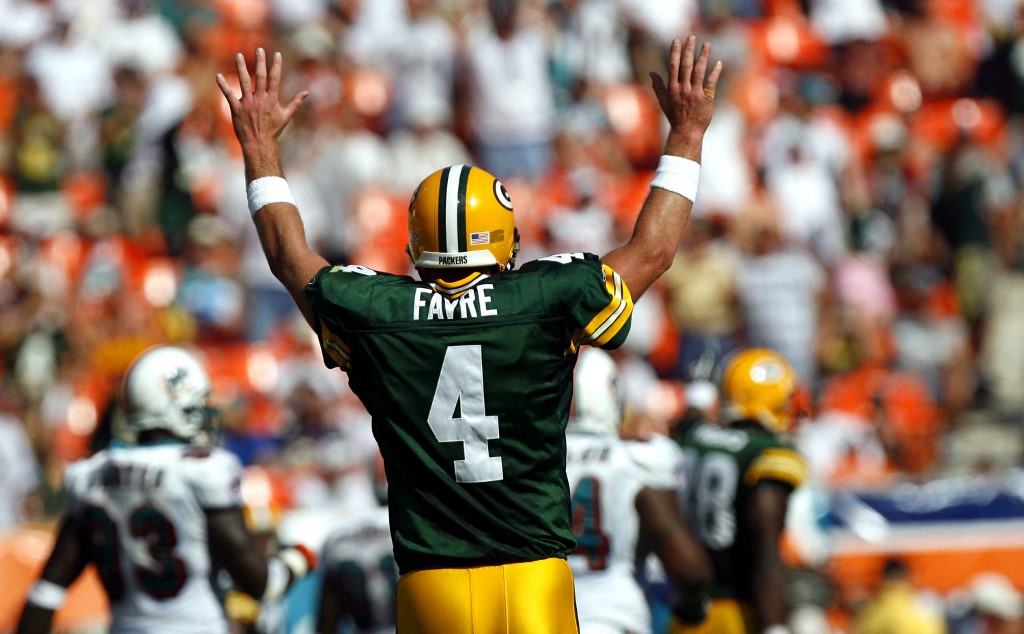 However, he proved he can still wing it last week at Minnesota, throwing for 372 yards and four touchdowns. The weapons are still there for Rodgers and A.J. Dillon is a big bruising running back and the Rams have shown they don't like the rock being pounded at them, so I fully expect coach Matt LeFleur to test how much Los Angeles wants the rough stuff to open up the passing game.
A big key last week was Rodgers finding his tight ends because Robert Tonyan was lost, that aspect was MIA for Green Bay. If you have watched the Rams defense, opposing tight ends are like a truck stop outside of the greater L.A. area, open 24 hours.
Swinger, Stafford did look great early, but he's had plenty of bad games at Lambeau, and let's face it, his confidence has to be shaky, as other than Cooper Kupp and to a lesser degree, Tyler Higbee, he's not thrown many balls to who's on the Rams roster.
Since you seem to like my defining points so well, try these out. The Pack is 7-0 ATS after allowing 30 points or more in their last game and 7-0 ATS after playing a contest where 60 total points or more were scored the last few seasons. And if that isn't enough, the Green and Gold is 8-0 ATS after one or more losses and all these angles have Green Bay winning by double digits!
Now please explain your case for what appears to be a hapless situation for the team that won a Super Bowl in St. Louis.
SJ: You know Doug, if you torture the numbers long enough, they'll confess to almost anything. But what I will tell you is that the Rams have several things going for them in this matchup. First and foremost, it is a revenge game for the Rams after they got booted out of the postseason courtesy of a 32-18 loss to these same Green Bay Packers last year.
Second, the Rams have had two weeks to stew about their most recent performances, lick their wounds, and get healthy…or at least healthier. LA's defensive pass rush will dominate the Packers' offensive line and we can expect them to improve their nearly three sacks per game average once this one is through.
Third, on my list is the litany of Packers' injuries. Their trainer's room resembles a MASH unit. Imagine that the Packers will be down to their third-string lineman after the news that Elgton Jenkins tore his ACL last week. He was filling in for the injured David Bakhtiari so who's left?
Green Bay's O-line will likely be missing three starters on Sunday. Running back Aaron Jones will probably not play and even Aaron Rodgers has a lingering toe injury. It's going to more than linger when Aaron Donald and company stomp all over it.
Lastly, I'm not convinced the Packers have the chops to run the ball effectively against the Rams, as LA ranks 11th against the rush while Green Bay is in the bottom third of the league in running the rock. This is a must-win for the Rams while the Packers are comfortably in front of their NFC North rivals so if they were to lose – meh - they move on and still win the division.
And because you're so fond of flaunting your trends and stats at me like an ice cream man at a Weight Watchers convention, I too shall indulge in some statistical shenanigans.
The Rams are 4-0 ATS after allowing more than 150 yards rushing in their previous game.
The Rams are 5-0 ATS after scoring less than 15 points in their previous game.
The Rams are 7-1-2 ATS after allowing more than 30 points in their previous game.
The Packers are 2-5 ATS after accumulating more than 250 yards passing in their previous game.
And with that, I bid you adieu until next week. You will be lamenting your Green Bay selection this week while I dry your tears next week.
DU: All good points Swinger, but alas, they are just words. Green Bay is always a tough out at Lambeau and I believe the top sportsbooks are giving the Rams too much credit on this trip. For my NFL picks, you should know SJ, it's deer hunting season in Wisconsin and while shooting a ram is probably illegal if there were any, the Packers will take down a large group of Rams on Sunday.
Doug's NFL Pick: Packers PK (-110) at BookMaker (visit our BookMaker Review)

Swinger's NFL Pick: Rams PK (-110) at BookMaker

*The line and/or odds on picks in this article might have moved since the content was commissioned. For updated line movements, visit BMR's free betting odds product.