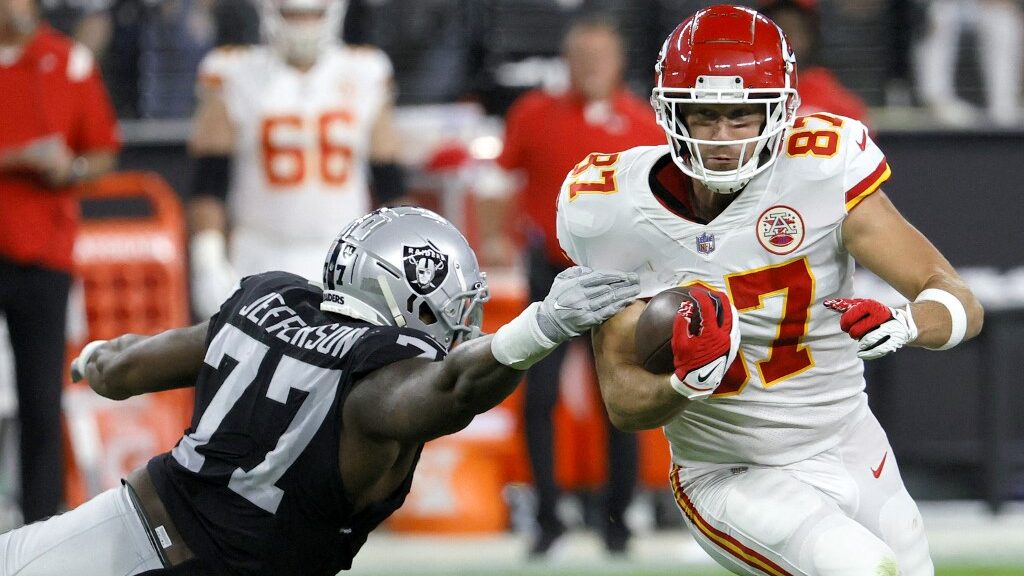 The boys are back at it. Combative Doug Upstone and surly Swinging Johnson are again on the opposite side of an NFL conflict this Sunday for Week 14.
Read this as they go bare knuckles breaking down the betting odds and trying to prove their points. Enjoy!
2021 Point/Counterpoint Records:
Swinging Johnson: 1-4 ATS
Doug Upstone: 4-1 ATS
Las Vegas Raiders vs. Kansas City Chiefs
Sunday, December 12, 2021 – 01:00 PM EST at GEHA Field in Arrowhead Stadium
The Preview
Doug Upstone: Mr. Johnson, I believe last week something you thought was going to happen didn't. You were counting on the Chicago Bears and the Dalton Gang to ambush Arizona at home. What you didn't count on, and how could you, the leader of the gang, Andy Dalton, played like he sold out his gang, or at least for a day and was in cahoots with the enemy and he threw four interceptions.
Unfortunately for you, I was the beneficiary of what occurred on that lousy weather day, and having been at Soldier Field for similar type outcomes for the home team, I'm certain Mr. Dalton heard many colorful opinions.
We move ahead to Week 14 to go over what used to be a great rivalry and in modern times has mostly been a mismatch. I'm talking about the Raiders and the Chiefs, with this rematch at Arrowhead this Sunday.
As you know, I'm taking the chalk-laden home team, Kansas City, whose betting odds at Everygame (visit our Everygame Review) are at -9.5 for this encounter.
MORE PICKS: Check Out The Donnie and Kyle Show: NFL Best Bets Week 14
I'll admit, I don't like K.C. and in terms of being a fan, definitely prefer the Silver and Black from whatever town they have played in. However, the Raiders both straight up and against the spread are about as trustworthy as a reformed con man.
After a 3-0 and a 5-2 start, Las Vegas has lost four of five. And even after giving their backers a glimmer of hope with the OT triumph on Thanksgiving Day, they immediately extinguish that by using a fire hose to put out a flickering candle.
After laboring badly early, Kansas City has won five in a row and covered the last three with a club that is evolving, and with how the AFC looks, they could be the top seed by the end of the regular season.
I'm not sure how you support such a team as "Da Raiders", Swinger, but I know you will do your best.
Swinging Johnson: Yes, Andy Dalton's performance was worse than a fat guy lying about his diet. It looked silly to take the Bears +8 against the high-flying Cardinals but I felt that a combination of the weather, the home-field advantage, a less than back-to-full health Kyler Murray/DeAndre Hopkins duo plus the eight-point head start, would be enough to keep Chicago within the margins in what I suspected would be a grindy game.
But what I didn't count on was Dandy Andy turning into Silly Putty. C'est la vie, that's French for, "Andy Dalton is the Anti-Christ." But I'm not bitter.
Okay, Chalky von Chalkowitz is back at it with Kansas City as the object of his adoration this time around. But I will agree with you that the Chiefs seem to be back on track and what was even more impressive about their 22-9-win last week was their defense coming to the fore.
Key Matchups
SJ: Head coach, Andy Reid called it "beautiful", and I will confess, holding any team to nine points is certainly a good thing. But before we fall in love and deem them the Steel Curtain of the new millennium, let's consider that it was the lackluster Denver Broncos that they stopped.
But as far as this game is concerned, it's just a matter of time before the Raiders passing game gets back on track. They were unfocused last week in their 17-15 loss against Washington after winning a 36-33 overtime shootout at Jerry's billion-dollar playground in Dallas.
Carr had 373 yards in that game, and now against the 24th ranked passing defense of the Chiefs, he should be able to find his targets and get those long-gainers we've seen so often throughout his career. Vegas still owns the No. 2 passing attack, averaging 291.3 yards per game.
The Raiders are in the top half defending the pass which bodes well for their chances to cover the number, as we know Mahomes can go off when given the opportunity as he did in their last meeting when he struck for five touchdowns and 406 yards.
The Raiders' defensive backfield was a mess back then but they've gotten some of their help in the secondary back which should prevent another iteration of Vegas's interpretive dance of the ole' defense.
I think this is a square play on your part, Doug, and I'm calling you out. As a matter of fact, I'm calling you Joe Q. Public. Convince me why you're not just another one of the sheeple betting the big home favorite?
DU: Mr. Johnson, many of your points on the surface have sound logic behind them, they would stand up in bar arguments and maybe against my wife who could care less about sports. They just won't work here.
Let's start with " it's a matter of time" concerning the Raiders passing game. In dropping four of their last five contests, the Raiders performance at Jerry's World stands out like somebody bringing their favorite salad dressing to an upscale restaurant, because - it's the one they like best. (I was sitting at the next table when that happened.)
The Analysis
DU: Is Carr capable of such a contest, yes. In Las Vegas' last four setbacks, they have scored 16, 14, 13 and 15 points and averaged 243.7 yards per game passing. Whatever Jon Gruden did was not good, but the play-calling and game plans are pathetic these days and while interim head coach Rich Bisaccia might be a great guy, he's in over his head.
You also brought up the Kansas City defense. In the Chiefs' five-game win streak, they are allowing 11.2 PPG. Whatever the K.C. stop troops did before is irrelevant, this is who they are today and they have conceded just 220 YPG passing in this red-hot period. Did I also mention they have generated 11 turnovers in these contests? No, now I have Swinger.
I will say one aspect in your favor, Patrick Mahomes is not the same player as the past two years. He's proven he likes to take risks and with opponents playing so much two-high safeties, he seems almost bored having to get multiple first downs on a drive as opposed to big plays. And I thought Chris Collinsworth made a great point about him throwing from various arm angles, seemingly for no reason.
Yet, in the last meeting, the Raiders knew better than the rest of the league and didn't play two deep safeties and Mahomes had 406 yards passing and 41 points versus their most hated rival.
OK, I'll hit the pause button instead of going on like I'm reading an audiobook SJ, the floor is yours, so use it wisely.
The Trends
SJ: Fine dining and seafood towers with a nice New York strip and a bottle of, well, everything that is right up my alley. I would have given anything to see the look on the server's face when the guy said he brought his own salad dressing. Perfect!
Okay, so the Chiefs offense has been having a power outage recently. Let's set aside the blowout over the Raiders and we see they scored a whopping three points against the Titans, 20 against the NY Giants, 13 against Green Bay, 19 against Dallas, and 22 last week against Denver. Now I'm no mathlete, but that's an average scoring offense of 15.4 points per game.
And yet they are supposed to cover 9½ points against a division rival looking to atone for their worst loss of the season! On top of all of this, they have a game four days later against their chief rival, the LA Chargers, on Thursday night!
No, this is a trap game for KC and the Raiders will want to keep the ball on the ground and pound the rock with Josh Jacobs. They couldn't do that last time because they fell so far behind that they became a predictable throwing offense and Carr is no match for Mahomes in a mano-a-mano gunslinging battle. Javonte Williams gained over 100 yards on the ground last week against the Chiefs and Jacobs is capable of the same.
This will be closer than you think and the Raiders will pillage all of that bounty you seized from me last week. I will leave you with a few trends, then, my work is done here.
Raiders are 5-1 ATS in their last six games as a road underdog.
Raiders are 5-1 ATS in their last six road games vs. a team with a winning home record.
Chiefs are 1-4 ATS in their last five games after allowing more than 150 yards rushing in their previous game.
Chiefs are 1-7 ATS in their last eight games after accumulating less than 90 yards rushing in their previous game.
Chiefs are 2-5 ATS in their last seven games following an ATS win.
Betting Picks ATS
SJ: I bid you adieu, my good man, and will think of you this weekend when I indulge in an elegantly broiled Chilean Sea Bass with a side of broccoli rabe and perhaps a few baby asparagus spears. Oh, and wine, lots and lots of wine, before, during, and well, not after – that's when espresso martinis make their appearance. And through it all, I will toast you, Doug, because after all, you'll be paying for it!
DU: Have to admit, I love being called a square bettor by you Swinger. Last I checked when they pay you for winning, they are not subjective on your NFL pick, they just hand over the cash for winning.
You can almost forget the revenge thinking with the Raiders, who are 19-39 ATS revenging a loss where the opponent scored 28 or more points. And to finish this off, K.C. is 8-1 ATS after allowing 17 points or less in two straight games, winning by an impressive 15.3 PPG.
Swinger's Free NFL Pick: Raiders +9.5 (-110) at Everygame

Doug's Free NFL Pick: Chiefs -9.5 (-110) at Everygame

*The line and/or odds on picks in this article might have moved since the content was commissioned. For updated line movements, visit BMR's free betting odds product.