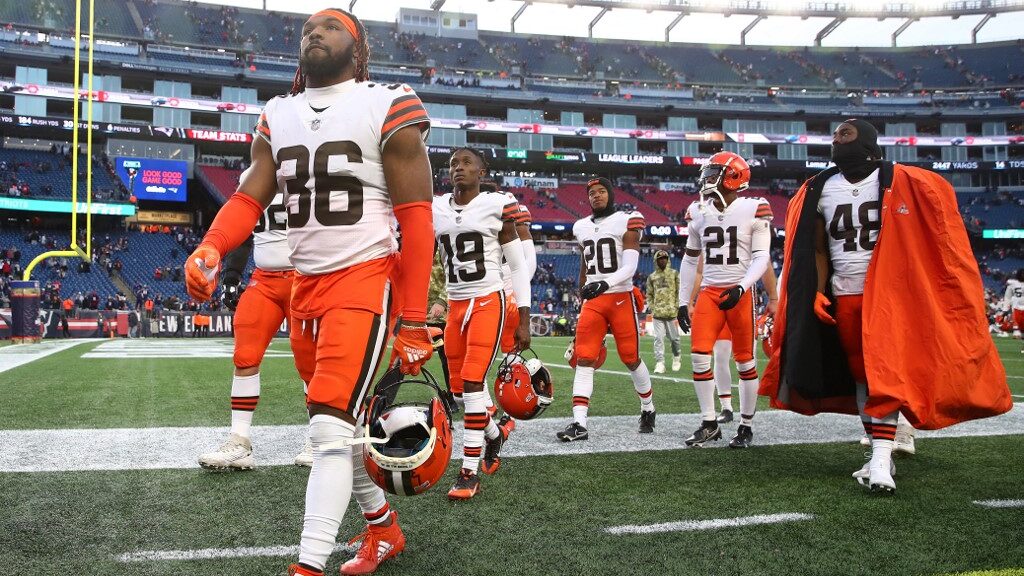 The series is tied between the dynamic duo of Swinging Johnson & Doug Upstone as the Swinger counterpunched last week by delivering an upset with the Panthers over the Cardinals in his Week 10 NFL picks. Let's see what the boys have to say about the Lions versus the Browns this week!
2021 Point/Counterpoint Records:
Swinging Johnson 1-1 ATS
Doug Upstone 1-1 ATS
Detroit Lions vs. Cleveland Browns
Sunday, November 21, 2021 – 01:00 PM EST at FirstEnergy Stadium
Swinging Johnson: I don't mean to brag and I don't mean to boast but I'm like hot butter on a breakfast toast. Doug, do you remember those lyrics from the Sugar Hill Gang when they introduced the world to hip hop way back in the late '70s? Now I know you were already a grandfather by then but I was just a wee pup diggin' the licks being put down by Master Gee, Wonder Mike, and Big Bank Hank. Ah, those were the days.
But I bring this up because like the Sugar Hill Gang, I don't mean to brag and I don't mean to boast but those Carolina Cats refused to coast. I had to stop the sentence right there because, ya know, rhymes, I'm a lyrical assassin. But the Panthers did shock just about everyone, except me, when they not only covered as 10 ½ point dogs but defeated one of the best teams in the league outright, 34-10!
Actually, I was stunned they won outright but gave a litany of reasons why they were indeed the right side. But enough of last week, let's talk about this week where I am exhibiting my diversity by going with a big dog one week and now backing a chalky home favorite this week.
The Cleveland Browns had a terrible game against a Patriots team that played to their absolute ceiling in a 45-7 New England victory over the Browns. I'm thrilled because not only did I like the Pats last week but this is even a better reason to back the Brownies this week. I will give you my perspective but first, let's hear from you, Doug. You need to redeem yourself, you know that, right?
Doug Upstone: Whenever someone says, "I don't mean to brag" of course that's exactly what they mean to do. It's like when Swinger and I go to lunch, he always says, "I never eat fries except when I'm with you", which is his way of saying his favorite bowl game is the Famous Potato Bowl.
I'm a standup guy, Arizona was a horrible pick. When we wrote this article, reports were optimistic Kyler Murray would play. It might not have mattered because one team came to play, the other did not.
Swinger, Sugar Hill Gang. Really? And you admit that?! WOW, nice musical taste. What, you were too cool for Bee Gees by then? While not a child like yourself, I was a head-banger in that time frame, so I have no idea about the lyrics you brought forth.
As far as Cleveland, they are more like the Red Hot Chili Peppers version of – Love, Rollercoaster – with their "week to weak" (did you see what I did there?) showings. The Browns are taking passage-aggressive behavior to new heights. That way Baker Mayfield is playing, he might be doing commercials from a new residence next year.
As for Detroit, the pressure is off, they will not be the first 0-17 team. Do the Lions suck? Of course. But as we have seen time and again, teams getting more than a touchdown continue to beat the NFL betting odds at a high rate. And underdogs on the season, Mr. Johnson, are covering better than 58 percent of the time. If you are looking for when this last happened, I think we both just lived it.
So, if you can stop watching Mayfield's Progressive Insurance commercials on YouTube for a couple of minutes, I can't wait to hear your reasoning on a big bounce back from the Brownies.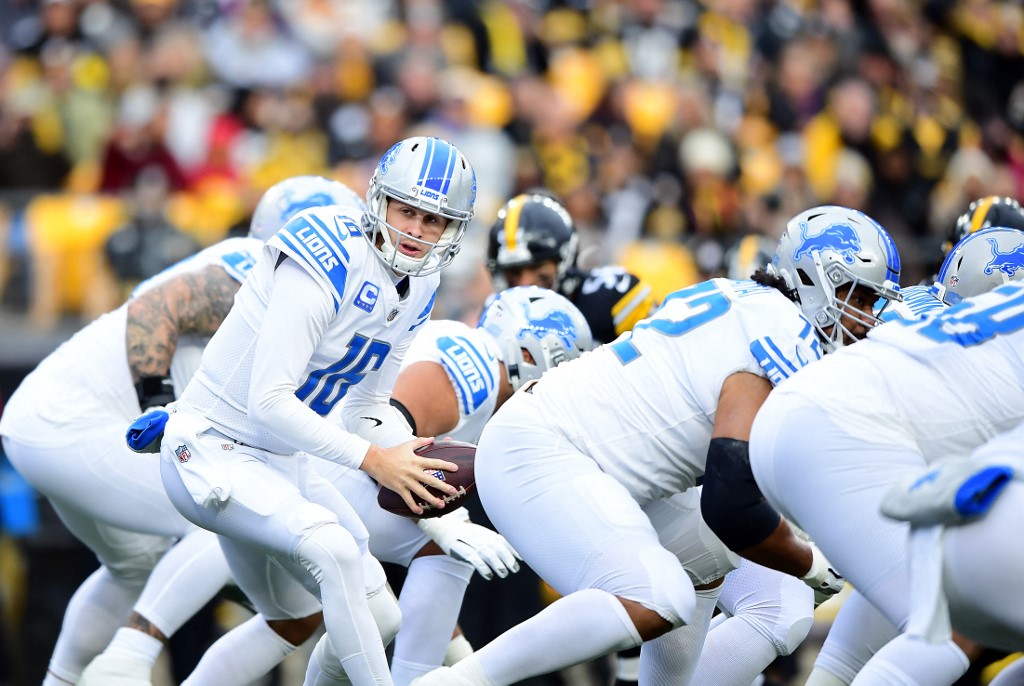 Swinging Johnson: Okay, so the Browns had injuries galore last week and Nick Chubb was noticeably absent. Can you imagine the pain he is going to inflict on this Lions' defensive line? I am taking up a collection for those big boys in the trenches. After all, it's sad to see little kids at Christmas without dads to play with them.
And speaking of injuries, how do you think Jared Goff will fare against Myles Garret slamming him to the not quite frozen 41-degree tundra? It's gonna hurt and I wouldn't be surprised if an already wounded Goff doesn't finish this game. I know you're a numbers guy so let me lay a few on you.
The Lions rank 28th in total yards offensively and 28th in allowing total yards defensively. Hey, at least they're consistent. Let's stay offensive for a moment (because we know the Lions have been offensive all season long) as they rank 25th in passing yards, 20th in rushing yards, and 29th in points scored averaging 16.7 PPG.
On the defensive side of things they are 16th against the pass but 30th against the run – did you hear that Nick Chubb?! Oh, and 30th in points allowed. Yeah, they'll stack up just fine against a Browns' squad that will be licking their chops, waiting to atone for their sins last week.
Final shot, my good man. Go ahead, take your adoring masses over that financial cliff, and keep backing this woeful Detroit team against the Brownies on Sunday. I'm listening!
Doug Upstone: I couldn't help but notice SJ that your analysis focused on Detroit, not what Cleveland does well.
In truth, that makes sense and lets me know you don't have much faith in Cleveland, which is understandable. I mean, the Browns are 2-4 SU and ATS in their last six games, not exactly surging towards the playoffs just yet.
Mayfield is a play-action quarterback, not a stud, and if the running game is not working, generally neither is he. Three times this season Cleveland has scored more than 30 points and on two of those occasions, they passed 40-points. Overwise, Mayfield, and company, have averaged 16.7 PPG in the majority of their contests. Is Cleveland capable of a big outing? Sure. However, the numbers say they are twice as likely as not doing so.
Glad you brought up Garrett. Can he rush the passer? Yes. He's also is part of a defense that allows 24.2 PPG against competition which has scored 22.8 PPG. Not exactly a ringing endorsement of a quality football, rather one that has a .500 record, just like Cleveland has.
I think we both agree, you could take the words out of any Dr. Seuss book and use the same number of words talking about the Lions' accomplishments this century. Nonetheless, Detroit should have three wins this season and only bad luck had kept them from beating Minnesota, Baltimore, and Pittsburgh last week.
I know you are going to play the alternate cover card on the Lions and if I were you, I would too. They are 5-0 ATS on odd weeks and 0-4 ATS on even game weeks like this one. But I'll do you one better Swinger. Detroit is a solid 30-14 ATS in road games after scoring 17 points or less in two straight outings, while the Brownies are 1-8 ATS off an away loss the last three seasons.
I'm not saying Cleveland doesn't win but those football bettors in the - Dawg Pound – will be happy their team won, yet sad they lost the cash.
Wrap this baby up Mr. Johnson!
Swinging Johnson: Look, I know the Browns are a chalky play here but the public doesn't always lose and the Brownies are in a premium position to annihilate the lowly Cats. Oh, and if you want to play with numbers, little mister, I'll give you numbers.
Lions are 4-12-1 ATS in their last 17 games in November.
Lions are 0-5 ATS in their last 5 games following an ATS win.
Browns are 6-1 ATS in their last 7 home games vs. a team with a losing road record.
Browns are 4-1 ATS in their last 5 games following an ATS loss.
Once again, we agree to disagree but, Doug, I wish you nothing but the best in all of your plays this week…except this one.