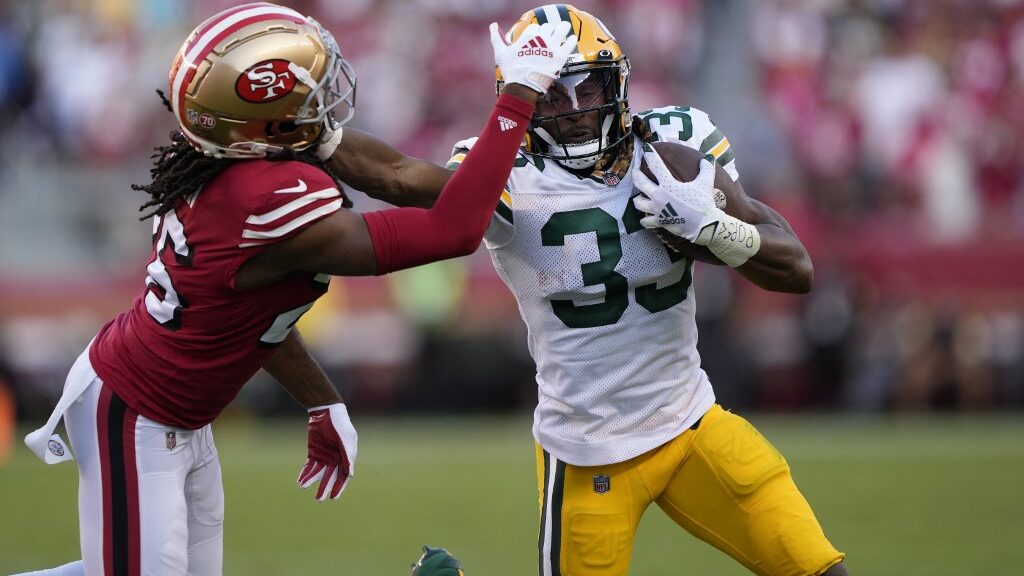 In this edition of Point/Counterpoint, Doug Upstone and Swinging Johnson are headed to the "Frozen Tundra" of Northeastern Wisconsin for the marquee matchup between San Francisco and Green Bay.
Will Mr. Johnson be able to continue his comeback? Let's see how they break down the NFL odds for this matchup!
2021-22 Point/Counterpoint Records:
Swinging Johnson 5-6 ATS
Doug Upstone 6-5 ATS
San Francisco 49ers vs. Green Bay Packers
Saturday, January 22, 2022 – 08:15 PM EST at Lambeau Field
Point/Counterpoint Preview
Doug Upstone: First, let's hear it for Swinging Johnson for rebounding in our weekly battle and I believe that makes it three in a row for you. Hey, I'm a nice guy and not above giving credit where it is due but being in this business, I still want to win every selection I make.
So enough of the congratulatory messages, as it's time to go work and pick up a 'W'.
San Francisco was both a sharp and square bet to upset the Dallas Cowboys on the road and they did just that. The Niners were the far more physical team in that contest and controlled the game for the first three quarters before Dallas made a late run.
Since losing a winnable game at Tennessee, the 49ers have faced three "must-win" battles and won them all, two as an away underdog to reach the Elite 8 part of the NFL tournament.
Waiting for the Niners is a rested top-seed in the Green Bay Packers, who are anticipating welcoming back a group of players who have not played in some time but who were starters before being injured.
VIDEO PICKS: Watch BMR's Free Expert Sports Betting Picks of the Day
Having seen the Packers at Lambeau Field countless times back when I lived in the Badger State, every week I put aside my feelings like I am this week, of any chance of sipping the Green and Gold Kool-Aid (Brandy back in those days) and am picking Green Bay and Aaron Rodgers on merit, not personal feelings.
Swinger, it looks like we should have ourselves a heck of a matchup, open the wine and cheese like the 49ers' fans do, and start making your case for the visitor.
Swinging Johnson: Although the sweet smell of success eluded me earlier in the season, I am basking in its fragrant glow with my third consecutive win, the latest of which were the Kansas City Chiefs over the "just happy to be here" Pittsburgh Steelers. It was a chalky play, to say the least, but the 12½ point impost was not enough to dissuade me from backing Patrick Mahomes and the prolific Chiefs' offense he leads. When the smoke cleared, Kansas City moved ahead to the next round, courtesy of a 42-21 win over Pittsburgh.
And yes, you know my penchant for wine and cheese. However, when the game begins, I will happily imbibe in the elegant juice born of the Napa Valley vineyards, only an hour north of the Bay Area, rather than jinx myself with the wildly overrated Wisconsin cheese.
Point Analysis
Alright, so now my focus is on Sweet Jimmy G and the San Francisco 49ers. As you so aptly stated, the 49ers keep rising to the challenge, and a victory over the No. 1 offense in the NFL, the Dallas Cowboys, was their latest conquest. The NFL odds at all of the best online sportsbooks are giving the visitors a 5.5-point head start and that has the familiar ring of value with such a resilient team.
And while the Packers have had two weeks to prepare for this date with destiny, I can't help but think that the way they ended the season, a lackluster defensive effort that led to a 37-30 loss to the woeful Lions, could have a deleterious effect on this week's game against the 49ers. Many will legitimately argue that Aaron Rodgers and many of the starters only played the first two quarters but we should also note the Packers were trailing, 17-13, at the half.
PLAY NOW: NFL Playoffs $1,000 Prop Bets Contest
The 49ers have plenty of mojo entering this matchup and we should also note that these teams tangled in Week 3 when the Niners dropped a narrow 30-28 decision to the Packers. In that game Aaron Rodgers locked on to Davante Adams, connecting with the All-World receiver 12 times for 132 yards and a touchdown which was over half of the 22 completions he made that day. Do you think the 49ers will be reviewing that game tape and concentrating on shutting down Adams this time around? You betcha.
Okay, I've got several more reasons why San Francisco is a live dog here with plenty of bite, but I'll let you make your case for the Packers. The floor is yours, my friend.
Counterpoint Analysis
DU: One of the wonderful aspects of the playoffs is teams' scheme to throw off their tendencies and catch opposing teams off balance. Already in the postseason, we have seen unfamiliar players score touchdowns like C.J. Uzomah (Bengals), Zay Jones (Raiders), Gabriel Davis (Bills) and Byron Pringle (Chiefs).
That's not to say any of them were not good players, just not featured ones. Though I agree that San Francisco should double-team Adams when possible, because he's in the slot so much, that is hard to do except in the red zone.
With this, that opens possibilities for Allen Lazard, Randall Cobb, Marquez Valdes-Scantling and the various Green Bay tight ends, with Rodgers picking out the right matchups.
Though the Niners' run defense has been stout, coach Matt LaFleur is not one to give up on running the pigskin like a Mike McCarthy after 10 attempts. Additionally, running backs Aaron Jones and A.J. Dillon have excellent hands and combined they caught 76 passes this season. All of this will keep the 49ers defense off balance.
MORE PICKS: 49ers vs. Packers Free NFL Divisional Round Picks and Predictions
Though San Francisco will have success running, once in the red zone, everything will gum up for San Fran. Jimmy G has played mostly clutch, but he was a little jumpy in the fourth quarter at Dallas, though cool as the other side of the pillow (Stuart Scott reference) at L.A. I'm curious to see how he'll react if trailing in the fourth quarter at Lambeau.
All of this is fine, but here is what matters to me. When any team has three straight road games in three weeks, that is a difficult assignment. Add in all our pressure-packed games with your season on the line, it's a challenge to generate that emotional energy game after game.
Your 49ers play well, but they are not as razor-sharp as they have been and fall by 10.
SJ, you said you had more to say, take it away!
Final Rebutal
SJ: Okay, so here's the thing. The Packers are a public team, a household NFL name with a future Hall of Fame quarterback in Aaron Rodgers, a two-week respite courtesy of their first-round bye, and getting guys like blindside tackle, David Bakhtiari, back and possibly cornerback Jaire Alexander.
Packers' linebacker, Za'Darius Smith, could also return after missing virtually the entire season. Green Bay also has the home field advantage and I'm beginning to make your case for a wager on the Packers, aren't I, Doug?
But - there's always a big but isn't there? I must confess I like big butts and I cannot lie…but that's another topic for another day. The 49ers are now 5.5-point road dogs and it doesn't seem like that's enough to get the public to budge. And while it does surpass the most magical number, 3, and even 4, it is still under two other critical football betting numbers, 6 and 7, making it appealing to many Packers bettors – typical Joe Q. Publics.
However, the oddsmakers' job is to attract an equal amount of betting action on both teams. Understanding that, don't the little hairs on the back of your neck stand up when you see that this line has barely budged from the opening number? If it looks too good to be true…it usually is.
MORE PICKS: NFL Divisional Round Picks: 3 Keys for 49ers to Upset Packers
And on top of that, we saw the chalk crush it last week with the Bengals, Chiefs, Bucs, Bills, and Rams all covering as favorites. Can you guess which favorite didn't cover? I'll bet you can, little mister. Yes, the Dallas Cowboys were the only favorite that failed to cover because the 49ers are a team that refuses to die. It always seems as though whenever the bookies get crushed, the underdogs come back the following week and give them all their money back.
San Francisco has now won eight of its last 10 and has surrendered an average of just 16.2 points per game over their last four games. Their offense ranks third in total yards, averaging 375.7, while their defense ranks third in total yards allowed, surrendering 310 yards per contest.
And let's not forget that the Niners nearly defeated the Packers earlier in the season despite gaining a mere 67 rushing yards without the services of their No. 1 running back, Elijah Mitchell, a sixth-round rookie running back who has come out of nowhere and averaged over 96 rushing yards per game over the last nine weeks.
Point/Counterpoint Picks
Look, if the 49ers can't control the pace and tempo of the game on the ground and Aaron Rodgers is locked on, then it's sayonara. San Francisco will not only lose but they will fail to cover. You win, you celebrate, and I sit shivering in a cold, empty apartment waiting for an invitation to visit you in the sun-splashed climes of the Arizona desert. Ahem, I'll need airfare. Pay you back, brotha, promise.
However, I don't see it going that way. I see the Niners hanging and banging against the Packers and before you get too excited about those returning Green Bay players, don't think they're going to strut on in and play to the level to which we've become accustomed. It doesn't happen like that. I say watch Sweet Jimmy G be the consummate game manager that he is and allow the 49ers running game to chew up yards, tick the clock, and cover the number.
I am done with you, good sir!
DU: San Francisco will arrive confident, then Rodgers starts methodically picking them on defense. Green Bay's defense will cause a little doubt and the 49ers will be questioning themselves where the energy is. Give me the Packers for my NFL pick here.
Mr. Johnson, all streaks always end and Green Bay is where yours goes to die a chilly death.
Doug's NFL Pick: Packers -5.5 (-114) at BetOnline (visit our BetOnline Review)
*The line and/or odds on picks in this article might have moved since the content was commissioned. For updated line movements, visit BMR's free betting odds product.