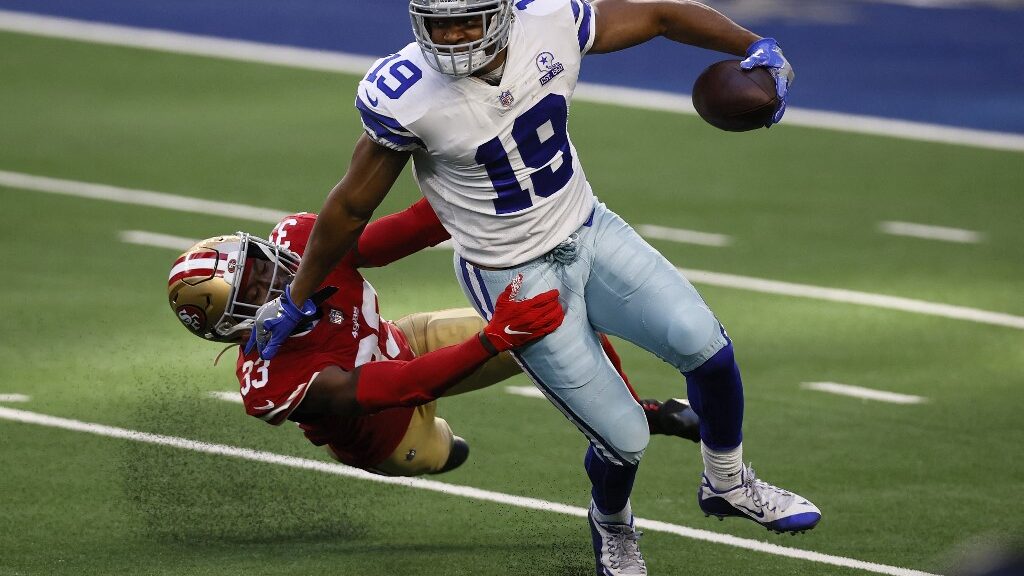 In Swinging Johnson's pick-all column, our man is hitting close to 57 percent for the season but now that the field has narrowed, the postseason should be even better!
Let's see what Swinger has for us in the Wild Card round this weekend!
Swinger's 2021 Pick All Record (78-60 ATS)
Las Vegas Raiders vs. Cincinnati Bengals
Saturday, January 15, 2022 – 04:30 PM EST at Paul Brown Stadium
If you are the least bit concerned that the Bengals lost a 21-16 decision to the Browns in their regular-season finale – don't be. It was a gimme game for the Browns and one that the Bengals used to rest their star players and many of their starters.
A couple of Joes surnamed Burrow and Mixon sat out the contest and essentially got a second bye week at exactly the right time. Both will have had two weeks to lick their wounds and prepare for this Wild Card showdown with the lucky-to-be-here Raiders.
These teams squared off earlier this season and the result was a 32-13 Cincinnati win over the Raiders in Sin City.
MORE PICKS: NFL Super Wild Card Weekend Best Bets: Raiders vs. Bengals Picks for January 15
Now, these same Cats get the team they dominated earlier in the season served up on a platter in their home stadium, with well-rested starters, against a team that needed until about midnight on Sunday to eke into the playoffs courtesy of an overtime victory against the Chargers.
We will give the Raiders credit for overcoming a plethora of obstacles this season, not the least of which was losing their deep threat, Henry Ruggs, to a spectacularly stupid and tragic series of events that will likely leave him spending what would have been his entire football career, and then some, in prison.
The Pick
But how they can hang with one of the best offenses in the league knowing that their 28th ranked rushing attack will go nowhere against the Bengals' 5th ranked run-stop unit, is anyone's guess.
Another double-digit victory is in the offing if the Cats want it, and I say they do!
Score Prediction: Bengals 31 – Raiders 16
NFL Pick: Bengals -5 (-110) at BetOnline (visit our BetOnline Review)

---
New England Patriots vs. Buffalo Bills
Saturday, January 15, 2022 – 08:15 PM EST at Highmark Stadium
Mother Nature was the Patriots' best friend in the first meeting between these divisional rivals as the 50+ mile per hour winds would not allow Josh Allen to get his passing groove on.
However, it did nothing to stop New England's twin battering rams, Damien Harris and Rhamondre Stevenson, from grounding and pounding their way to a combined 189 of the Pats' 222 rushing yards which contributed mightily to their 14-10 victory.
MORE PICKS: Patriots vs. Bills Free NFL Super Wild Card Weekend Picks
The Bills would take their revenge a few weeks later in the much less tempestuous climes of Gillette Stadium in Foxboro, Massachusetts.
But we should note that the inclement weather is expected to return to Orchard Park, New York this Saturday night with temperatures well below 10 degrees and 15 MPH winds.
The Pick
That will leave receivers like Stefon Diggs with cold, brittle hands and Josh Allen unable to count on a reliable running attack other than his own when he sprints for the edges.
I think I smell an upset here but if the NFL odds are giving us a four-point head start, we'll take it!
Score Prediction: Patriots 21 – Bills 20
NFL Pick: Patriots +4 (-108) at Heritage Sports (visit our Heritage Sports Review)

---
Philadelphia Eagles vs. Tampa Bay Buccaneers
Sunday, January 16, 2022 – 01:00 PM EST at Raymond James Stadium
This is a rematch of Week 6 when the Bucs, having held a 21-point lead in the third quarter just kicked back and watched the Eagles close the gap to a six-point deficit, where it stayed.
Tampa Bay won the game, 28-22, but narrowly failed to cover the seven-point impost, giving the Eagles a backdoor cover much to the delight of their backers.
MORE PICKS: Eagles vs. Buccaneers NFL Super Wild Card Weekend Preview and Best Bet
But this time around there will be no such mercy as Tom Brady is a master of the postseason and he loves nothing more than pouring gasoline onto the fire when he gets the opportunity to do so in the playoffs.
The Pick
And we know the Eagles won't be able to run on one of the best rushing defenses in the league so it will be solely up to Jalen Hurts to win a shootout against the best of all time. Ain't happenin', amigos.
Score Prediction: Buccaneers 37 – Eagles 16
NFL Pick: Buccaneers -8½ (-108) at Heritage Sports

---
San Francisco 49ers vs. Dallas Cowboys
Sunday, January 16, 2022 – 04:30 PM EST at AT&T Stadium
Dallas ended the regular season with the No. 1 offense in the league, averaging 31.2 points per game and tallying an average of 407 yards per contest.
They didn't hold back last week when they faced an undermanned Philadelphia squad that was resting many of its starters including Jalen Hurts.
When the smoke cleared, Dallas ran away with a 51-26 victory and that is what Joe Q. Public will remember when betting the "Boyz" this week.
MORE PICKS: 49ers vs. Cowboys Free NFL Super Wild Card Weekend Picks and Odds Breakdown
But the 49ers showed remarkable resiliency in erasing a 17-point deficit and defeating the Rams in overtime, 27-24, in hostile territory. And it's that kind of tenacity that makes me lean towards San Francisco in this matchup.
The Niners boast a very good pass defense and should be able to keep pace with the Cowboys in this one.
The Pick
However, there are many other betting opportunities to explore this weekend but if the spirit moves you, grab the points with the 49ers.
One caveat (among many), Dallas has the top takeaway defense in the league with 34 on the season. It's always risky betting against an opportunistic defense, so consider yourself warned.
Score Prediction: Cowboys 32 – 49ers 30
NFL Pick: 49ers +3 (-104) at BetOnline

---
Pittsburgh Steelers vs. Kansas City Chiefs
Sunday, January 16, 2022 – 08:15 PM EST at Arrowhead Stadium
If you believe the Steelers belong here then just listen to Big Ben offer his thoughts on the divine intervention that had to occur for Pittsburgh to get their ticket punched to the postseason parade.
"We haven't discussed it, but I would assume as a group you understand that we probably aren't supposed to be here," Roethlisberger said on Wednesday.
"We're probably not a very good football team. Out of the 14 teams that are in, we're probably number 14. We're double-digit underdogs in the playoffs. So, let's just go play, have fun and see what happens.
MORE PICKS: Steelers vs. Chiefs NFL Super Wild Card Weekend Picks and Predictions
"We're probably 20-point underdogs, and we're going to the No. 1 team that's won the AFC the last two years. Arguably the best team in football. We don't have a chance, so let's just go play and have fun."
Some say this is sarcasm while others say it's next-level gamesmanship but I say it's the truth. Roethlisberger is dead on and he can afford to be candid because this is his swan song.
The Pick
I don't see how the Steelers possibly keep pace with Patrick Mahomes and his aerial blitzkrieg which is essentially what I told my buddy and fellow BMR handicapper, Doug Upstone, in this week's Point/Counterpoint.
This looks like a blowout to me so lay it and like it!
Score Prediction: Chiefs 41 – Steelers 17
NFL Pick: Chiefs -12½ (-108) at Heritage Sports

---
Arizona Cardinals vs. Los Angeles Rams
Monday, January 17, 2022, 08:15 PM EST at SoFi Stadium
I believe there is money to be made on the underdog in this matchup. As the public knows all too well, the Cardinals have been struggling down the stretch, having lost four of their last five games, including a 30-23 setback to these same Rams in the desert back in Week 14 which began their shame spiral.
MORE PICKS: Cardinals vs. Rams Monday Night Football Wild Card Game Preview and Best Bet
But streaks, like all things, eventually come to a stop and this is where it ends for the Cardinals. The Rams revealed their character, or lack thereof, yet again last week when they folded like a lawn chair to the 49ers after establishing a 17-point lead.
The Pick
I'm casting my fortunes with the road pup here and am looking for an outright victory for our last NFL pick of the Wild Card Weekend!
Score Prediction: Cardinals 27 – Rams 23
NFL Pick: Cardinals +4 (-108) at Heritage Sports

*The line and/or odds on picks in this article might have moved since the content was commissioned. For updated line movements, visit BMR's free betting odds product.