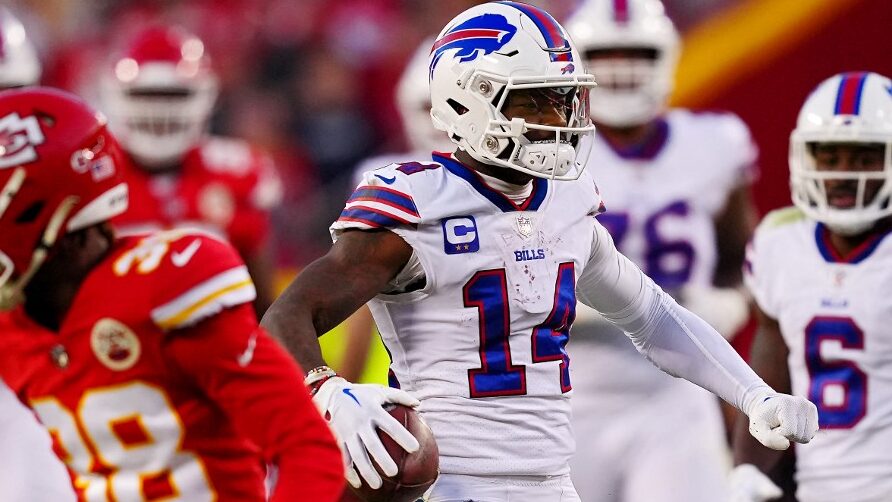 Now that the 2022 NFL regular season is just over a third of the way complete, we wanted to look at our preseason over/under predictions for win totals. With 22 of the teams at .500 or below right now, mediocrity is dominating this season so far as very few teams look like serious contenders.
But chances are some of these teams .500 or worse will shape into form before the playoffs. Still, the class of the league is clearly Philadelphia in the NFC and Buffalo and Kansas City in the AFC.
Going into Week 7, let's review where our preseason prediction for win totals stands and what is the right NFL pick for the updated NFL odds at many of the top-rated sportsbooks. All of the lines presented below are courtesy of Bovada (visit our Bovada Review)
---
AFC East
---
Buffalo Bills (5-1)
Aside from shooting themselves in the foot in Miami, Buffalo has done everything it needed to do before the Week 7 bye. The offense and defense both look like arguably the best units in the league. Josh Allen is the MVP favorite and Von Miller has been a great addition to the defense.
The Bills finally ended their fourth-quarter comeback drought win a big one in Kansas City in the game of the year. The division is looking competitive, but the Bills should be the No. 1 seed with at least 14 wins this season. Stick with the Bills to go over.
2022 Bills Over/Under Pick: Over 13.5 wins (-105) at Bovada
---
New York Jets (4-2)
When we picked the Jets to go over 5.5 wins, we were still thinking more in the ballpark of a 6-11 season. But the Jets stunned the Browns and Steelers with big comebacks, then ran away with games against the Dolphins and Packers the last two weeks to get to 4-2.
Zach Wilson still has a lot to prove at quarterback, but the rookies, including running back Breece Hall, are looking very good so far. The schedule should have enough winnable games left for the Jets to get to 8-9 at the very least, but they may still be a year away from the playoffs.
2022 Jets Over/Under Pick: Over 7.5 wins (-145)
---
Miami Dolphins (3-3)
One of the hardest teams to judge since the 3-0 start, including a 21-point comeback in Baltimore and a win over Buffalo despite getting outgained by nearly 300 yards, has led to four straight games with the starting quarterback injured. Now after a three-game losing streak, it appears Tua Tagovailoa is ready to return, and the Dolphins should be favored in at least the next five games.
This team still has some flaws, and you should not trust them in a rematch with the Ravens or Bills, but 10 wins still look doable with the schedule. Stick with the over.
2022 Dolphins Over/Under Pick: Over 9.5 wins (-120)
---
New England Patriots (3-3)
We had no idea what a Bailey Zappe was when we did our preseason pick, but Bill Belichick just got a 300-yard passing game out of him before Justin Fields or Zach Wilson ever had one in the NFL.
This line is likely to be decided by if the Patriots can sweep the Jets, or if the Bills rest starters in Week 18. It should be close. We'll trust Belichick to get the job done even if this team is unlikely to make the playoffs this year.
2022 Patriots Over/Under Pick: Over 8.5 wins (-105)
---
AFC North
---
Baltimore Ravens (3-3)
The Ravens are frustrating because they have already blown three double-digit leads in the second half. Lamar Jackson has had multiple egregious turnovers in the fourth quarter against Buffalo and the Giants. But he has been great in the other moments this season.
Baltimore still looks like the best team in the division, and the schedule is going to be easier down the stretch. We'll stand pat with the prediction of 11-plus wins as hopefully, the team stops blowing these big leads.
2022 Ravens Over/Under Pick: Over 10.5 wins (-115) at Bovada
---
Cincinnati Bengals (3-3)
Failing on an extra point and another short field goal in Week 1 against Pittsburgh due to the emergency long snapper may come back to haunt this team. Beyond that game, the Bengals still have some issues with the offense not producing enough explosive plays like last year.
The Bengals are 3-3 after playing five backups or benched quarterbacks. Later, in the season, they'll have to face Patrick Mahomes, Tom Brady, Josh Allen, and Lamar Jackson again. Joe Burrow's revamped offensive line is not as improved as he had hoped it would be.
Let's stick with the Bengals doing no better than 9-8 in a disappointing season.
2022 Bengals Over/Under Pick: Under 9.5 wins (-125)
---
Cleveland Browns (2-4)
Cleveland's inability to win high-scoring games and close games has carried over from 2021 to this year. Cleveland has already blown a league-high three leads in the fourth quarter. The 2-4 Browns should be underdogs in each of their next five games with several losses likely.
By then, Deshaun Watson could return from suspension, but it may be too little, too late, to salvage the season. Stick with the under.
2022 Browns Over/Under Pick: Under 7.5 wins (-115)
---
Pittsburgh Steelers (2-4)
We still believe our preseason pick is going to be right as 7-10 seems like the best-case scenario for this team. But outside of getting waxed 38-3 in Buffalo, every game has been close and winnable. Having T.J. Watt after Week 1 could have easily swung things for the Steelers against the Patriots, Jets, or Browns, but he needs to get healthy.
Still, that upset win over Tampa Bay changes some projections here. The Steelers could get Kenny Pickett (concussion) back for Sunday, and Watt should be back soon. Maybe Mike Tomlin fails to avoid his first losing season, but over 5.5 wins look like close to a lock.
2022 Steelers Over/Under Pick: Over 5.5 wins (-125)
---
AFC South
---
Tennessee Titans (3-2)
The Titans have won three in a row after an ugly 0-2 start, but they are the first team since the 49ers, in 2005, to go scoreless in the fourth quarter through five games. They are barely hanging on the last three games.
But with the division looking so weak, we may be proven wrong on the preseason pick. This team looks capable of once again winning nine games, which is something they have done every year since 2016. Let's trust head coach Mike Vrabel and switch to the new over.
2022 Titans Over/Under Pick: Over 8.5 wins (-105) at Bovada
---
Indianapolis Colts (3-2-1)
The Colts are a strange team because Matt Ryan is getting beat up behind this offensive line and Jonathan Taylor has been injured and unable to run effectively when healthy. The defense has also barely got any snaps from its best player (Shaquille Leonard).
Yet, the Colts beat Kansas City, and Ryan has led two more dramatic comebacks against Denver and Jacksonville. He is second in the NFL in passing yards and would have a fourth win this season if the Colts could kick a field goal in overtime against Houston.
While we are probably going to be wrong about this working out as an 11-win season, we are still riding the new over for this team to have a shot at the playoffs in the weird AFC.
2022 Colts Over/Under Pick: Over 8.5 wins (-105)
---
Jacksonville Jaguars (2-4)
For about two weeks the Jaguars had tricked people into thinking this was their year. But as it turns out, beating up on the Colts at home like they do every year and taking advantage of the Chargers after Justin Herbert's rib injury doesn't carry over to the following week. The Jaguars lost a ninth in a row to Houston and just lost the rematch with the Colts.
Jacksonville has lost 38 games in a row when allowing more than 20 points. The schedule should keep this one close, but I do not see the Jaguars doing better than 6-11 now, so I would take the new under.
2022 Jaguars Over/Under Pick: Under 6.5 wins (+115)
---
Houston Texans (1-3-1)
Houston is improved enough on defense to keep games close, but Davis Mills has not made progress as a second-year quarterback. Still, this team nearly beat Indy and Chicago, and the schedule still has some winnable games with the Raiders, Commanders, and Jaguars again. They also may come out motivated to win that Cleveland game if Deshaun Watson is the quarterback.
The Texans have also won nine in a row over Jacksonville and they get one more with them. Let's stick with the over pick, but it is still going to be a 4-13 or 5-12 season.
2022 Texans Over/Under Pick: Over 3.5 wins (-160)
---
AFC West
---
Kansas City Chiefs (4-2)
We liked the Chiefs to fall back to 10-7 largely because of losing Tyreek Hill and the competition that was supposed to come from the division. Instead, the Chiefs seem to be even further ahead of the other AFC West teams, who are poorly coached.
The Chiefs have looked less explosive on offense without Hill, and that hurts them in a game like the Buffalo loss, but the Bills are one of the only teams in the league that can go toe to toe with this team. They could still slip up a few times this year, but for as long as Patrick Mahomes is healthy, the Chiefs should win 12 games, so we are taking the new over.
We shouldn't have trusted the Chargers, Raiders, and Broncos that much.
2022 Chiefs Over/Under Pick: Over 11.5 wins (-125) at Bovada
---
Los Angeles Chargers (4-2)
Our prediction is looking better than the Chargers have actually looked on the field. The 19-16 overtime win over Denver was ugly, and it has been another year of major injuries to Chargers players, most notably Joey Bosa and Keenan Allen.
Justin Herbert is not having the MVP star turn we had hoped for, but he is still a good quarterback. If the Chargers can continue winning the games they are expected to, then they should be able to deliver on the 11-win season. Let's stick with that for now.
2022 Chargers Over/Under Pick: Over 10.5 wins (+100)
---
Denver Broncos (2-4)
We want to get off the ride, Russ.
Hard to take credit for that under pick when we were treating it as a push situation with Russell Wilson expected to lead this team to the playoffs. Denver has been the most disappointing team in the league and, unfortunately, we've had to watch this offense in prime time four times already.
With so many tough games left on the schedule and a coach that is in over his head, let's double down on the new under for this team.
2022 Broncos Over/Under Pick: Under 7.5 wins (-165)
---
Las Vegas Raiders (1-4)
All those close wins last year have turned into close losses for the 1-4 Raiders, who have blown two three-score leads already. New coach Josh McDaniels has done a terrible job of getting this offense going with Derek Carr and what should be the best trio of receivers in the league. But while Davante Adams is putting up numbers, Darren Waller and Hunter Renfrow have taken a big step back. It has been a mess and the defense is not getting the job done either.
The schedule is going to get much easier, then much tougher at the end. Go with the Raiders to fall under now after this rough start.
2022 Raiders Over/Under Pick: Under 7.5 wins (-125)
---
NFC East
---
Philadelphia Eagles (6-0)
This was one of the easiest picks to make in the preseason as the Eagles looked improved and the line was enticingly low. But they remain the NFL's only unbeaten team at 6-0. Jalen Hurts has been very good, A.J. Brown has been a great fit, and the defense is solid.
The schedule and poor nature of the NFC is a reason to love this team as the No. 1 seed. My initial run through of the schedule had this team at 14-3 before manually adjusting it down to something more realistic. But the Eagles might just go 14-3 after all.
Go with the new over as this team doesn't have to face Buffalo, Kansas City, Tampa Bay, or the Rams or 49ers, and Green Bay is a shell of itself. It might be Philadelphia's year again as the NFC loves these one-off teams (2015 Panthers, 2016 Falcons, 2017 Eagles, 2018 Rams, 2019 49ers, etc.).
2022 Eagles Over/Under Pick: Over 13.5 wins (-125) at Bovada
---
New York Giants (5-1)
The hiring of Brian Daboll and the easy schedule made this over such an attractive pick this summer. But little did we know the Giants would have three fourth-quarter comebacks when trailing by at least seven points this season against the likes of the Titans, Packers, and Ravens. From 2012 to 2021, the Giants were 3-78 when trailing by at least seven points in the fourth quarter.
This team may not be able to sustain its success, but with a 5-1 start and the schedule remaining, we actually like the Giants to get to 10 wins. It sounds crazy, but it will make Daboll a lock for Coach of the Year.
2022 Giants Over/Under Pick: Over 9.5 wins (-125)
---
Dallas Cowboys (4-2)
People were quick to bury the Cowboys after Week 1's embarrassing 19-3 loss to Tampa Bay that saw Dak Prescott require thumb surgery. But Cooper Rush was able to win his first four starts before the team fell to the undefeated Eagles in Week 6. Now Prescott could return this week.
The defense looks legitimate this year. If Prescott can get back to his usual level of play, this team may very well get to 11 wins again with the schedule left. After underestimating the defense being more than a unit that relies on takeaways, let's go with the over after assuming Prescott just had an off night in Week 1.
2022 Cowboys Over/Under Pick: Over 10.5 wins (-115)
---
Washington Commanders (2-4)
This line always felt like a steal as the Commanders were the worst team in the division. When coach Ron Rivera was asked why that is, he simply said "quarterback." Now Carson Wentz (finger) is hurt, but the team really does not lose much by going back to Taylor Heinicke.
Still, with many games to come against the Giants (5-1), Cowboys (4-2), and Eagles (6-0), it is easy to stick with the under for this team.
2022 Commanders Over/Under Pick: Under 6.5 wins (-145)
---
NFC North
---
Minnesota Vikings (5-1)
This pick is looking good, though the Vikings are statistically closer to a mediocre team than a typical 5-1 team. They have won a lot of close games in the fourth quarter, which is usually not the case for Kirk Cousins-led teams.
But in their one big test in Philadelphia, the Vikings looked bad in a 24-7 loss. That game is why people won't take this team seriously in the playoffs. The 10 wins look likely to hit our preseason bet, but for the updated line of 11.5, let's cautiously stick with the under. But 11-6 is very doable for this team after the good start.
2022 Vikings Over/Under Pick: Under 11.5 wins (-125) at Bovada
---
Green Bay Packers (3-3)
In the last three weeks, the Packers have been favored by 7.5-to-9.5 points, and Matt LaFleur was 21-0 SU as a favorite of at least a touchdown in his career. They nearly lost at home to the Patriots' third-string rookie quarterback, lost in London to the Giants, and lost by 17 points at home to the Jets, the worst regular-season home loss of Aaron Rodgers' career.
The Packers dearly miss Davante Adams, but Rodgers also has lost a step. The Packers still have games at Buffalo and Philadelphia too. Fade the Packers and take the under.
2022 Packers Over/Under Pick: Under 9.5 wins (-115)
---
Chicago Bears (2-4)
Predicting Justin Fields to continue struggling is paying off so far. The Bears are 31st in scoring and Fields is taking a sack on a ridiculous 16.7% of his dropbacks. The defense might keep Chicago in enough games with a light enough schedule to make this number a dogfight all the way through Week 18 but stick to your gut and take the under.
2022 Bears Over/Under Pick: Under 5.5 wins (-125)
---
Detroit Lions (1-4)
We love the way Dan Campbell's team fights, but the Lions are 1-4 after allowing a league-worst 34 points per game. The offense has been surprisingly great behind Jared Goff, but this is the worst defense in football.
The defense will hopefully improve after the bye, but it is also easy to see the offense slowing down. In the end, Detroit might not do any better than 6-11 after this rough start. We're selling our Detroit stocks this year and going with the under.
2022 Lions Over/Under Pick: Under 6.5 wins (-145)
---
NFC South
---
Tampa Bay Buccaneers (3-3)
Do you think Tom Brady regrets coming out of retirement? He looks miserable every week, especially when games go as poorly as they did in Pittsburgh. Tampa Bay has yet to play a game where the offense and defense were both good. Injuries in the receiver corps and offensive line have hurt that side of the ball, and that could improve as the season goes on.
But given the state of the NFC South, Brady should still get a home playoff game this year. The Buccaneers may not get to 12 wins as we predicted, but let's go with 11 as they figure things out on offense while the defense keeps the score down. Only the Chiefs have dropped more than 20 on this unit so far.
2022 Buccaneers Over/Under Pick: Over 10.5 wins (-110) at Bovada
---
Atlanta Falcons (3-3)
The Falcons are 6-0 ATS this season, defying most expectations and playing a lot of competitive football. Marcus Mariota ranks No. 9 in QBR and the offense is No. 10 in points per drive. This team would be the talk of the league if it did not come up short in huge comeback bids against the Rams (down 28-3) and Buccaneers (down 21-0 in the fourth quarter).
It seems crazy to pick this team to win eight games now, but the chance to sweep the Panthers is significant, and the Falcons also still play the Bears, Commanders, Cardinals, and a home game with Pittsburgh's low-scoring offense. It's a big change, but let's go with the over now.
2022 Falcons Over/Under Pick: Over 7.5 wins (-115)
---
New Orleans Saints (2-4)
The Saints are fighting hard through a lot of injuries as all six games have been within one score in the fourth quarter. But the defense has fallen off in a big way, and the offense has made too many turnovers and timely mistakes. At least some of the team's best players should be back soon, including Michael Thomas and Marshon Lattimore.
We'll still take the new over to get the Saints to 7-10, but it doesn't get any better than that for this team as our original prediction should be spot on.
2022 Saints Over/Under Pick: Over 6.5 wins (-125)
---
Carolina Panthers (1-5)
Well, this one is going to be way off. Baker Mayfield looked terrible, Matt Rhule was the first coach fired, and interim coach Steve Wilks is stuck with the most unwatchable team in football right now. It will get even worse if they trade running back Christian McCaffrey.
It is hard to see more than two or three wins on the schedule the rest of the way. This team is a serious contender for the No.1 pick in the draft.
2022 Panthers Over/Under Pick: Under 4.5 wins (-115)
---
NFC West
---
San Francisco 49ers (3-3)
The Trey Lance experience did not last five quarters as we predicted that an injury in September would be one of his outcomes this season. Unfortunately, that was the case, but the defense has been the story for this team regardless of the quarterback. That unit is also taking some major injuries and a game with Patrick Mahomes this week could drop the 49ers to 3-4.
While they may not get to 11 wins and further in the playoffs than last year, the 49ers still have the talent to get to 10 wins. Go with the new over.
2022 49ers Over/Under Pick: Over 9.5 wins (-125) at Bovada
---
Los Angeles Rams (3-3)
The defending champs still have the star power and coaching talent to get by the winnable games on the schedule. But Matthew Stafford is going to take a beating against any top-tier defensive front, and the Rams are unlikely to do any damage in the playoffs if they get that far this year.
But a team with Stafford, Cooper Kupp, and Aaron Donald is still good enough to get to 10 wins, so stick with the over.
2022 Rams Over/Under Pick: Over 9.5 wins (-105)
---
Seattle Seahawks (3-3)
Geno Smith has played far better than anyone expected, but the defense has turned into a bottom-three unit. The closest thing the Seahawks have come to playing a 10-win caliber team was San Francisco, and they lost that one 27-7.
However, the NFC West looks weaker than expected, and the AFC West is definitely not as tough as it was supposed to be. So, the Seahawks may end up proving us wrong by winning six games, but we still would take the new under that they won't go 7-10 or better.
2022 Seahawks Over/Under Pick: Under 6.5 wins (-110)
---
Arizona Cardinals (2-4)
Maybe they needed to keep the independent study clause in, because Kyler Murray is averaging a league-low 5.8 yards per attempt. This team was very fortunate to make a 16-point comeback against the Raiders and win on a fumble return touchdown. The offense has scored more than 23 points just once this season in Carolina.
DeAndre Hopkins should be a boost as he returns from suspension this week, and the schedule will lighten up after already having played the Chiefs and Eagles. The NFC West is not strong this year.
The Cardinals are not good, but a 7-10 finish still looks likely as long as they take care of the Saints at home on Thursday night.
2022 Cardinals Over/Under Pick: Over 6.5 wins (-125)
*The line and/or odds on picks in this article might have moved since the content was commissioned. For updated line movements, visit BMR's free betting odds product.