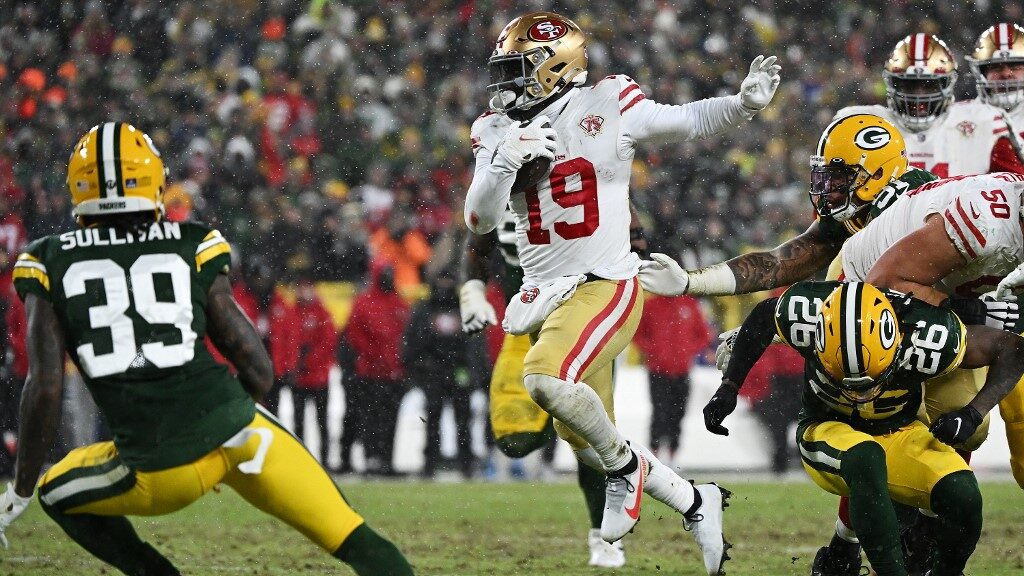 Two of the last three NFC Championship winners will face off this year, and the winner will reach the Super Bowl. The Los Angeles Rams will try to earn a place in the Super Bowl played in their stadium in Matthew Stafford's first year with the team. They'll have to get past a divisional rival to get there, though.
The 49ers were expected to rebuild around Trey Lance this year, but they defied the NFL odds and made it to the NFC Championship. To get here, they had to win two road playoff games. They'll need to win a third to win the NFC Championship.
The 49ers have a strong record against the Rams, but it's hard to beat a team three times in one season. That's what the New Orleans Saints learned last year against the Tampa Bay Buccaneers. Adding that with the way the Rams played last week, it should be no surprise that they are favored by 3.5 points at home. Still, this game will be close.
Here are keys for the 49ers to upset the Rams and reach their second Super Bowl in three seasons.
San Francisco 49ers vs. Los Angeles Rams
Sunday, January 30, 2022 – 06:30 PM EST at SoFi Stadium
Feed Deebo Samuel Heavily
The 49ers have an insane ability to get production in the run game regardless of who starts. They replace running backs consistently, and every replacement lives up to the hype. However, Deebo Samuel is a different breed in the backfield.
He mostly lines up as a wide receiver, but he is fully capable of being a game-changer as a running back. He's the most dynamic player in the NFL right now, and he needs to be used in a variety of ways against the Rams.
Samuel should get some easy targets in the passing game to get Jimmy Garoppolo in a rhythm. He should also get some carries to get him going without risking a pass. This is how the 49ers made it to this game, but they need to keep it up in the biggest game of the year.
Samuel is one of the hardest players to stop in the NFL. He has the speed to break away from defenders, but he is also elusive. That's why it's nearly impossible for one player to lock him down. He has a trait that can beat any type of defender.
Force Stafford Into Bad Decisions
Matthew Stafford has looked like an MVP candidate at times. However, he's also looked like a failure at times. He's made risky decisions with football, and they don't always pay off. He was brought in for his ability to dominate and make big plays, but it comes back to bite the Rams at times.
The 49ers need to force Matthew Stafford into bad decisions. How do you do this? First of all, you have to take the easy options away. Stafford won't take a risk if he has an easy check down. After that, you have to get pressure without blitzing.
The 49ers have a great defensive front, and you'll need players like Nick Bosa to keep Stafford moving out of the pocket. This can help get him flustered, and it will lead to some risky throws. After that, you just have to hope your secondary makes a play.
It's no guarantee, but it's how you have to attack this game mentally. It'll give the 49ers the best chance of keeping this game low-scoring, which is how they win this game.
Predict The Super Bowl Matchup & Winner For $250​
Avoid the Drastic Mistake by Jimmy Garoppolo
Jimmy Garoppolo is one of the most volatile quarterbacks in the NFC, and his play directly correlates with the success of the 49ers. They lose almost every game where he throws an interception. This sounds obvious, but it correlates heavier than it does with most quarterbacks.
When Jimmy Garoppolo plays a clean game, the talent around him is enough to win. The run game is solid, and the receivers can make big plays for him. The defense is able to get pressure, and they win the battle of field position. However, a few bad mistakes can turn this into a shootout, and that is a game the 49ers will lose.
If San Francisco wants to play again in the Super Bowl, they need to be creative with how they use Deebo, force Stafford into throwing picks and keep Jimmy Garoppolo from making the game-altering mistake he is known to make.