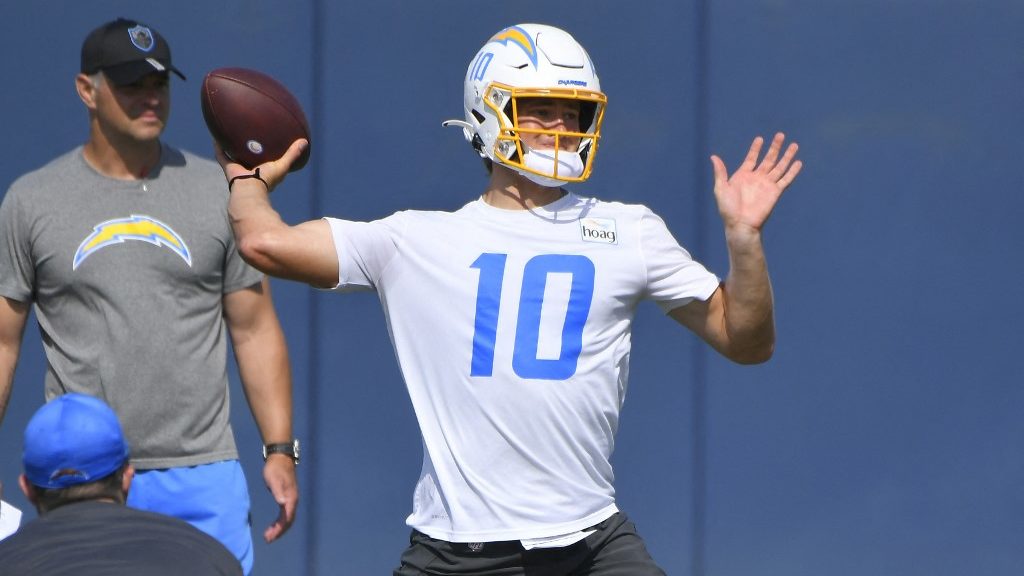 The Los Angeles Chargers are one of the most interesting teams going into the 2021 season. Will they be the first team in NFL history to finish seven-ten, or could they surpass the Chiefs to win the AFC West for the first time since 2009 behind new head coach Brandon Staley?
The top sportsbooks certainly look to be in favor of the Chargers moving up in the AFC this year as their over/under is 9.0 wins, putting them on the fringes of postseason competition. Can reigning Offensive Rookie of the Year Justin Herbert avoid a sophomore slump? Can Staley stop this team from its tradition of snatching defeat from the jaws of victory?
On the Last Season of CHARGERS: Justin Herbert Living His Best Philip Rivers Life
When it comes to the Chargers, they can change their city, their stadium, their head coach, and their quarterback, but it seems like nothing wants to shake the curse that haunts this franchise. Even in their first season without Philip Rivers as the starting quarterback, the 2020 Chargers looked an awful lot like past versions. Take that in count next time you see your NFL picks.
There were crippling injuries to starters as safety Derwin James missed the whole season. They found more creative ways to blow leads. By just the sixth game of the Justin Herbert era, the Chargers blew as many 17-point leads (three) as they did in the entire Drew Brees (2001-05) and Philip Rivers (2006-19) eras.
While Herbert went on to set records as a rookie, even the beginning of his tenure was a fluke that could only happen to the Chargers. Tyrod Taylor was the starting quarterback to begin the season, but a team doctor punctured his lung while injecting a painkiller prior to the Week 2 game against the Chiefs. Herbert got the surprise start, led the offense to 479 yards in a near upset before losing in overtime, and he kept the job from there.
The Chargers started three-nine and were eliminated from the playoffs in embarrassing fashion when the Patriots defeated them 45-0 in a game that best exposed their special teams as the worst in the NFL. The Chargers won their last four games with a gift-wrapped victory over Kansas City's backups in Week 17, but it was too little too late. Head coach Anthony Lynn's consistently poor game management and conservatism were his undoing as the Chargers parted ways after four seasons together.
But even at 3-9, there were things to like about the Chargers if they could just get out of their own way. They had the Chiefs on the ropes in Week 2 before allowing Patrick Mahomes to scramble for a first down on a third-and-20. They had a brilliant lateral play that would have defeated the Panthers, but the usually reliable Austin Ekeler dropped the ball.
They blew three-score leads to Tampa Bay and New Orleans thanks to inexplicable turnovers and a missed game-winning field goal. They allowed a game-winning touchdown pass on the final play to Denver and dropped one of their own on the final play against the Raiders. That is how close a two-six team came to starting eight-zero. Do you see it for your future NFL odds?
Forget the four-zero finish, because that does not carry over to the next season and the Chargers beat absolutely no one of consequence in 2020. But how well the team played in those first six losses is actually more of a reason to be optimistic about the Chargers surrounding Herbert with a new coaching staff and hopefully better health for the roster.
The Notable Changes for 2021
The biggest change for the Chargers comes in the coaching staff. Brandon Staley comes over from the Rams where he served as a one-year defensive coordinator to Sean McVay. He also mentored under Vic Fangio in Chicago (2017-18) and Denver (2019). He is a defensive coach, but he got results in Los Angeles last year and is not afraid of data at 38 years old. It may not be the most inspiring hire, but Staley is not a dinosaur who will stunt the development of Herbert and the offense.
Joe Lombardi is the new offensive coordinator and has a long history of working with Drew Brees and Sean Payton in New Orleans. Renaldo Hill, a former NFL defensive back, is a first-time defensive coordinator, and he also has worked with Fangio and Staley in Denver, a team that was offensively challenged.Now Staley is upgrading at quarterback with Herbert, but he has to make sure Herbert is protected better. According to Pro Football Reference, Herbert had the sixth-highest pressure rate among starting quarterbacks.
The Chargers have replaced four of the starters on the offensive line, only keeping veteran right tackle Bryan Bulaga. He will be reunited with Green Bay center Corey Linsley, an All-Pro last season. The Chargers also brought in guards Oday Aboushi (Lions) and Matt Feiler (Steelers) while using their first-round pick on left tackle Rashawn Slater. It may not be a top-tier line, but the Chargers survived with worse last year.
There will be a downgrade at tight end after Hunter Henry (Patriots) left, but Jared Cook is a capable veteran. On defense, the team is just looking for their studs to be healthier. Derwin James was an All-Pro safety as a rookie in 2018, but he has only played five games since, including zero in 2020. Getting him back could be huge, and Joey Bosa is a star pass-rusher who missed four games last season as well.
Staley may not have Aaron Donald and Jalen Ramsey like he did with the Rams, but Bosa and James are a worthy duo to build around. Slot corner Chris Harris also missed seven games last year in his debut with the team, and he is a player that Staley and Hill know from having coached him in Denver.
Regression Alert: The QB Sophomore Slump Is a Myth
The last six quarterbacks to win Offensive Rookie of the Year all failed to make the playoffs in their second season, and most declined statistically as well. But fear not for Herbert, because it was not a sophomore slump that took them down. In fact, the quarterback sophomore slump has always been a myth attributed to media types putting exaggerated praise on a quarterback who was not that good in the first place, including Sam Bradford (2010) and Rick Mirer (1993). The bar for success for rookie quarterbacks was really low until about 2008 when Matt Ryan and Joe Flacco had instant success in a league that was shifting towards the pass and being friendlier to young quarterbacks.
Since then, early success at the position has exploded. Dak Prescott (2016), Jared Goff (2017), Carson Wentz (2017), Patrick Mahomes (2018), Deshaun Watson (2018), Mitchell Trubisky (2018), Lamar Jackson (2019), and Josh Allen (2019) have all led their teams to double-digit wins and the playoffs in their first or second season since 2016. Mahomes and Jackson have won two of the last three MVP awards.
The fact is when a quarterback has significant success as a rookie, he usually goes on to enjoy career success, including a strong second season in the league. This is true from Charlie Conerly (1948-49) to Dan Marino (1983-84) to Peyton Manning (1998-99) to Ben Roethlisberger (2004-05). While Robert Griffin III did not pan out for Washington after his first season, deeper NFL analysis showed that Andrew Luck and Russell Wilson were the superior quarterbacks in that 2012 class.
Only time will tell if Herbert is truly the best quarterback in a stacked 2020 class that saw him drafted behind Joe Burrow and Tua Tagovailoa. But there is no denying that Herbert played the best last year. Herbert threw 31 touchdowns, a rookie record, and rushed for five more scores in 15 games. Had he played one more game, he would have broken Luck's rookie record for passing yards as well.
It is true that passing stats and scoring were at record highs in 2020, and the crowd-less stadiums during the pandemic and lack of offseason likely had defenses behind the offenses. It is also true that Herbert had a bit of a five-game slump starting in November, or maybe after that questionable haircut, where his yards per attempt dropped to a dismal five point seven after a stunning eight point zero in his first seven starts. But he was able to finish strong in three division games and showed the ability throughout the year to hit big plays. Herbert had four touchdown passes of at least 50 yards in 2020, or one more than the big arm talent Josh Allen has in three years with Buffalo.
A better offensive line should help Herbert, though just general second-year progress should be beneficial as he learns to get rid of the ball better. Even that was not a huge problem as a rookie without a real offseason.
Herbert's average time to throw was 2.69 seconds according to Next Gen Stats, which puts him right between future Hall of Famers Drew Brees (2.66 seconds) and MVP Aaron Rodgers (2.72 seconds). Pretty good company. The Chargers did not go out of their way to bolster Herbert's weapons this year, but what remains is a solid collection of skill players. Allen's connection with No.1 wideout
Keenan Allen could have been better. Allen caught 100 balls in 14 games and tied his career high with eight touchdowns, but he averaged a career-low nine point nine yards per catch and did not have a play of 30-plus yards. Mike Williams is still there for the big plays, Austin Ekeler is a very good receiving back, and the team drafted Josh Palmer (Tennessee) in the third round. Jalen Guyton, an undrafted free agent, was on the receiving end of Herbert's two touchdown passes of 70-plus yards, and he did not have a catch before the 2020 season. So, it appears Herbert already can make the players around him better.
Herbert will have the added pressure and challenge of playing in the same division as Mahomes. If their first meeting is any indication, those could be the must-see division games in the NFL this decade. But even if Herbert is not polished enough to be MVP caliber this season, if his coaches trust him enough to lead the team, he should at least put them in position for a high wild card seed. He frankly already did it last year, but the usual curse of the Chargers struck too many times in close games.
Prediction
This one is rather simple. If you do not believe in Herbert, then you should bet the under for LA's wins. But if you believe in Herbert, then take the over nine wins. Success at the position is trending younger and younger, and Herbert had a better rookie season than most ever have. The schedule throws some great early litmus tests at Staley's Chargers, especially if Prescott and Dallas (Week two) start well and if the Browns (Week five) are still good. But the Chargers will be tested in Kansas City (Week three) and Baltimore (Week six) before things look to lighten up in the second half of the season.
Barring some dramatic changes, there is really not a game after Week 6 that the Chargers should be viewed as a heavy underdog in outside of maybe the Chiefs rematch in Week 15. That is on a short week on a Thursday night, but then again, Herbert's first start was on shorter notice against the Chiefs, and he still took them to overtime. They know that team well and defend Mahomes better than most.
Since it is the Chargers, there will probably still be some heart-breaking losses, troubling injuries, and disappointment after the final game of the season. That comes with the territory of rooting for this franchise. But Herbert looks like the real deal, there are fresh eyes in the coaching room, and the Chargers are simply ahead of the pace of many of the other teams who want to be contenders with the Chiefs in this new AFC.
2021 Chargers Over/Under Pick: Over 9 wins (-145) at Bovada (visit our Bovada Review)
*The line and/or odds on picks in this article might have moved since the content was commissioned. For updated line movements, visit BMR's free betting odds product.