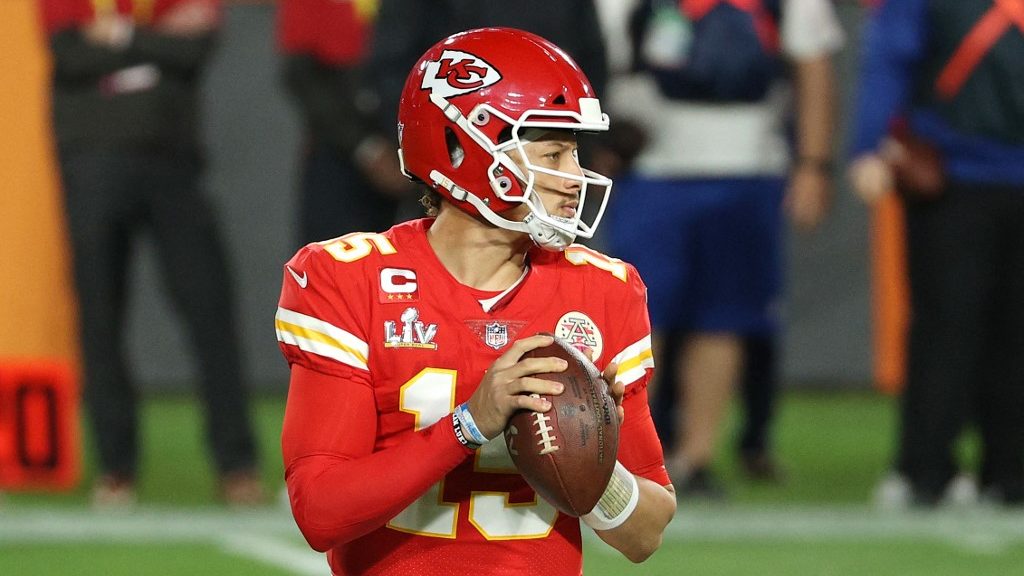 The Kansas City Chiefs fell short in their bid to become the first NFL team to repeat as Super Bowl champions since the 2003-04 Patriots. Believe it or not but winning a Super Bowl the season after losing one has been less common than repeating as champions (done eight times) or playing in three straight Super Bowls (done three times). Only the 1971-72 Dolphins and 2017-18 Patriots have followed a loss with a win.
But in a league going through a transition period, the Chiefs have the head coach (Andy Reid) and superstar quarterback (Patrick Mahomes) to still be NFL odds-on favorites to win it all. In fact, many of the top sportsbooks have Kansas City with the highest total of wins in 2021 with an over/under of 12.5 wins at Bovada (visit our Bovada Review) .
Reid has beaten the preseason odds in each of his first eight seasons with the Chiefs, but can he and Mahomes make it nine in a row? 2020 was only the second time in Reid's 22-season career that his team won more than 12 games.
On the Last Season of CHIEFS: Super Letdown
It would be misleading to say that the Chiefs breezed through the regular season on their way to the best record (14-2) in the NFL, even resting starters in their Week 17 loss. After all, at one point the Chiefs won seven straight games by fewer than seven points, smashing an NFL record.
The postseason run on the way to a second straight Super Bowl was also more dramatic than expected. Mahomes suffered an injury scare against the Browns that led to backup Chad Henne having to put the game away in the final minute, a 22-17 escape. Kansas City's offensive execution rather than the defense was key to the team's success in pulling out so many close wins all season long.
After an impressive 38-24 win over Buffalo in the AFC Championship Game, the stage was set for a potentially classic Super Bowl with the Buccaneers in their own stadium in Tampa Bay. The result was a 31-9 walloping unlike any of the first 53 starts in Mahomes' career. It was the first time he lost a game by more than eight points and the first time he failed to lead the Chiefs to a touchdown.
There were opportunities in the game, but the Chiefs failed to make any of the plays that have defined them as a special offense over the last three seasons. Mahomes was pressured 29 times according to ESPN's charting, the most in Super Bowl history. Everyone knew going in that the offensive line would be an issue with left tackle Eric Fisher getting injured late in the Buffalo game, prompting a shake-up along the line.
After his performances in Super Bowl 50 and 55, Mike Remmers should never be allowed to start at tackle in a big game again, but that was the predicament the Chiefs found themselves in last February. In the end, Mahomes lost the MVP to Aaron Rodgers and the Super Bowl MVP to Tom Brady. We are still in the longest drought in NFL history without a repeat champion, so the wait for a new dynasty continues.
The Notable Changes for 2021
The offensive line deficiencies in the Super Bowl were so egregious that the team wisely chose to make it their main area of improvement this offseason. Frankly, it needed to happen regardless of that game. This was an issue that was brewing all season that snowballed in a perfect storm by the Super Bowl thanks to COVID opt-outs before the season, early-season injuries, and Eric Fisher's horribly timed injury in the AFC Championship Game.
The Chiefs had to act and parted ways with the aging Fisher and Mitchell Schwartz at tackle. The biggest move was to trade a first-round pick (and some extra compensation) to Baltimore to acquire left tackle Orlando Brown, who is 25 and has never missed a game. It will be an adjustment for Brown going from the league's most run-heavy offense to a pass-happy one, but Mahomes is exceptionally good at knowing when to get rid of the ball.
The team also acquired left guard Joe Thuney, who never missed a game in five years with the Patriots where he was always a starter. Veteran Kyle Long is not a picture of youth or durability like these other additions, but he can compete at right guard with Laurent Duvernay-Tardif, who opted out of the 2020 season to help fight COVID. The Chiefs also drafted Oklahoma center Creed Humphrey in the second round.
The offensive line should be better, but the non-quarterback who can have the biggest impact on how the Chiefs finish this year may be third-year wideout Mecole Hardman, who is going to replace Sammy Watkins as the No. 2 wide receiver. Watkins was often injured for the Chiefs in his three years, but he had his share of big moments and is a better fit as a traditional receiver than Hardman, who must show he can be more than another speed guy.
Hardman looked lost in the Super Bowl and had some bad drops during the season. Demarcus Robinson and Byron Pringle have had their moments, but it is more important than ever that tight end Travis Kelce and Tyreek Hill stay healthy as Mahomes' top receiving options.
On the defensive side, the Chiefs could be without Frank Clark for some time after the defensive end was arrested twice this offseason for gun charges. Missouri linebacker Nick Bolton was the team's first draft pick late in the second round, but this unit is going to rely heavily on the play of Chris Jones up front and Tyrann Mathieu in the secondary. Much like with Kelce and Hill, it is imperative those two stay healthy or else this unit leaves little for optimism.
Regression Alert: Close Wins
In NFL history, no team has ever won 14 games in a regular season and went on to win more the following year. However, the Chiefs are not your normal NFL team. Mahomes is 23-6 (.793) when the Chiefs score first and 21-4 (.840) when they don't. The rest of the league since 2018 wins 37.7% of the time when not scoring first.
But is this really sustainable? With the Chiefs returning so many of their key coaches and players, the focus from a regression standpoint is on the team's record in close games. The 2020 Chiefs are the first NFL team since the 2001 Bears to finish 8-0 in the regular season in games decided by 1-to-7 points. They are the 13th team since 2001 to win at least 80% of their close games in the regular season (minimum eight games decided by 1-to-7 points).
Those first 12 teams finished an absurd 96-17 (85.0%) in close games and 138-54 (.719) on the season while always making the playoffs. But how did things go the next season? Those same 12 teams finished a mediocre 46-44-1 (.511) in close games and dropped to 103-88-1 (.539) on the season, missing the playoffs two-thirds of the time. Keep in mind that the Chiefs were only 10-8 (.556) in these close outcomes in 2018-19, and 10-9 including the playoffs. Kansas City was one of three teams to not blow a fourth-quarter lead in 2020.
The last team before the 2020 Chiefs to win at least five straight games by fewer than seven points was the 2008 Colts, a team led by Peyton Manning, who dominated in close games. A year later, the Colts started 14-0 and set a record with seven fourth-quarter comeback wins. The 2008-09 Colts are about the only example in NFL history of a team that dominated in close fourth-quarter wins in consecutive years, so there is precedent for this, and Mahomes at this point can compare favorably to Manning in his prime.
However, the 2010 Colts finished 10-6, had zero fourth-quarter comebacks, and lost a close wild card game to the Jets. Regression caught up to them. Will it catch up to a Chiefs team that has also gone a ridiculous 9-3 when trailing by multiple scores in games since 2019? History shows such records are not sustainable for long. Three seasons is a long time in this league.
Prediction
The Avengers have a Hulk, Vin Diesel has a family, and the Chiefs have Patrick Mahomes. As long as Mahomes is healthy, the Chiefs should win a lot of games and compete for the No. 1 seed again. However, Mahomes has narrowly escaped a season-ending injury in each of the last two seasons, so you just never know on that front. This team is not deep enough to win a lot of games with Chad Henne at quarterback.
Last year, the Chiefs set an NFL record with five road wins against teams that finished with a winning record. The 2021 schedule is rather favorable to the Chiefs in that most of their expected "tough games" are at home, including games against the Browns, Bills, Packers (with Aaron Rodgers?), Cowboys, and Steelers. Their only road games against 2020 winning teams are in Baltimore, a team they own, and Tennessee.
The AFC West should be getting stronger around the Chiefs, and that could be where a couple of losses come from, especially if Justin Herbert makes a second-year leap for the Chargers. He took Kansas City to overtime in his first start last year. The Raiders also played the Chiefs very tough, picking up one of the only two 2020 wins teams had against Kansas City's starters with Derek Carr having a career day.
Of the 29 teams in the Super Bowl era to win at least 14 games, they declined by an average of 4.0 wins the following season. Only the 1989-90 49ers and 2003-04 Patriots managed to go 14-2 in back-to-back years. Now we are in uncharted territory with the 17-game season, but even if the Chiefs take a step back this season, they should still be able to finish 13-4 on the back of Mahomes. But as Super Bowl LV showed, Mahomes is mortal, and this team may not be the dynasty we thought it was ready to be.
2021 Chiefs Over/Under Pick: Over 12.5 wins (-115) at Bovada (visit our Bovada Review)

*The line and/or odds on picks in this article might have moved since the content was commissioned. For updated line movements, visit BMR's free betting odds product.