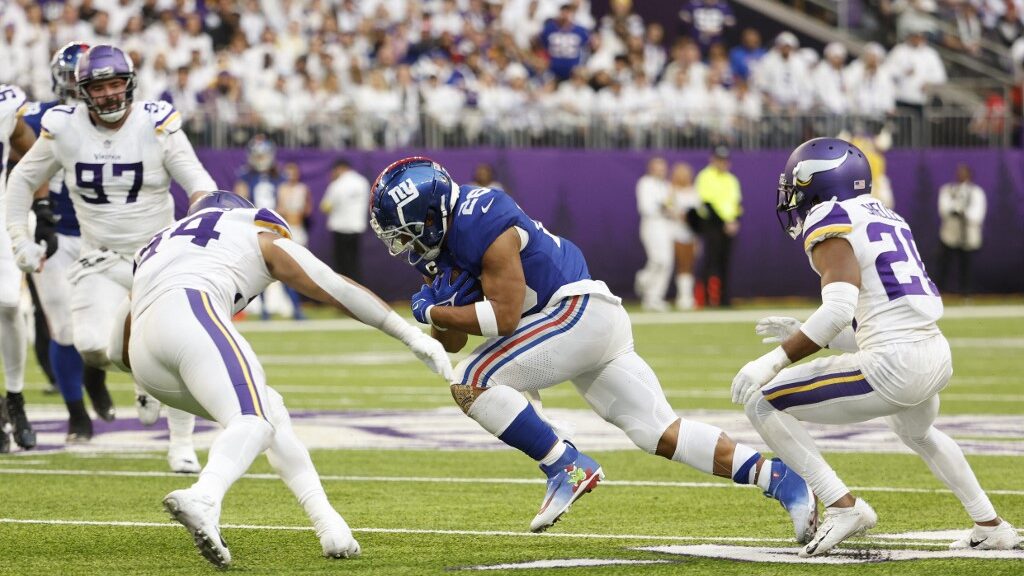 NFL Pick: Giants +3 (-110) at Bovada (visit our Bovada Review)

The Minnesota Vikings (13-4) host the New York Giants (9-7-1) this Sunday afternoon in a wild card rematch of their Week 16 meeting, which was won 27-24 by the Vikings on a last-second field goal. The Vikings are the No. 3 seed in the NFC while the Giants are the No. 6 seed and making their first playoff appearance since 2016.
If there is a game this weekend most likely to go down to the wire, it should be this one as the teams have combined for 13 game-winning drives, finishing No. 1 and No. 2 in that category this season.
Minnesota's Kevin O'Connell and New York's Brian Daboll are both rookie head coaches, but as offensive coordinators, they have coached in big games before with O'Connell winning the Super Bowl with the Rams last year and Daboll facing the Chiefs in huge games with Buffalo the last two years.
The Vikings are a 3-point home favorite with a total of 48 points at many of the top-rated sportsbooks. Who has the edge with the NFL odds in this one?
---
New York Giants vs. Minnesota Vikings
Sunday, January 15, 2023 – 04:30 PM EST at U.S. Bank Stadium
Week 16 Recap: Vikings 27, Giants 24
Every game on wild-card weekend is a rematch from this year's regular season, but the Giants-Vikings was arguably the closest of the six matchups, and it was very recent having just happened in Week 16.
It was a very exciting game with the big-name players coming through for both teams:
Saquon Barkley (84 rushing yards) and Justin Jefferson (133 receiving yards) both scored a touchdown.
Daniel Jones passed for 334 yards as the Giants had three very productive wide receivers in Richie James (90 yards), Darius Slayton (79 yards), and Isaiah Hodgins (89 yards).
Kirk Cousins passed for 299 yards with three touchdowns and no interceptions despite taking four sacks.
Tight end T.J. Hockenson had his biggest game of the season for the Vikings with 109 yards and two touchdown catches.
Minnesota kicker Greg Joseph nailed a 61-yard field goal on the final play in a 27-24 win.
While both teams moved the ball well, the Vikings did not have a play longer than 17 yards in the final 3.5 quarters of the game. They had one 25-yard pass play to Jefferson in the game while the Giants had four plays gain more than 25 yards in the game.
Recent Success on Offense Bodes Well for the Big Blue
It should be very encouraging for the Giants that they had a season-high 445 yards of offense and lost on a 61-yard field goal despite losing the turnover battle 2-0 and having a punt blocked in the fourth quarter. Both New York turnovers were inside the Minnesota 35. They can clean those things up as the Giants finished No. 2 in fewest giveaways with 16 this year.
Even though the Giants were down 24-16 with 3:00 left, Jones calmly and quickly led the offense 75 yards for a game-tying touchdown and two-point conversion in a drive that only took 59 seconds. They just never got the ball back as the Vikings used two full minutes to get a 61-yard field goal.
It was the only game this year where the Giants blew a fourth-quarter lead, and these teams are 16-0 when not playing each other when it comes to holding on to a one-score lead in the fourth quarter this year. The Vikings are 9-0 and the Giants are 7-0 in that situation excluding Week 16.
These teams know how to close, but only one can win this game.
---
Who Imagined the Giants and Vikings Would Be This Great in Close Games?
One of the most unpredictable outcomes this season has been the Giants and Vikings winning so many close games in the fourth quarter with rookie head coaches. That is why they are playing each other this weekend instead of brooding over another mediocre season. These teams do not have a good track record in those situations, and their quarterbacks especially were hard to trust with the game on the line before this year.
But let's look at just how different things have been in 2022.
2022 Giants: 4-4 at fourth-quarter comebacks, 5-4-1 at game-winning drives, 7-4-1 in close games
Before 2022, Daniel Jones was 3-14 (.176) at game-winning drive opportunities in his career with the Giants, which was the worst record among active starters.
But after a hot start to 2022, Jones became the first quarterback in NFL history to lead his team to five game-winning drives in the first seven games of a season.
From 2012 to 2021, the Giants were 3-78 (.037) when trailing by at least 7 points in the fourth quarter.
Through Week 6 of the 2022 season, the Giants were 3-1 (.750) when trailing by at least 7 points in the fourth quarter, matching the win total from the previous decade with 77 fewer losses.
2022 Vikings: 8-0 at fourth-quarter comebacks, 8-0 at game-winning drives, 11-0 in close games
Before 2022, Kirk Cousins was 12-36-2 (.260) at fourth-quarter comeback opportunities, which are games where he had the ball and trailed by 1-to-8 points in the fourth quarter or overtime.
But in tying the NFL single-season records with eight fourth-quarter comeback wins and eight game-winning drives this season, Cousins is now 20-36-2 (.362) at comeback opportunities.
The Vikings won four games this season after trailing by double digits in the fourth quarter – they won three such games in the previous 11 seasons (2011-2021).
The 2022 Vikings tied the NFL record by winning seven straight games by 1-to-8 points in Weeks 3-10.
Which team is going to flinch in the fourth quarter this week? The Vikings were the only team to not blow a fourth-quarter lead in the regular season, but historic runs like this are just dying to end as it's not sustainable to keep winning like this in the NFL.
---
Kevin O'Connell and His Historic 2022 Vikings
Love them or hate them, win or lose this weekend, the 2022 Vikings are a historic NFL team that will confuse future historians down the road. They have engineered the largest comeback in NFL history (33-0 vs. Colts) and provided the most shocking fumble return touchdown in Buffalo since the Joe Pisarcik play in 1978 in The Miracle at the Meadowlands.
The 2022 Vikings only seemed to have two modes this season: win a close game in the fourth quarter or get blown out so badly the fourth quarter did not matter. This is the only way a team could have the numbers they have, including scoring 424 points and allowing 427 points.
That minus-3 scoring differential means the 2022 Vikings are the only team in NFL history with a negative scoring differential to win more than 11 games in a season. The 2012 Colts (11-5 with a minus-30 differential) and 2020 Browns (11-5 with a minus-11 differential) are the only other teams with a negative scoring differential and more than 10 wins.
Sunday's 17th game against Chicago, which was starting Nathan Peterman, actually helped the Vikings move up from minus-19 points after 16 games. By the way, those 2012 Colts lost their first playoff game 24-9 to Baltimore while the Browns won in Pittsburgh before losing a close one (22-17) in Kansas City in the divisional round two years ago.
But the only way these Vikings can be 11-0 in close games is to be too far behind in losses to Dallas (40-3), Green Bay (41-17), Philadelphia (24-7 for the entire second half), and Detroit (34-23) for the games to qualify.
How Long Will the Norseman's Magic Last?
At some point soon, O'Connell is going to lose a close game. He has been living a charmed life for a year now if you go back to last season when he was the offensive coordinator with the Rams.
In the divisional round, the Rams nearly blew a 27-3 lead in Tampa Bay before getting a late field goal to win 30-27. They would come back from 10 down in the fourth quarter to beat the 49ers 20-17, then came back late in the fourth against the Bengals to win the Super Bowl 23-20.
That is the only time in NFL history a team won three straight playoff games by three points.
Add that run to his Minnesota season, and O'Connell in his last 20 games is 14-0 in close games with 11 game-winning drives and 10 fourth-quarter comebacks. Insane stuff when you consider a team like the Carolina Panthers have lost their last 50 games when trailing in the fourth quarter.
---
Giants-Vikings Prediction
The Giants blitz at the highest rate in the NFL, and they showed they were not afraid to do that in Week 16 against the Vikings, who have since lost some starting offensive linemen.
Cousins will have to avoid the strip-sacks in this game, but he did struggle to generate big plays against these Giants last time. That should help New York keep it close.
We have waited four years to see Jones in a playoff game, and here is his first shot. You never know how a quarterback will react to that, but he could be surprisingly good in a Jeff Hostetler or Alex Smith-type of way. He has already had a good game against these Vikings in Week 16 and this Minnesota pass defense has been one of the worst in the league.
Which Way Will the 4th Quarter Play Out?
The Giants usually do not score enough points to blow teams out – the only game they scored more than 27 points all season was the 38-10 win over the Colts in Week 17. So, it could very well come down to the fourth quarter again, and we'll see if the Vikings can keep this record-breaking winning streak alive, or if their luck will turn for the worse.
Given it's the playoffs and the Minnesota Vikings are involved, it should only be a matter of time before something goes horribly wrong in a tight game.
Trust the Giants to cover, if not better, for your NFL picks.
Remember, fans from the Empire State who are looking to make a wager on this game should be sure to check out our top-rated New York betting sites.
NFL Pick: Giants +3 (-110) at Bovada (visit our Bovada Review)

*The line and/or odds on picks in this article might have moved since the content was commissioned. For updated line movements, visit BMR's free betting odds product.