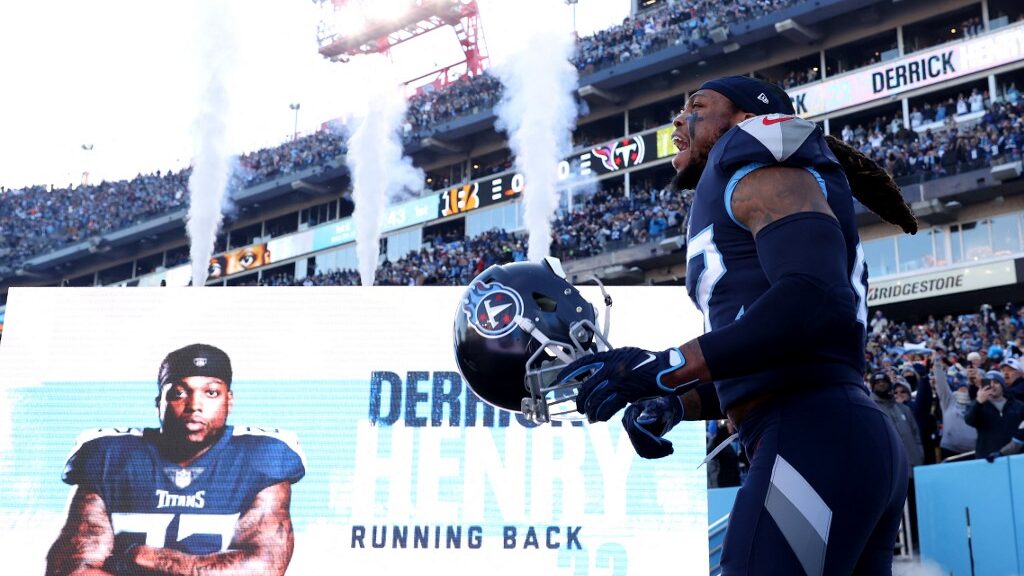 As opposed to the NBA's Most Improved Player, the NFL has a Comeback Player of the Year. To win this award, players have to overcome significant adversity. It almost always goes to a player who suffered a season-ending injury in the previous year. That limits the candidate pool before the season even begins.
Still, there are plenty of solid candidates for the 2022 season. One top candidate is Derrick Henry, the star running back for the Tennessee Titans. Henry suffered few injuries over the start of his NFL career, but he missed the majority of last season.
When healthy, Henry is the best running back in the NFL. NFL futures odds have him at +900 to win the award. Should he be the favorite? Here are some important details.
Derrick Henry: Player Analysis
Henry is a unicorn on the football field. His size makes him an outlier as a running back, but he is fast enough to break away for rushes over 90 yards.
Henry is stronger and bigger than some NFL linebackers. When he has momentum, you have to hope for the best when you try to tackle him. He never comes down easy, and you usually need two players to get it done.
Another thing that sets Henry apart is his durability. Tennessee's offense revolves around his ability to take a beating all game and still fight for extra yards. This is the only red flag now that he is coming off of an injury.
---
Comeback Player of the Year Candidates
If Henry loses, who else can win?
Jameis Winston – New Orleans Saints
Jameis Winston is the favorite to win this award with +400 odds.
Since he was one of the few quarterbacks to miss significant time last year, it is easy to see why he is the favorite.
He faces no competition for the starting job.
The Saints need him to perform well if they want to compete in the NFC South.
Michael Thomas – New Orleans Saints
Winston's teammate has +800 odds.
Michael Thomas missed all of last season, so we don't truly know what he looks like in a Jameis Winston offense.
If he can go back to his old ways, he will easily be one of the best receivers in the NFC.
Thomas also has to prove that he has not lost a step due to recent injuries.
Christian McCaffrey – Carolina Panthers
Christian McCaffrey ties Henry for third on the odds list, but he has a worse injury history.
He still needs to prove that he can play an entire season without going down.
McCaffrey is more likely to reach that cliff.
Chase Young – Washington Commanders
A value play is Chase Young at +2000.
Young missed the majority of last year with an injury.
He remains one of the most talented edge rushers in the NFC.
---
Should Henry Be the Favorite?
Derrick Henry should absolutely be the favorite, and there is value with his odds. After trading away A.J. Brown and releasing Julio Jones, the offense has to run through Henry for the Titans to win.
Henry needs to remain durable if he wants to win the Comeback Player of the Year award. He can't suffer another season-ending injury to take him out of his NFL prime. The last time we saw a healthy Derrick Henry, he ran for over 2000 yards in a single season. He was on pace to do so again last year before his injury.
Henry will inevitably hit that wall and fail to get back to his elite form. However, I'm not betting on that happening any time soon. Henry is simply too talented to disregard, and I expect him to have a massive season for the Tennessee Titans.