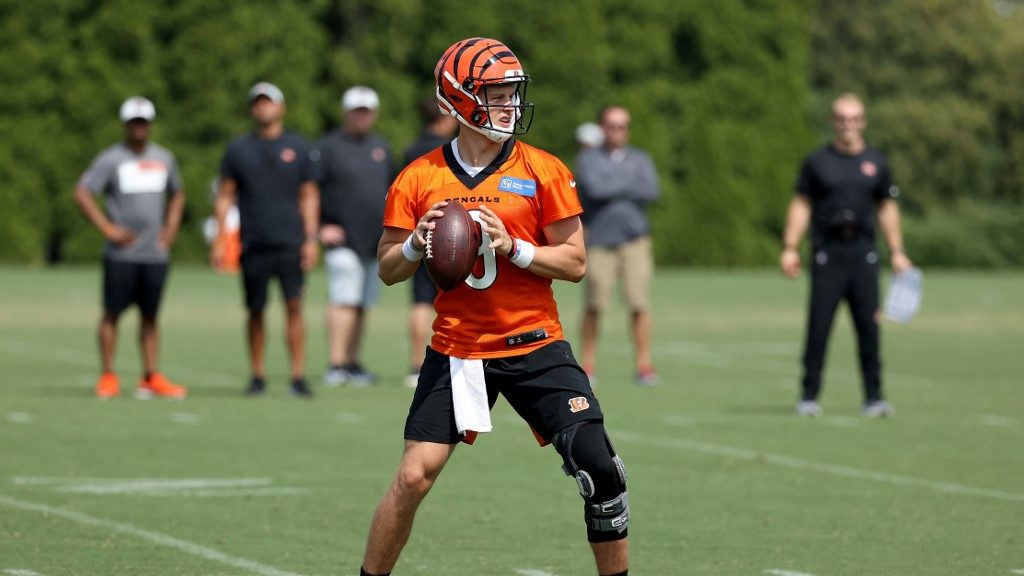 The Cincinnati Bengals (4-11-1) finished last in the AFC North for the third season in a row after some early optimism with rookie quarterback Joe Burrow, the No. 1 pick in the 2020 draft. But interest in the team was depleted after Burrow tore his ACL in Week 11 against Washington. Los Angeles rookie quarterback Justin Herbert, the third quarterback taken in the 2020 draft, went on to win the AP Offensive Rookie of the Year award, which probably still happens regardless of Burrow's health.
Back from recovery, Burrow looks to earn recognition as the best in his draft class, but that could be difficult with the roster the Bengals have around him. Many of the top sportsbooks have the Bengals with an over/under of 6.5 wins. The over would be more wins than what head coach Zac Taylor (6-25-1 record) has in his first two seasons with the team.
On the Last Season of BENGALS: Tale of Two Seasons
While the Bengals technically had a higher winning percentage in the games without Burrow, there is no denying the team was more competitive and interesting with him at quarterback. Sure, veteran defenses in Baltimore and Pittsburgh made him look bad, but every other game he finished was winnable and the Bengals looked like an effective offense at times despite a minimal running game and unimpressive offensive line.
In the first game of his career, Burrow appeared to throw a game-winning touchdown pass to A.J. Green, but the receiver pushed off and was penalized. Kicker Randy Bullock then missed a 31-yard field goal that would have sent the game to overtime. The Bengals also blew fourth-quarter leads against the Eagles, Colts, and Browns. A 6-2 start was well within reach had the Bengals played better team ball in the first half of the season.
The remainder of Cincinnati's season after Burrow tore his ACL in Week 11 said more about the team's opponents than it did anything for the Bengals going forward. The Steelers embarrassed themselves on a Monday night in a rare win for the Bengals with Ryan Finley throwing 13 passes while the Texans showed why everyone there should be fired after Brandon Allen led the offense to 540 yards in a 37-31 win.
If you were confused and hoped those two wins showed that Taylor suddenly figured out how to coach and win in multiple fashions, the Bengals ended the season by allowing the Ravens to rush for 404 yards in a 38-3 loss.
The Notable Changes for 2021
Cincinnati has many roster holes and 2020 ended up being the swansong for arguably the franchise's two best players of the last decade: Geno Atkins and A.J. Green. Both were at their least effective last season, so the moves come as no surprise. Green had 104 targets but set career lows in yards per catch (11.1), touchdowns (two), catch rate (45.2%), and yards per target (5.0). Injuries and age finally caught up to him, and it should do the Bengals good to replace his targets with more effective players.
Tee Higgins and Tyler Boyd were better than Green last year, but the Bengals also drafted Burrow's LSU teammate Ja'Marr Chase with the No. 5 pick in the draft to form a potentially strong trio. Chase had 20 touchdowns in that 2019 season with Burrow at LSU. This could be quite a connection right away despite some of the historic struggles for rookies at the wideout position.
Fixing that offensive line was also a priority. The Bengals spent their second-round pick on Clemson guard Jackson Carman. Bobby Hart has been replaced at right tackle by Riley Reiff, who has his issues, but he also has 127 career starts and should be an upgrade to Hart. Running back Joe Mixon returns after missing the last 10 games, but he was only effective against Jacksonville. The Bengals also cut ties with Giovani Bernard, their best receiving back, after eight seasons. Mixon will have to improve his receiving capabilities.
As for a new leader on the defensive line, the Bengals are banking on Trey Hendrickson from New Orleans, signing him to a four-year deal worth $60 million. It is a bold move as Hendrickson only became a full-time starter last year in his fourth season with the Saints, but he racked up 13.5 sacks and 25 hits on the quarterback. The Bengals were dead last in 2020 with 17 sacks, and only Carl Lawson (5.5) had more than two sacks. Lawson is gone now as well.
The secondary also needed retooling. Cornerback LeShaun Sims was absolutely roasted in his only season with the team, allowing 81.1% of targets to be completed on him and nine touchdowns. The Bengals also said goodbye to William Jackson III, a first-round pick in 2016. Cincinnati did not draft a single defensive back and will rely on free-agent signings.
Chidobe Awuzie fell out of favor with the Cowboys and Mike Hilton, who can rush the passer too, comes over from the Steelers. They could also try to get something out of Trae Waynes, a 2020 signing who lost his first season with the team to injuries. The Bengals should get more pass-rush production out of this unit than last year's pathetic attempt, but it is hard to see this defense moving into the top half of the league in 2021.
Will Zac Taylor and Joe Burrow Ever Share Success?
Throughout NFL history, most extended runs of success can be traced back to having greatness at head coach and quarterback. Very few can achieve it without the presence of the other. Joe Gibbs won three Super Bowls without a Hall of Fame quarterback in Washington and Peyton Manning was able to start four Super Bowls with four different head coaches. But most need that reliable leader to pair with.
While the Bengals certainly hope they have these positions locked down for a long time, the coach clearly has not made his mark yet. It would be hard to pick Zac Taylor out of a lineup of Costco cashiers, let alone pin down the identity of his football team. He has kept the same coordinators for this third season, yet the Bengals have struggled on both sides of the ball so far.
Taylor is 6-25-1 (.203) after two seasons, the seventh-worst record since the merger by a coach in his first two full seasons with a team. That does not even include the coaches who were fired during their first or second season. Taylor is also 1-25-1 when the Bengals trail after the 12:00 mark of the third quarter.
Taylor is the 16th head coach since 1978 to win no more than 25% of his games in his first two seasons with a team (min. 32 games). When you look at the other 15 names on that list, optimists will point to Hall of Famers Bill Walsh (49ers) and Jimmy Johnson (Cowboys) as both turned things around in Year 3 with Walsh even winning the Super Bowl in that 1981 season.
Does anyone really see Taylor revolutionizing the game a la Walsh with the West Coast Offense or making sly moves with a new draft value chart a la Johnson in Dallas? The list also includes six coaches who were fired before getting a third season with the team, and four more who were fired for their Year 3 performance. The Bengals have been here before with young head coach David Shula getting five seasons before he was dismissed in 1996 with a 19-52 (.268) record.
The NFL odds are stacked against Taylor turning this around, but if it happens, it will happen behind Burrow. If the Bengals had an identity in 2020, it was letting Burrow throw the ball. Burrow is the first quarterback in NFL history to throw at least 30 passes in each of his first 10 games. Part of that was his reliance on throwing short passes in lieu of a running game, and part of it was a lack of deep-ball success for big plays.
The Bengals had a league-low 35 pass completions that gained at least 20 yards. Of Burrow's 13 touchdown passes, only one (23 yards to C.J. Uzomah) came outside the red zone. Burrow joins Sam Bradford (2013) and Christian Ponder (2012) as the only quarterbacks since 1990 to throw at least 13 touchdown passes and only have one gain at least 20 yards. Burrow's average touchdown pass of 7.7 yards is the fourth lowest season among the 889 seasons where a quarterback threw at least 10 touchdowns since 1990.
The Bengals trust Burrow so much that they used a top five pick on Chase, his college teammate, the type of reunion we rarely ever see in the NFL draft. Chase had eight touchdowns of 50-plus yards in that 2019 season, but he was even more of a one-year wonder in college than Burrow. It is a risky pick but at least there is logic to it.
As if he were already a veteran, Burrow saw his passing efficiency correlate with how the team fared each week. In the five games where Burrow averaged at least 6.7 yards per pass attempt, the Bengals won two games, tied one in overtime, blew a 21-point lead to the Colts, and blew a lead with 11 seconds left against the Browns. Overall, in those five games, Burrow averaged a healthy 7.8 yards per attempt and the Bengals averaged 29.6 points per game.
But in the other five games where Burrow averaged a minuscule 5.5 yards per pass, the Bengals were 0-5, averaged 13 points per game, and were outscored by an average of 13.8 points. For reference, last season the Chiefs averaged 29.6 points per game and even the lowly Jets averaged 15.2 points per game. Efficient Burrow to inefficient Burrow was like going from Andy Reid to Adam Gase.
There were enough impressive moments last year to be bullish about Burrow, but overall, his rookie season felt closer to Sam Bradford's 2010 than it did one of the all-time great rookie quarterback seasons. That should temper expectations for how he does in 2021 coming off an ACL injury, which typically takes a quarterback two offseasons to fully return to their past level. All that should matter to Bengals fans is that Burrow does eventually take that next step, but chances are it will come with a different head coach than Taylor. Someone with a plan, a purpose, and who you can pick out immediately on the sideline.
Prediction
Cincinnati's 2021 schedule looks like the one that contenders dream about getting each season. You want your toughest games at home (Chiefs, Packers) and your softest opponents on the road (Lions, Jets, Broncos). The only non-Sunday game for the Bengals is hosting Jacksonville on Thursday night in Week 4, which could be another favorable draw. Between those four weak opponents and a realistic chance of splitting division games with Pittsburgh and Cleveland, that could be six wins right there.
Then it is just a matter of one more upset to get over 6.5 wins, or to beat a California team (Chargers or 49ers) at home in December. The problem is that barring a huge step forward from Burrow, the Bengals do not look like contenders yet. This looks like a team still destined for another losing season and probably a new head coach for 2022. Maybe even someone with a resume stronger than "I know Sean McVay." For my NFL picks, I will fade the head coach who is 6-25-1 and take the under 6.5 wins.
2021 Bengals Over/Under Pick: Under 6.5 wins (-120) at Bovada (visit our Bovada Review)
*The line and/or odds on picks in this article might have moved since the content was commissioned. For updated line movements, visit BMR's free betting odds product.