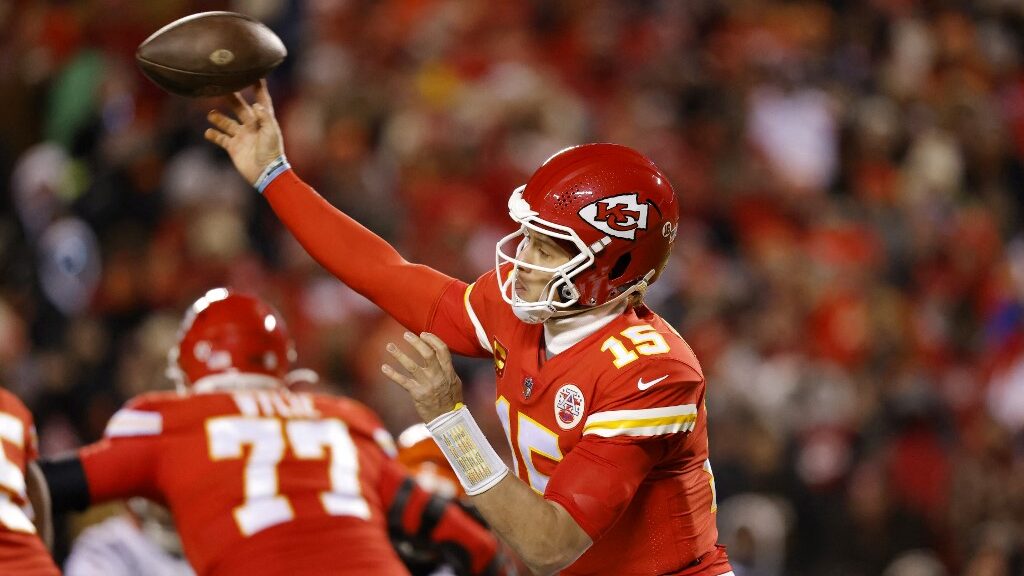 ---
NFL Prop Pick: Patrick Mahomes Over 39.5 Pass Attempts (-114) at Bovada

Patrick Mahomes Over 39.5 Pass Attempts

(-114)
---
In Super Bowl LVII, we have the top-ranked offense of the Kansas City Chiefs taking on the top-ranked pass defense of the Philadelphia Eagles. That is certainly the premiere matchup in this game, but the one that could be the real deciding factor is what the No. 3 offense of the Eagles does against the young Kansas City defense.
Betting sites in Missouri and Pennsylvania still have the Eagles as a 1.5-point favorite in a game with a total of 51 points, so high scoring and close is the expectation here.
We have come up with our favorite player props that you can find at many of the best Super Bowl LVII betting sites. You can use them in a parlay or play your favorite lines as singles.
Kansas City Chiefs vs. Philadelphia Eagles
Sunday, February 12, 2023 – 06:30 PM EST at State Farm Stadium
Patrick Mahomes (Kansas City Chiefs)
Over 39.5 Pass Attempts
Over 0.5 Passes Intercepted
Patrick Mahomes is already starting his third Super Bowl, and like the first two, he is facing the toughest NFC defense he could face and will be feeling the heat in this game.
Granted, the 49ers ranked higher than the Eagles in certain categories, and Mahomes shredded them for 423 yards and 43 points in Week 7, but the Chiefs were also much healthier back then, and the 49ers were better against the run than the pass, which is not the case for the Eagles.
The Eagles had 70 sacks in the regular season and they keep rolling in the playoffs. Haason Reddick has 3.5 sacks after 16 in the regular season, and he knocked Brock Purdy out of the game last time out.
The Eagles also knocked out Aaron Rodgers earlier this year. They have great coverage in the secondary too, and last year they held Travis Kelce to 23 yards, his lowest game in four years. In fact, Tyreek Hill (186 yards) was the only player in that game to have over 23 yards for the Chiefs, and he is not here anymore.
The Pick
It almost feels unfair that Mahomes' reward for winning the AFC is a bad ankle against the best pass rush in the league, but he is going to have to deliver in this matchup. He could throw the ball fast again to neutralize the pass rush, and last year, he threw his average pass in 2.32 seconds against the Eagles – the fastest game of his career.
That could mean a lot of short throws, which in turn means a lot of pass attempts overall. Mahomes has thrown over 40 passes in both of his Super Bowls so far, and this matchup really is similar in the sense that he is going up against a strong pass rush with the weight of the world on his shoulders. He solved the 49ers in the fourth quarter, but the Buccaneers stymied the Chiefs two years ago in a 31-9 final.
But Mahomes also has thrown two interceptions in both of his Super Bowls, and he has actually thrown two interceptions in each of his final games of the playoffs the last three seasons (two Super Bowls and the 2021 AFC Championship Game). We do not have him throwing two here, but one mistake against this stacked defense looks like a great bet when you consider there has been an interception in 22 straight Super Bowls.
Mahomes may still finish with over 300 yards and a few touchdowns as the best quarterback by far that the Eagles have faced this year, but our favorite bets are still the volume-based ones built on having to throw a lot against the best pass rush.
NFL Prop Pick: Patrick Mahomes Over 39.5 Pass Attempts (-114) at Bovada
NFL Prop Pick: Patrick Mahomes Over 0.5 Passes Intercepted (-136) at Bovada

Patrick Mahomes Over 0.5 Passes Intercepted

(-136)
---
Jalen Hurts (Philadelphia Eagles)
These two things can be true at the same time: Hurts is the game's biggest wild card, and Hurts scoring a touchdown is one of the safest bets for your NFL picks.
Hurts is a wild card because we just do not know how he is going to handle his first Super Bowl, or how accurate he is going to be since suffering the shoulder injury in Week 15. His five worst charted games in accuracy have been his last five, and he has not averaged 6.6 yards per attempt in the last three games. He has not thrown a touchdown in three of the last four games and has not rushed for 40 yards in the last three games either.
The consistent production that remains there for Hurts is his rushing touchdowns. He has one in two straight games and in 5 of 6 games coming in. He has 15 rushing touchdowns on the season, the most ever by a quarterback when you include the playoffs. This is why the Eagles led the NFL with 32 rushing touchdowns.
The Pick
The Chiefs happen to rank 31st in the red zone when it comes to allowing touchdowns. No matter if Hurts is throwing for 300 yards or 150 yards in this game, he is a great bet to score a short rushing touchdown at some point.
NFL Prop Pick: Jalen Hurts Anytime Touchdown Scorer (-126) at Bovada

Jalen Hurts Anytime Touchdown Scorer

(-126)
---
Travis Kelce (Kansas City Chiefs)
Travis Kelce is similar to Hurts in that he can be a real wild card for this game, but him scoring a touchdown is again one of the safest bets. We saw Kelce score four touchdowns in one game against the Raiders this year despite him finishing with 25 yards. No one in NFL history comes close to a stat line like that.
Last year, Kelce had just 23 receiving yards against the Eagles, his lowest amount in the last four seasons. You figure that cannot happen again as the Chiefs have banged-up receivers and there is no Tyreek Hill, who had 186 yards that day, to take away the pressure.
But the Eagles are such a hard defense to put up a lot of yards against in that secondary, so Kelce extending his record streak of playoff games with 75 yards to nine games seems to be in trouble.
The Pick
Can you really count out one of the greatest tight ends in history on the big stage? That is why we are making the compromise to go with Kelce finding the end zone for the third game in a row this postseason. Whether he has 23 yards or 75, he is still the go-to option in that area of the field.
NFL Prop Pick: Travis Kelce Anytime Touchdown Scorer (-150) at Bovada

Travis Kelce Anytime Touchdown Scorer

(-150)
---
JuJu Smith-Schuster (Kansas City Chiefs)
Under 38.5 Receiving Yards
After injuring his knee in the AFC Championship Game, the swelling is reportedly down and JuJu is expected to play in the Super Bowl. But this is a tough matchup for him.
Even though he is the de facto No. 1 wide receiver in this offense, he has not hit 39 yards in five straight games. He played 45% of the snaps against the Bengals and only had one catch for 7 yards.
The Pick
The Eagles have only allowed four players to hit 80 receiving yards this year, and Washington's Terry McLaurin had two of those games. This is only 38.5 yards, but I am fading Smith-Schuster against those corners coming off a knee injury.
NFL Prop Pick: JuJu Smith-Schuster Under 38.5 Receiving Yards (-114) at Bovada

JuJu Smith-Schuster Under 38.5 Receiving Yards

(-114)
---
A.J. Brown (Philadelphia Eagles)
The Eagles traded for A.J. Brown to have a big impact on Jalen Hurts' progression and help this team win a Super Bowl. The job is not finished, but the Eagles are in position to do it. However, Brown has 7 catches for 50 yards in two playoff games this year.
Obviously, the Eagles have been up big in these games and have not had much reason to throw. But you like to think they can get their greatest receiver more involved in this game, and that the Chiefs will force more passes and for more points to come out of the passing game for the Eagles.
Last year, the Eagles had their most prolific passing game of the Hurts era against the Chiefs with Hurts completing 32 passes for 387 yards. It probably will not look like that Sunday, but it is hard to beat Mahomes without your quarterback throwing for more than 160 yards.
Brown can be the latest receiver to put up a big stat line against the Chiefs' young secondary. Their corners make some big plays, but they still allow their share of catches and yards.
Jerry Jeudy, Christian Kirk, and Ja'Marr Chase all had multiple games with at least 6 catches against the Chiefs this year, including the playoff games for Chase and Kirk.
Stefon Diggs had 10 catches for the Bills in Kansas City.
Mike Williams, Michael Pittman, Mike Evans, and Jerry Jeudy all had a game with 8 catches against the Chiefs this year.
Chris Godwin, DK Metcalf, and Brandon Aiyuk all had a game with 7 catches against the Chiefs.
Twenty-four times a player has caught at least 6 balls in a game against the 2022 Chiefs.
The Pick
The last time Brown saw the Chiefs, he had 8 catches for 133 yards and a touchdown in a 27-3 rout by the Titans in 2021. That was the last time the Chiefs lost a game by more than 4 points. Not saying this will be a repeat of that, but this is the kind of game the Eagles need Brown to look every part of a No. 1 wide receiver in.
NFL Prop Pick: A.J. Brown Over 5.5 Receptions (+104) at Bovada

A.J. Brown Over 5.5 Receptions

(+104)
---
Kenneth Gainwell (Philadelphia Eagles)
Gainwell has rushed for at least 35 yards in three straight games as the Eagles have not been throwing much since Hurts returned from injury. Some of this is the game script too, but do not think Gainwell's yards are a result of blowouts.
He has eight games with at least 20 rushing yards this year, including in the 20-17 win in Arizona, the 40-33 win over Green Bay, and the 38-35 win over Detroit in Week 1.
The Pick
Gainwell is a solid runner behind Miles Sanders, and this is not the Giants, so Giant Killer Boston Scott should not be running as the No. 2 back in this game. That is Gainwell's role, and he is a value pick here, only needing 20 yards to hit his over.
NFL Prop Pick: Kenneth Gainwell Over 19.5 Rushing Yards (-114) at Bovada

Kenneth Gainwell Over 19.5 Rushing Yards

(-114)
---
Isiah Pacheco (Kansas City Chiefs)
Over 16.5 Receiving Yards
Pacheco made his rookie debut in Week 1 in Arizona and ripped off a touchdown run. Little did we know he would be the lead back this season, but that is how things worked out.
He had his best receiving game of the season by far with 5 catches for 59 yards against the Bengals in the AFC Championship Game. His previous high was a 32-yard catch against Seattle. Pacheco has at least 17 receiving yards in 5-of-9 games coming into Sunday.
The Pick
While Jerick McKinnon is the receiving back, Pacheco still plays a big chunk of snaps each week as the starter, and this feels like a game where Andy Reid is going to dial up the screens and get the ball out of Mahomes' hands faster against the pass rush.
They are not going to challenge the outside corners as frequently as usual, so getting the backs involved in the passing game should be a point of emphasis.
Pacheco won't sniff 59 yards again, but 17 should be doable.
NFL Prop Pick: Isiah Pacheco Over 16.5 Receiving Yards (-114) at Bovada

Isiah Pacheco Over 16.5 Receiving Yards

(-114)
*The line and/or odds on picks in this article might have moved since the content was commissioned. For updated line movements, visit BMR's free betting odds product.