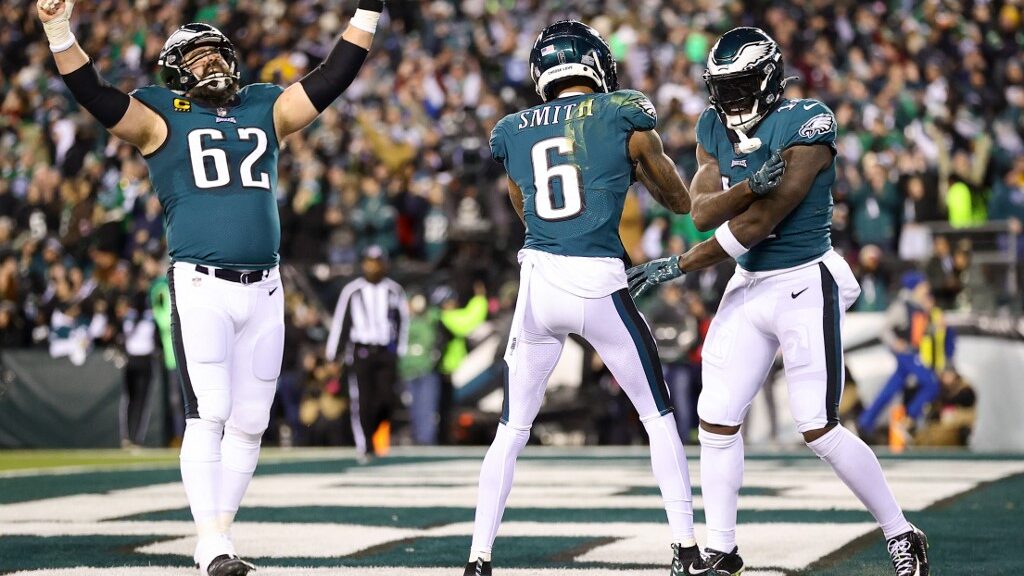 NFL Pick: Eagles –1.5 (–108) at Heritage Sports(visit our Heritage Sports Review)

Super Bowl NFL picks are usually easier than this – but Philadelphia and Kansas City are so well-matched for Sunday's Super Bowl LVII.
Remember, NFL fans from the Show Me State or the City of Brotherly Love who are looking to make a wager on Super Bowl LVII should be sure to check out our top-rated Missouri or Pennsylvania betting sites.
Out of state? No problem! Check out the best US Betting Sites available in order to make your secure wagers in your own home state
---
Kansas City Chiefs vs. Philadelphia Eagles
Sunday, February 12, 2023 – 06:30 PM EST at State Farm Stadium
This is one of the most difficult Super Bowls to figure out that I've ever seen.
Most years, it's pretty obvious that the underdog and the Under belong in your NFL picks, but this year, the league put four equally matched teams in the Conference Championships and decided to let the football gods sort it out.
No wonder the NFL lines for Super Bowl LVII are super-tight. Philadelphia appears to have some value as 1.5-point favorites at Heritage Sports, but not enough to overcome the vigorish, even with that (-108) deal on juice.
And the 50.5-point total is tighter still, with the slimmest of potential profit margins on the Over.
This could all change before Sunday rolls around. We've already discussed Super Bowl bet timing in this space, and we'll do it again later this week; it's entirely possible that underdog Kansas City and the Under will be the right Super Bowl picks once the betting public weighs in.

Then again, Patrick Mahomes is the face of the league right now. And Kansas City might be favorites again by kick-off, who knows?
Let's work with what's on the NFL odds board at press time and see if we can dig up some of that sweet, sweet betting value.
---
What About the Moneyline?
Good thinking. Moneylines often deliver more value than point spreads in close matchups like this, so maybe Philadelphia (-125) at Bovada Sportsbook will be a better choice.
However, the Wizard of Odds says a Spread of –1.5 is about the same as a Moneyline of (-124).
Don't forget as well that Heritage has that (-108) deal on the vigorish.
We discussed this in our early look at the Super Bowl LVII odds, and at the time, the Eagles were (-122) ML favorites at BetOnline; they're (-126) now as we go to press, so you're getting a slightly better deal with the spread at this... juncture.
---
What About the Weather?
Another good question.
It's easy to ignore the weather conditions in Glendale when they've got that lovely retractable roof (and retractable field) at State Farm Stadium, but they'll reportedly keep it open for Super Bowl Sunday if the weather allows, and the forecast at press time calls for mostly sunny skies and temperatures around 60 degrees for what will be a 4:30 PM kick-off, Mountain Standard Time.

Desert winds of around 10 mph with gusts approaching 20 mph are also in the forecast, blowing from corner to corner of the stadium, so there's a small chance they'll come into play – and all these tiny angles add up. But they can always put the roof back on if conditions get even slightly untoward.
---
What Else Can I Bet On?
This might be the year that Super Bowl props completely crush the standard "straight" bets in terms of the handle.
The potential profit margins on these bets are gigantic compared to the Spread, Moneyline, and Total, but the sportsbooks were more than happy to post their Super Bowl LVII props well in advance and try to pull in as much action as possible.

Interestingly enough, the computers seem to love the idea of taking Eagles TE Dallas Goedert to go Under 5.5 receptions, which Bovada has priced at (–143).
FantasyData has Goedert pegged for 4.9 receptions; he hauled in 4.6 catches per game during the regular season, then five more in each of Philadelphia's two playoff games.
Having said that, Kansas City's defense hasn't been particularly good at stopping tight ends. But over 21 games including the playoffs, they've allowed TEs 4.6 receptions on average – and once again, it was five catches each versus Jacksonville and Cincinnati.

Those games featured Evan Engram and Hayden Hurst respectively at tight end, and neither performed at the same level as Goedert this year, not according to the DYAR charts at Football Outsiders:
2. Goedert
7. Engram
25. Hurst
That gap widens when you look at DVOA, which focuses on quality more than volume:
2. Goedert
15. Engram
25. Hurst
This is one of those Super Bowl props where you might want to temper your expectations and place a smaller bet than the computers would suggest, but there does seem to be at least some value at this price.
Bet accordingly, and may the prolate spheroid be with you this Sunday and beyond.
Make sure to check out these great Super Bowl betting sites for your 2023 NFL Championship betting needs.
NFL Pick: Dallas Goedert Under 5.5 Receptions (–143) at Bovada (visit our Bovada Review)

Dallas Goedert Under 5.5 Receptions

(–143)
*The line and/or odds on picks in this article might have moved since the content was commissioned. For updated line movements, visit BMR's free betting odds product.