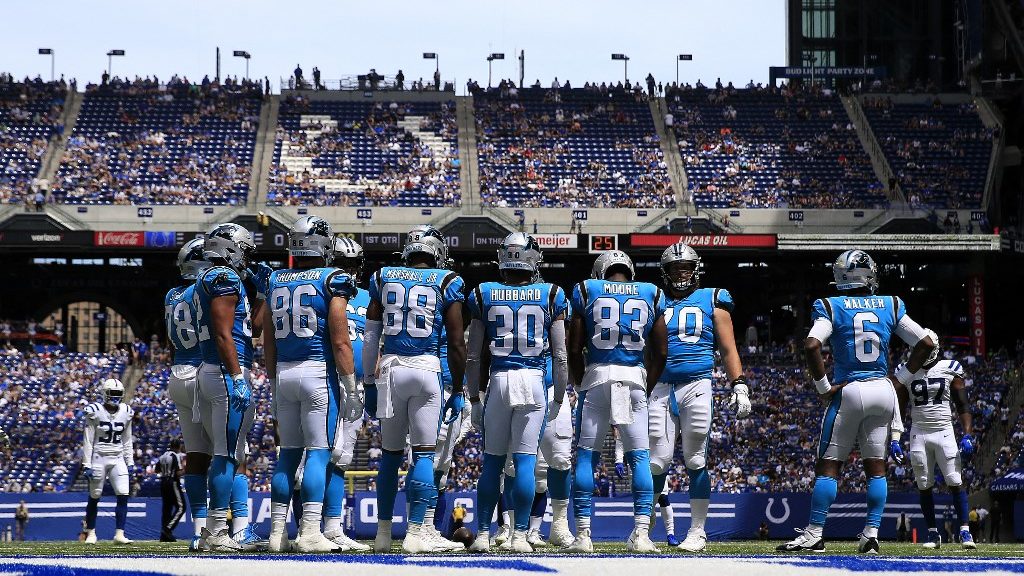 The Carolina Panthers improved their scoring differential from minus-130 in Ron Rivera's final season to minus-52 in Matt Rhule's first season as an NFL head coach. The result was the same 5-11 record as the Panthers could not buy a close win in 2020. Carolina was 0-9 at game-winning drive opportunities, tying the winless 2008 Lions for the worst record in the league in the last 20 seasons.
The Panthers are going in a different direction at quarterback, but it does not involve a first-round rookie. Teddy Bridgewater was traded to Denver while the Panthers acquired Sam Darnold after three miserable years with the Jets. It should be a better situation around Darnold this year, but he has never shown much franchise quarterback potential in the NFL.
Many of the top sportsbooks have the Panthers with an over/under of 7.5 wins, which still has them tied with Atlanta for the basement in the NFC South. It is always an uphill battle for the team with the worst quarterback situation in its division to compete, but is there anything from 2020 to give us optimism about Darnold in Carolina?
On the Last Season of PANTHERS: Close But No Cigar
To their credit, the Panthers were neither boring nor uncompetitive on their way to a 5-11 finish. There were shootouts, there was a 20-0 shutout of the Lions, and more than half of the games came down to the wire. The Panthers also made enough crazy plays to fill up a highlight reel in Kansas City, pushing the defending champs to the brink in a 33-31 loss in Week 9. Carolina also gave the Saints and Packers tough battles they may not have expected.
But the most common outcome was a loss as the Panthers finished 0-6 against teams with a winning record. After a 3-2 start, the Panthers were 2-9 in the last 11 games. Carolina was 0-3 in the games that fourth-year star running back Christian McCaffrey played. He suffered the first injury-plagued season of his career. Mike Davis filled in admirably even as a pass catcher, but the Panthers will be happy to have McCaffrey back this season.
Much of the failure for Carolina came on the offensive side of the ball, especially in those close games. The defense only blew two fourth-quarter leads to the Raiders and Vikings, so more often than not, it was the offense being unable to score late that doomed the Panthers in going 0-9 at game-winning drive opportunities.
Wide receivers D.J. Moore (1,193 yards), Robby Anderson (1,096 yards), and Curtis Samuel (851 yards) all set career highs in receiving yards. Teddy Bridgewater had a decent season, finishing 17th in QBR (64.1), but situational football was not his strong suit. The Panthers finished 25th in third down conversion rate and 28th in red zone touchdown rate.
Nothing speaks better to the team's lack of readiness for those situations like setting up clutch field goals of 65 and 67 yards, both of which would set an NFL record had they been made. Of course, kicker Joey Slye missed both, but the offense should have been able to get him closer than that. Against the Chiefs, the Panthers had almost 90 seconds, but Bridgewater's drive took forever, only setting up a 67-yard winning attempt that was missed. Against the Saints, the Panthers had more than half the quarter left in a 27-24 game, but Bridgewater struggled after getting inside the New Orleans 40, took a big sack on a third down, and the 65-yard field goal was missed. Carolina never got the ball back.
It was just that kind of season for the Panthers.
The Notable Changes for 2021
New general manager Scott Fitterer has his work cut out for him. The first scrutinized move of his career will be the decision to use the No. 8 pick in the draft on corner Jaycee Horn (South Carolina) instead of taking an available quarterback like Justin Fields or even Mac Jones. Not only that, but Horn better turn out to be the best corner as Patrick Surtain II went one pick later to Denver. The Panthers have a lot of talented receivers in the division to deal with, so the pick at corner is understandable, but it is a hard sell when you are rolling with Sam Darnold as your new starting quarterback.
Frankly, the Panthers needed an upgrade at quarterback. Bridgewater was always going to be a stop-gap solution, a game manager who has reached his ceiling. In the three seasons where Bridgewater was a primary starter, he has thrown 14, 14, and 15 touchdown passes. That is not good enough in today's NFL. Even Darnold had 17 and 19 touchdown passes in his first two seasons before falling to just nine in 2020. Of course, while Bridgewater was mediocre in QBR, Darnold was dead last in the league with the Jets.
So, it feels like the Panthers are downgrading at quarterback.
The Panthers were 5-0 when allowing no more than 21 points and 0-11 when allowing more than 21 points last year. That really is a Bridgewater stat as he is unreliable to lead a team to victory in a shootout. For his career, Bridgewater is 6-18 (.250) when his team allows more than 21 points. Unfortunately, Darnold has an even worse split as he was 4-19 (.174) when the Jets allowed more than 21 points and 2-18 (.100) when they allowed at least 24 points.
Who else is going to help make things better in Carolina this year? The return of Christian McCaffrey means a better rushing and receiving option out of the backfield for the Panthers. While Mike Davis caught 84.3% of his targets last year, he only averaged 6.3 yards per catch. McCaffrey has never averaged less than 8.1 yards per catch in his career.
Curtis Samuel left for Washington, but the Panthers still have Moore and Anderson. Of course, Darnold played with Anderson in New York and that connection was not great. Anderson caught around 54% of his targets in all four seasons with the Jets before exploding to 69.9% with the Panthers and Bridgewater last year. This is a case where you hope that the Jets and Adam Gase were holding both Anderson and Darnold back and it was not mostly Darnold's fault. Either way, the wide receivers should be fine since the team also added David Moore (Seahawks) and drafted Terrace Marshall Jr. in the second round.
There is still a bit of a hole at tight end as no tight end had 150 receiving yards last year in Carolina. But Dan Arnold comes over from the Cardinals where he had 438 yards and the team drafted Tommy Tremble in the third round.
The offensive line is such a question mark that you could say Darnold is downgrading thereby leaving the Jets for this unit that could be starting Cameron Erving at left tackle. Other than right tackle Taylor Moton, a 2017 second-round pick, it looks like four guys without a track record of success trying to find a home in Carolina.
Darnold has missed at least three games in each season with the Jets. It would not surprise me if backup and former XFL star P.J. Walker outplays him if given the opportunity to start again this season.
As for the defense, Carolina is largely relying on draft picks from recent years. DaQuan Jones (Titans) and Morgan Fox (Rams) join the starting defensive line to help Brian Burns and Derrick Brown, the two first-round picks in the previous two years. Shaq Thompson is still leading the linebackers in the post-Luke Kuechly era, but he will be joined by Arizona's Haason Reddick, a former first-round pick who is coming off a career-high 12.5 sacks in 2020. Five of those sacks came in one game against the Giants, so maybe some buyer's beware there as he only had 7.5 sacks in his first three seasons as Arizona was content with letting him leave.
Regression Alert: Close Games and Fumbles
If the Panthers were in Year 2 of the Rhule era with their young quarterback, you would probably say they are ripe for some positive regression after going 0-9 at game-winning drive opportunities last year. While teams with at least nine failed game-winning drives improve by an average of over 4.0 wins the following year, the Panthers are now going with Darnold, a quarterback who is 4-10 (.286) at game-winning drive opportunities, one of the worst records in the league.
The sample size is not big, but the problem is that there is really nothing Darnold excels at. At least with Bridgewater, we know he takes safe, short passes and keeps turnovers low. Darnold is a sub-60% passer who has never cracked 7.0 yards per attempt in a season and always has a poor interception rate. He had an incredible 46-yard touchdown run last year, but his running ability is not even as good as Bridgewater's. Darnold is not great at avoiding sacks either.
The Panthers wisely did not make a huge investment into Darnold, but he likely will not take the team farther than Bridgewater would if he remained the starter. The weird thing about Bridgewater going 0-9 at game-winning drive opportunities last year was that he had a 7-6 record in his career prior to 2020. He certainly was too risk-averse last season, but are we sure Rhule is coaching these situations properly as a first-time NFL coach?
After he was traded to Denver in April, Bridgewater had some interesting remarks about his time in Carolina. "I'll just say this, for (offensive coordinator Joe) Brady's growth, that organization, they'll have to practice things in different ways," he said. "One of the things we didn't do much of when I was there, we didn't practice two-minute (situations), really. We didn't practice red zone … (But) I'm appreciative of the opportunity and I just keep it moving."
While the coaching staff saw things differently than Bridgewater, could this be true and explain why the team was so bad in the red zone and in two-minute situations? Is this going to carry over to Darnold, who has even less success with situational football?
A lack of situational awareness is exactly how a team can finish 5-11 despite being so close in so many games. When you look at the 2020 Panthers, it is hard to find an area where the team was better than mediocre. One of those areas was fumbles, which are notoriously unstable from year to year when it comes to which team recovers them. Last year, the Panthers tied for the second-fewest lost fumbles (five) and recovered an NFL-high 15 fumbles. Rhule's defense only managed seven interceptions, the worst total in franchise history.
The list of quarterbacks who broke out in Year 4 or later after switching teams is a short one. Darnold could be in that Vinny Testaverde, Jeff George, and Kerry Collins territory now. At this point, that is the optimist's outcome for him.
Prediction
Add a worse quarterback and take away some fumble luck, and it is hard to see how the Panthers win more than seven games this season. Then again, the schedule is the difference maker, and there are some early favorable games there. Darnold should be more motivated than ever to show up the Jets at home in Week 1. The Panthers get the Saints at home without Drew Brees in Week 2 and likely get the Texans without Deshaun Watson in Week 3. You know luck is really on their side if something is medically off with Dak Prescott by the Dallas game in Week 4.
There is a chance for a 4-4 start or better before things get tougher later. It will likely come down to the division games. Is Atlanta going to play better with a new head coach, and will the Saints still be a tough out without Brees? The Panthers finished 1-5 in the division last year with a split with the Falcons. It will be hard to win eight games without improving that, but at least they have drawn the NFC East and the AFC East is not one of the stronger AFC divisions.
Carolina fans may have a new vested interest in how the Bears do with Justin Fields this year and beyond. Maybe that could have been your team. Now, it is either watch Darnold improve or implode, or root for P.J. Walker to take the field and give you his best Fields impression. I will take the under 7.5 wins for my NFL picks.
2021 Panthers Over/Under Pick: Under 7.5 wins (-120) at Bovada (visit our Bovada Review)
*The line and/or odds on picks in this article might have moved since the content was commissioned. For updated line movements, visit BMR's free betting odds product.