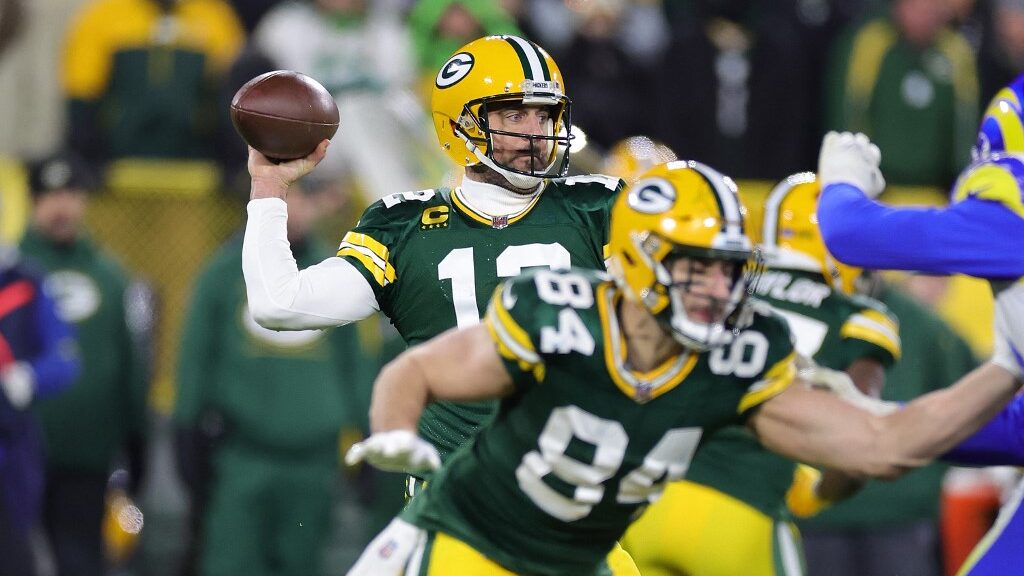 NFL Prop Pick: Aaron Rodgers Over 250.5 Passing Yards (-125) at Bovada
NFL Prop Pick: Aaron Rodgers Over 1.5 Touchdown Passes (+100) at Bovada (visit our Bovada Review)

Aaron Rodgers Over 1.5 Touchdown Passes

(+100)
---
The NFL's Week 16 Sunday schedule is a triple-header of action on Christmas day with the Packers-Dolphins, Broncos-Rams, and Buccaneers-Cardinals.
We have selected our favorite player props with the best betting odds that you can find at many of the top-rated sportsbooks. You can use them in a parlay or play your favorite lines as singles.
---
Green Bay Packers vs. Miami Dolphins
Sunday, December 25, 2022 – 01:00 PM EST at Hard Rock Stadium
Aaron Rodgers (Green Bay Packers)
Over 250.5 Passing Yards
Over 1.5 Touchdown Passes
One stipulation for Green Bay's slim playoff hopes is winning out, which might be the toughest part with how inconsistent this team has been. But if the Packers are going out this weekend in Miami, then at least Aaron Rodgers needs to go down swinging.
That means throwing the ball often and well in decent weather against a Miami defense that has allowed Josh Allen and Justin Herbert to throw for over 300 yards the last two weeks. The 49ers also had over 250 gross passing yards between Jimmy Garoppolo and Brock Purdy the week before that.
Rodgers has not passed for even 230 yards in the last five games, accommodating for a broken thumb, a commitment to the running game, and an injured receiving corps. But Rodgers is getting his receiving corps healthier right now. He passed for 229 yards against the Rams on Monday, and it may have been more if the Rams put up any fight in the second half on offense.
Rodgers' Prop Picks
We expect the Dolphins to do some scoring in this one at home before they end up losing four in a row and hurting their playoff chances. Tua Tagovailoa looked a lot better in Buffalo, but the Bills just had the ball last. The Dolphins could get the Packers into a shootout here, and we like the odds of Rodgers having to throw his team into a high-scoring win.
---
Christian Watson (Green Bay Packers)
Over 52.5 Receiving Yards
Right in line with Rodgers having a big passing day, Christian Watson needs to have a big receiving day. He was one broken tackle away from hitting his over and scoring a touchdown against the Rams on Monday night. But the team ended up running the clock out after his last chance.
The weather will be warmer this Sunday afternoon in Miami, and the Dolphins should be more of a challenge than the Rams were as far as forcing the Packers to throw and score to keep up.
Watson's Prop Pick
Watson is moved around a lot, so he can avoid getting locked down by corner Xavien Howard. Sometimes it just takes one big throw for him to hit 40 or 50 yards, so he should be in line for a good game to hit his over here.
NFL Prop Pick: Christian Watson Over 52.5 Receiving Yards (-125) at Bovada

Christian Watson Over 52.5 Receiving Yards

(-125)
---
Raheem Mostert (Miami Dolphins)
Is Green Bay's worst nightmare from 2019 back? As a member of the 49ers in 2019, Raheem Mostert scored five touchdowns in two games to sweep Green Bay. In the 2019 NFC Championship Game, Mostert rushed for 220 yards and four touchdowns in an incredible performance.
Injuries have sidetracked Mostert in the years since, but now with Miami, he is coming off his best game (136 yards in Buffalo) since that NFC title game against Green Bay.
Mostert's Prop Pick
We are still waiting for the yardage props on this game, so you may want to hedge with his over there when it is available. But the odds of him scoring a touchdown are so high that it is too good to pass up for this matchup.
The Packers have allowed 15 rushing touchdowns in 14 games, which ranks 20th in the league this year.
He won't sniff four scores again, but we'll trust Mostert for at least one.
NFL Prop Pick: Raheem Mostert Anytime Touchdown Scorer (-205) at Bovada

Raheem Mostert Anytime Touchdown Scorer

(-205)
---
Denver Broncos vs. Los Angeles Rams
Sunday, December 25, 2022 – 04:30 PM EST at SoFi Stadium
Russell Wilson (Denver Broncos)
Over 1.5 Passing Touchdowns
The last we saw Russell Wilson, he was scrambling for a first down on third-and-long against the Chiefs before he suffered a nasty concussion that left a mark on his forehead, but it really was Wilson's best game of the season as he had three touchdown passes before he left. It was only the second time all season that Wilson threw multiple touchdowns in a game for an offense that has been the most disappointing in the NFL.
So, what could be more disappointing than Wilson starting to excel late in the season when the playoffs are long out of reach? The fact that he is returning to action at all this week is a bit confusing, but he wants to play, and the Broncos are going to let him play.
There is value in betting on him to start playing well now and throwing over 1.5 touchdowns again. The Rams are missing Aaron Donald and based on their lackadaisical effort in Green Bay on Monday night, they are ready to just get this season over with too.
Wilson's Prop Pick
The Rams have been a tough opponent for Wilson twice a year in Seattle, but here he gets a weakened version without Donald and without anything to really play for. With the game in front of a national stage, let's take a chance on Wilson playing some of his best ball when it no longer counts for much.
NFL Prop Pick: Russell Wilson Over 1.5 Passing Touchdowns (+155) at Bovada

Russell Wilson Over 1.5 Passing Touchdowns

(+155)
---
Tampa Bay Buccaneers vs. Arizona Cardinals
Sunday, December 25, 2022 – 08:20 PM EST at State Farm Stadium
Tom Brady (Tampa Bay Buccaneers)
Under 0.5 Passes Intercepted
Up until a few games ago, the Buccaneers on offense were No. 1 in fewest turnovers, No. 1 in lowest sack rate, and No. 27 in points per game – a combo the likes of which we have never seen in NFL history.
To be that good at protecting the ball and limiting negative plays, but still be so bad at scoring would take some unusual circumstances. You would need a smart quarterback who is so desperate to not get hit that he is releasing the ball at the fastest rate in the league, and often to spots where only his receiver or the ground will get the ball.
That is what Brady and the Bucs were doing, and it wasn't really working out for them. But they now have nine turnovers in the last three games, and Brady has coughed up seven of them, including four in a row in the second half against the Bengals last week.
This week he is playing against the team that has allowed the most points in the league, a defense with only nine picks, and he just has to outscore Trace McSorley, a third-string quarterback making his first start.
Brady's Prop Pick
Interceptions are not always in a quarterback's control due to tipped balls or the defender just making a great play, but this should be a game where Brady protects the ball better after last week and avoids those careless giveaways. His defense can win this game for him.
If you're located in Tampa and are looking to bet on this game, make sure to visit our guide on the best Florida betting sites to find the perfect fit for you!
NFL Prop Pick: Tom Brady Under 0.5 Passes Intercepted (-170) at Bovada

Tom Brady Under 0.5 Passes Intercepted

(-170)
---
James Conner (Arizona Cardinals)
Anytime Touchdown Scorer
Over 2.5 Receptions
Based on the odds of touchdown scorers, it does not look promising for Arizona to find the end zone at all against Tampa Bay. Though, we know that even with third-string quarterback Trace McSorley making his first NFL start, that is unlikely. But in the last two games, Arizona has scored just one touchdown in each game.
Both times it was James Conner, and he is back to his 2021 level of scoring just about every week. Conner has six of the last nine touchdowns for the Cardinals.
Conner's Prop Picks
With the ability to catch a score and not having to worry about Kyler Murray hogging any rushing touchdowns, this is Conner's show this Sunday. If the Cardinals want to avoid having an inexperienced quarterback like McSorley throw the ball 40-plus times, then they will try to give Conner as many touches as possible, including some short passes. He is still the best value bet for your NFL picks on any Arizona player to score in this game.
NFL Prop Pick: James Conner Anytime Touchdown Scorer (+160) at Bovada

James Conner Anytime Touchdown Scorer

(+160)
NFL Prop Pick: James Conner Over 2.5 Pass Receptions (-165) at Bovada

James Conner Over 2.5 Pass Receptions

(-165)
*The line and/or odds on picks in this article might have moved since the content was commissioned. For updated line movements, visit BMR's free betting odds product.