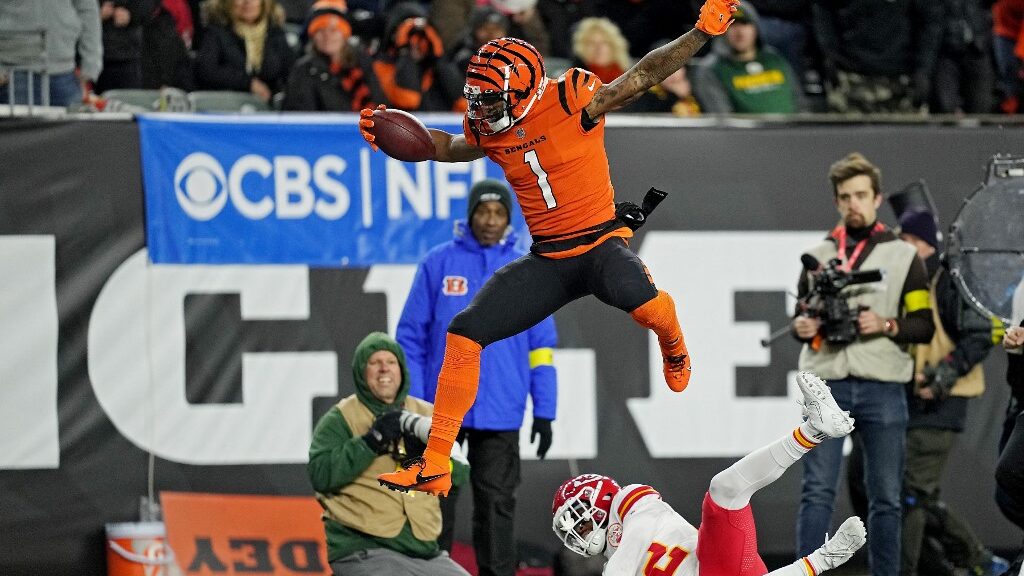 NFL Pick: Bengals -1.5 (-110) at Bovada (visit our Bovada Review)

In a case of déjà vu, the Cincinnati Bengals (14-4) are back for the AFC Championship Game against the Kansas City Chiefs (15-3).
The Bengals have gone 3-0 against Patrick Mahomes in a series of 3-point wins, but now they expect to get a less than 100% version of 2022's likely NFL MVP after he suffered a high-ankle sprain against the Jaguars in the divisional round.
Mahomes returned for the second half and was able to lead two scoring drives in the 27-20 win, including a nice touchdown pass that had to hurt a lot.
But you could see he was clearly hobbled in the game and not the same athletic quarterback who looked so impressive on the opening touchdown drive.
The Chiefs Squeak by While Bengals Smash Bills
Meanwhile, the Bengals finally played a playoff game that was not close in the Joe Burrow era, and they demolished the Bills 27-10 in Buffalo.
Between the Bengals' 10-game winning streak, success against the Chiefs, and Mahomes' injury, the Bengals are now a 1.5-point road favorite with a total of 47 points at many of the top-rated sportsbooks.
Since 2021, Cincinnati is 17-4 ATS (81.0%) on the road, easily the best record in the NFL according to NFL odds.
The Bengals are also 5-1 ATS in the playoffs the last two years.
Do the Bengals make it four in a row against Kansas City, or does this become a legacy-shaping game for Mahomes to get the Chiefs to their third Super Bowl in four years?
We have some NFL picks for the biggest game in the AFC this year – the Bengals versus the Chiefs.
---
Cincinnati Bengals vs. Kansas City Chiefs
Sunday, January 29, 2023 – 06:30 PM EST at GEHA Field at Arrowhead Stadium
High Scoring Game or Not?
The Bengals have won the last two meetings by a final of 27-24 after winning 34-31 in the first meeting in 2021. But the last two games have gone under, and the projected total for this game is down to 47 points after the previous three matchups were all at lines of 51.5-to-55 points.
This has to be the injury-driving thing because this is abnormally low for a game with Mahomes against a playoff opponent.
He only has three games with a total under 48 points against an opponent that made the playoffs, and two of those were against the 2021 Steelers, a lousy No. 7 seed with Ben Roethlisberger's career running on fumes. The other was earlier this season in Tampa Bay against a bad Tom Brady-led team in a game that still ended 41-31.
Overall, the over is 6-2 in games where Mahomes faces a playoff opponent with a total under 49.5 points.
But none of the last four Cincinnati games have gone over 43 points, including an impressive showing in Buffalo last week in the 27-10 win. It was the first time a road playoff team held a top-five scoring offense to 10 points in a playoff win since the 2005 Panthers blanked the Giants 23-0 in the wild-card round.
All Roads Lead to a Low-Scoring Affair
The Bengals have yet to score more than 27 points in any of Burrow's six playoff starts, but they also have not allowed more than 24 points in any of those games.
When these teams met in Week 13, it was a game without many possessions, and both teams left some points on the field, so it could have easily been higher scoring than 27-24.
But with the much colder weather coming and the Mahomes' injury, something more defensive in the playoffs would certainly make sense with how used these teams are getting to preparing for one another.
Six of the last seven home games for the Chiefs have not gone over 47 points, including the 24-20 showdown with the Bills in Week 6.
That feels like another reasonable final for this one given the factors we mentioned with health, weather, and recent play.
In games between playoff teams this year where the total was at least 47 points, the under is 17-8. Let's go with another big game to hit the under this year.
NFL Pick: Under 47 (-115) at Bovada

---
NFL Prop Pick
Ja'Marr Chase Anytime Touchdown Scorer
For a prop pick, it is hard not to roll with the hot hand in Ja'Marr Chase, who has had a touchdown or at least 97 yards in all three games against the Chiefs.
He had 266 yards and three touchdowns in his first meeting, 54 yards and a touchdown in last year's championship game, and 97 yards in his return game in Week 13 this year.
Chase has caught a touchdown in three straight games, 5-of-6 coming in, and in 9-of-14 games this season.
The Chiefs have allowed several No. 1 wide receivers to catch one or more touchdowns this year including:
Stefon Diggs
Davante Adams
Mike Williams
Christian Kirk (both games)
Mike Evans
Jerry Jeudy (caught three)
Tee Higgins is very good, but Chase is always the first option for Burrow in this offense. He should have another big game here.
NFL Prop Pick: Ja'Marr Chase Anytime Touchdown Scorer (-110) at Bovada

Ja'Marr Chase Anytime Touchdown Scorer

(-110)
---
Final Pick: Who Wins?
This is trending towards being only the second time in his career that Mahomes is a home underdog. The only other time was in Week 6 when the Bills were favored by 2.5 and won 24-20 on a late-game winning drive.
Betting against Mahomes as an underdog is hard when he is 7-1-1 ATS and 6-3 SU. But which version of Mahomes are we getting this week?
Even when healthy, he has gone 0-3 against these Bengals with a struggle to score late in the game.
Mahomes has seven drives against the Bengals in the fourth quarter and overtime, and he has led the Chiefs to two field goals. That is 0.86 points per drive. For context, the Chiefs led the NFL with 2.76 points per drive this season and 2.81 points per drive last season.
In last year's championship game, Mahomes played the worst half of his career after halftime. The Bengals switched up to a three-man rush, and Mahomes was caught holding the ball too long and unable to figure the defense out. Eventually, he was intercepted in overtime and the Bengals went on to win on a field goal.
Same as It Ever Was
This year, the Bengals did not need to do that as much, but they still forced Mahomes to hold the ball for over 3.2 seconds per play, which is above his average. He was pressured on 35.3% of his passes in Cincinnati, his highest rate in the last 17 games this season.
While Mahomes did not have a bad game, he was sacked on a key third down, which led to Harrison Butker missing a 55-yard field goal.
Travis Kelce also lost a big fumble in the fourth quarter on the next-to-last drive. Those mistakes get magnified in a game where the Chiefs only had eight possessions because of how efficient both offenses were.
Burrow has picked apart this secondary and the pass rush has only got to him for 2.0 sacks total in the last two meetings. So, if the defense is not going to step up and play a stellar game against this talented Cincinnati offense, it will be on Mahomes to deliver a solid point total again.
Injury Likely Affects Throws
But without his full athleticism, he could be compromised in the pocket if the Bengals bring pressure, and this defense covers better than the Jaguars do. And even in that game, you could see a couple of throws after the injury where Mahomes just did not have any control over his accuracy because of the injury throwing off his mechanics.
As we saw with Josh Allen last week, a couple of those missed third-down throws early in the game can be killer and keep you in a hole all day long. The Bills only had eight possessions against Cincinnati too, and they were down by 10-plus points on each of the final seven drives.
The Chiefs know this team better and will put up more of a fight than the Bills did. The Chiefs have scored at least 17 points in every game this season, and Andy Reid can scheme up some quick plays and a running game to help out Mahomes.
Stars Lining Up for Cincy
But even in a normal week, you would frame this one as the Bengals having the better team and the Chiefs having the better quarterback.
With Mahomes' high-ankle sprain and shortcomings against this defense when he was healthy, the Bengals may have the better quarterback play on Sunday as well.
In his last 30 games, Burrow is 21-1 when he takes fewer than five sacks and 1-7 when he is sacked at least five times. For all the concern about the offensive line last week, the Bengals looked great compared to Buffalo's performance.
The Chiefs rank No. 2 in the NFL with 55 sacks this year, but they are led by Chris Jones, who had 15.5 sacks.
The problem is Jones still has never notched a sack in 13 career playoff games, one of the oddest and most disappointing stat lines in NFL history for a four-time Pro Bowler.
---
The Pick
Timing is everything in this league. Maybe Jones was saving all his playoff sacks for this week in an emergency move to bail out a gimpy Mahomes and the offense for a change, but that seems unlikely.
The Bengals have not lost since Halloween, and they are in a great position to beat the Chiefs again.
You know this is a new era when we are saying trust the Bengals to win on the road again and reach their second straight Super Bowl for your NFL picks.
Remember, fans from the Buckeye State or the Show Me State who are looking to make a wager on this game should be sure to check out our top-rated Ohio or Missouri betting sites.
NFL Pick: Bengals -1.5 (-110) at Bovada

*The line and/or odds on picks in this article might have moved since the content was commissioned. For updated line movements, visit BMR's free betting odds product.