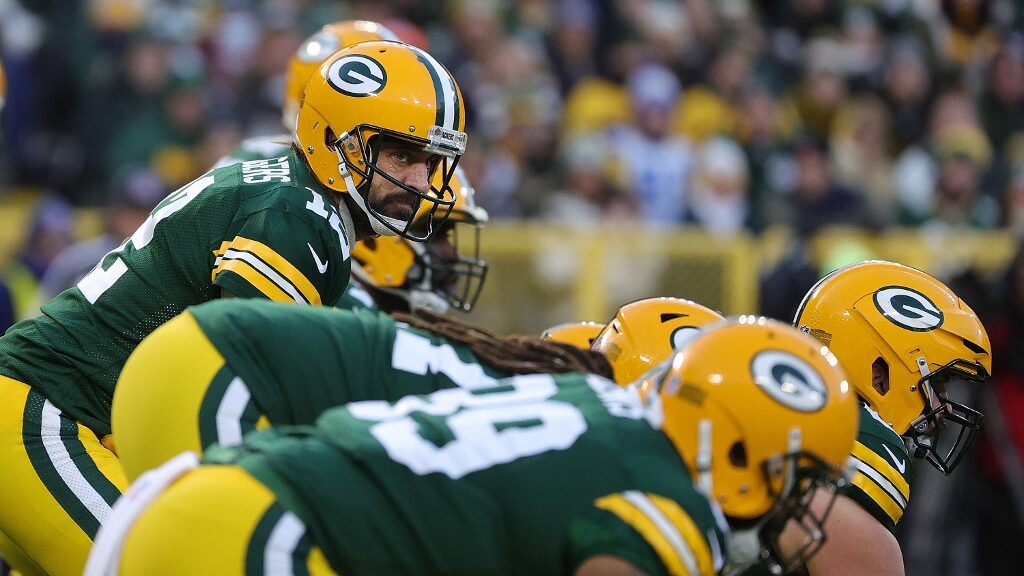 Chicago Bears vs. Green Bay Packers
Sunday, December 12, 2021 – 08:20 PM EST at Lambeau Field
We've been waiting all day for Sunday night and… yikes.
The Chicago Bears aren't good, y'all. Like they have been as my friend Dr. Marvin Williams likes to say "a dumpster fire inside of a tire fire inside of Bobby Bonilla's contract." And now they have to play the Green Bay Packers in Green Bay on national television with ole "Covid Toe" himself Aaron Rodgers on his "f*** the world, but especially the NFC North" audition tour as he heads into possible (totally happening) free agency in the offseason.
With the Packers coming off a bye, and prior to that a dominant offensive performance against the tougher than tough Los Angeles Rams defense, with Rogers throwing over 300 yards for his second straight game, I'd run to the hills if you were a Chicago Bears fan, more so than usual.
For the Bears, they walk into Lambeau Field at 4-8 eating a giant L against the Arizona Cardinals on Sunday 33-22. And while Kyler Murray was kept under 200 yards, the Bears Quarterback situation feels as hopeless as someone who still listens to Saosin unironically in 2021 or thinks that LaserDiscs are fitting to make a comeback. Much like fetch, you're trying really hard to make something happen that really shouldn't.
Andy Dalton has stepped in for the injured Justin Fields and has… not done well.
Sure he threw for more yards than MVP candidate Murray and had two touchdowns in the 33-22 thrashing by their former crosstown rivals, and sure David Montgomery ran for 90 yards against a really stout defense, BUT.
Dalton threw FOUR interceptions… Yup. Four.
MORE PICKS: Check Out The Donnie and Kyle Show: NFL Best Bets Week 14
The Bears heading into Sunday night ranked 32nd in passing yards. That's right… DEAD LAST. Like the actual worst… The Jaguars/Lions/Jets/Giants are all better than the Bears.
If you are a Chicago fan, please know it'll be okay*
*Editor's note: You won't be…. It's bad in these streets.
According to our friends at top betting sites, the Packers are a -700 favorite and the Bears are a +500 underdog.
I know what you're thinking… Stop… No… DO NOT DO THAT! I WILL CHASE YOU WITH A CRICKET BAT!
Sure Chicago is top five in sacks (33), but they're facing a team in the top 10 in passing AND top 10 in pass and run defense… You're not gonna have a good time betting on the line or any of these teams straight up.
If you're looking to drop some change on this, my NFL pick would be taking the over on the spread (44.5) which is set at -110 on either side.
Both teams have shown they can either score or get scored on and with the Chicago offense being as volatile as it has been and their weird ability to keep games kinda close but still getting trounced, it's the only safe bet I think you should make on the biggest game of the week.
Think I'm wrong? Think I'm handsome? Let me know on Twitter @Mryanconsulting or not. Honestly, it's your life.