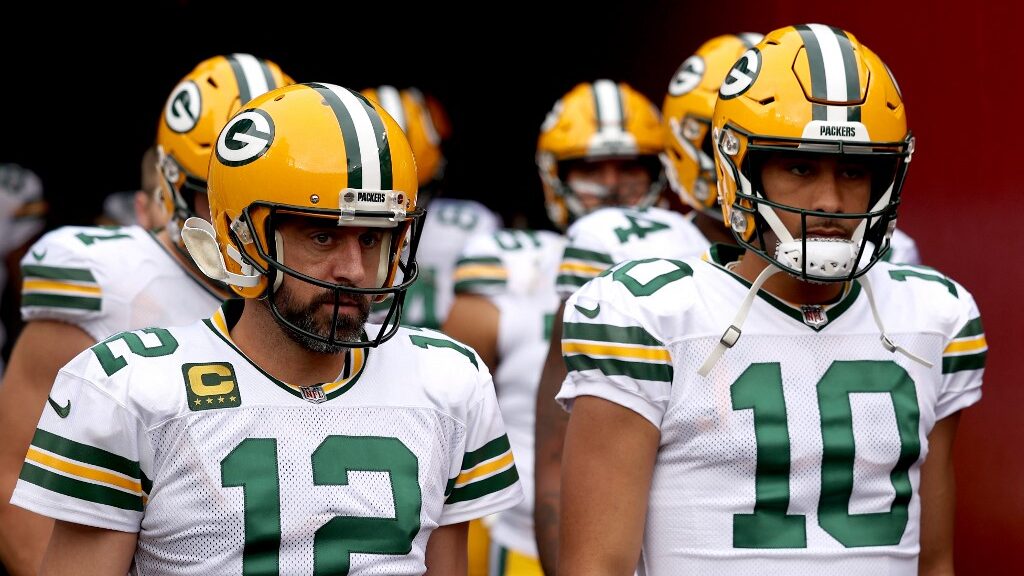 ---
Our Top Pick
Aaron Rodgers – Over 4000.5 Passing Yards (-115) at BetOnline (visit our BetOnline Review)

Aaron Rodgers – Over 4000.5 Passing Yards

(-115)
---
For the first time in 15 years, the Green Bay Packers will move forward with a new starting quarterback in Jordan Love.
With the Aaron Rodgers trade to the New York Jets finally completed, a lot of eyes will be on how Rodgers performs in his new conference with high expectations and what Love can do right away for the Packers in a winnable division.
At a top-rated sportsbook like BetOnline, you can already find a variety of player props for both quarterbacks this season. We have the breakdown of them below so you can take them into consideration for your NFL picks.
Aaron Rodgers Props
By several statistical measures, Aaron Rodgers is coming off the worst season of his career as he joins the Jets, a team infamous for bad quarterback play. But a change of scenery could be exactly what Rodgers needed as he nears 40 just as Peyton Manning (Denver) and Tom Brady (Tampa Bay) once needed to reenergize late in their careers.
Rodgers also will not be going in cold to a brand-new situation. His new offensive coordinator, Nathaniel Hackett, is the same coordinator he had when he was MVP in 2020-21.
He also has two familiar wide receivers as the Jets have acquired Allen Lazard and Randall Cobb from Green Bay. Lazard especially should get a fair amount of snaps in this offense, which already has a legitimate No. 1 wideout in Garrett Wilson.
1. Over/Under 8.5 Interceptions Thrown
In 2022, Rodgers threw 12 interceptions, his most in a season since he had 13 in his first season as a starter in 2008. It ended an 11-year run where he finished under 8.5 interceptions, a remarkable streak that suggests Rodgers does have a style of play that is sustainable for keeping down his number of interceptions, a notoriously volatile stat with a lot of randomness.
The Jets threw 14 interceptions last year with their trio of starting quarterbacks, but none of those players are comparable to Rodgers, who has the lowest interception percentage (1.4%) in NFL history.
In 2019-21 with Green Bay with Hackett as his coordinator, Rodgers threw 4, 5, and 4 interceptions. It is reasonable he will have a few more mistakes this season with age and adjusting to his new surroundings. But that familiarity with Hackett's offense and some trustworthy receivers should be a huge advantage to him over when other great quarterbacks have switched teams in the past.
Rodgers will still be playing in a style of offense he is very experienced with, and he has never been one to shy away from taking sacks or throwing the ball away instead of forcing an interception.
Five of Rodgers' 12 picks came in two games last season. We will bank on him keeping that number down this year and getting back to his normal rate of having few interceptions.
NFL Pick: Aaron Rodgers – Under 8.5 Interceptions Thrown (-115) at BetOnline

Aaron Rodgers – Under 8.5 Interceptions Thrown

(-115)
---
2. Over/Under 4000.5 Passing Yards
Rodgers is coming off a season where he averaged a career-low 217.4 passing yards per game. It led to 3,695 yards in 17 games, ending a streak of four 4,000-yard passing seasons for Rodgers.
The Jets infamously have not had a 4,000-yard passer since Joe Namath became the first to do it in professional football when he had 4,007 yards in 1967. The second-highest season in Jets history was when Ryan Fitzpatrick passed for 3,905 yards in 2015.
With the 17-game schedule and a tough division battle ahead, the over should be a great pick here as long as Rodgers stays healthy, which is never guaranteed. But if he can start all the games, he should be a 4,000-yard passer, because the Jets under coach Robert Saleh have shown a great willingness to throw the ball when anyone but Zach Wilson has been the quarterback:
2021-22 Jets with Zach Wilson as starter: 22 games, 28.4 pass attempts, 182.8 passing yards per game.
2021-22 Jets without Zach Wilson as starter: 12 games, 41.8 pass attempts, 273.7 passing yards per game.
In the 12 non-Wilson starts, the Jets passed for at least 240 yards in every game, including seven games over 280 yards. This was with Joe Flacco and Mike White, so not exactly the strongest pair of quarterbacks.
Barring injury, Rodgers is going to join Namath as the Jets' only 4,000-yard passers. However, Broadway Joe only needed a 14-game season to do it in 1967.
NFL Pick: Aaron Rodgers – Over 4000.5 Passing Yards (-115) at BetOnline
---
3. Over/Under 29.5 Total TD Passes
This is another stat where the Jets have really struggled over the years. When Ryan Fitzpatrick threw 31 touchdown passes for the Jets in 2015, it was the first and only season with 30 touchdown passes in team history. Rodgers has thrown 474 touchdown passes for Green Bay since he made his first start in 2008. In that same 15-season span, the Jets rank No. 31 with 279 touchdown passes.
But even in what was such a down year for Rodgers in 2022, he still finished with 26 touchdown passes. Rodgers has gone for over 29.5 touchdowns in 8-of-15 seasons since becoming a starter in 2008. Injuries in 2010, 2013, and 2017 likely prevented that number from being 11-of-15 seasons.
Rodgers is a king of throwing short touchdown passes near the goal line to pad the totals. In his MVP seasons in 2020-21, Rodgers had a league-high 22 touchdown passes of 1-to-3 yards. He had 2 such plays in 2022, perhaps a sign of how much he missed Davante Adams in the red zone.
But with Wilson and other weapons at his disposal, look for Rodgers to get back to the 30-touchdown pass club this year with the Jets.
NFL Pick: Aaron Rodgers – Over 29.5 Touchdown Passes (-115) at BetOnline

Aaron Rodgers – Over 29.5 Touchdown Passes

(-115)
---
Jordan Love Props
It was controversial when the Packers used a first-round pick on Jordan Love in 2020, but here he is taking over for Rodgers in 2023. So far, he has only made one subpar start against the Chiefs in 2021, a 13-7 loss where he passed for 190 yards, 1 touchdown, and 1 interception.
It is the only game where we have seen Love throw more than 17 passes so far.
1. Over/Under 13.5 Interceptions Thrown
Interception rates have never been lower in NFL history than they are now, but the 17-game season does add on to the counting stats like interceptions thrown. In 2022, five quarterbacks threw over 13.5 interceptions, though no one threw more than 15.
Inexperienced quarterbacks do tend to throw interceptions. Even Rodgers had his highest total in 2008, his fourth year in the league, with 13 picks. In limited action, we have seen Love throw 3 interceptions on 83 passes in the regular season. He also threw 3 interceptions in his first preseason action in 2022 against San Francisco.
In Love's final college season at Utah State, he threw 20 touchdowns to 17 interceptions, a discouraging decline from the 32 touchdowns and 6 interceptions he had in 2018.
If you look at all NFL quarterbacks, age 25 or younger, to throw at least 450 passes in a season, 82-of-144 (56.9%) were over 13.5 interceptions.
Raising the minimum to 500 passes produces 58-of-85 (68.2%) going over.
Only 7-of-27 (26.0%) passers to go under 13.5 interceptions were first-year starters.
The player profile on Love is still a relative unknown, but his inexperience and history so far suggest he will get intercepted at an above-average rate. If he is to start all 17 games for the Packers this year, over 13.5 interceptions is more than reasonable.
NFL Pick: Jordan Love – Over 13.5 Interceptions Thrown (-105) at BetOnline

Jordan Love – Over 13.5 Interceptions Thrown

(-105)
---
2. Over/Under 3400.5 Passing Yards
We documented above how Rodgers averaged a career-low 217.4 passing yards per game in 2022. But the Packers had a lot of injuries at wide receiver, did not have the best solutions for replacing the big loss of Davante Adams, and Rodgers himself was not always healthy last year.
With Love, the Packers get a younger passer who will hopefully remain healthy. It would be hard for Christian Watson and Romeo Doubs to be more injured in 2023 than they were last year. The division also may still be vulnerable on defense with the Vikings, Bears, and Lions all failing to impress on that side of the ball last year.
But 3,400 yards is a low benchmark for a 17-game starter to hit. Only 11 quarterbacks started 16 games last year, and all but Daniel Jones (3,205) passed for over 3,400 yards.
In 2021, 18-of-19 quarterbacks to start at least 15 games passed for over 3,400 yards. Only Jalen Hurts (3,144) came up short as a more mobile quarterback than Love projects to be.
The Packers have a formidable running back duo in Aaron Jones and AJ Dillon, but that feels like the reason why Love is not likely to throw for 4,000 yards in this offense in 2023. But head coach Matt LaFleur has seen the Packers rank middle of the road in pass attempts in 3-of-4 seasons with Green Bay. The Packers will throw it enough for Love to go over 3,400 yards.
NFL Pick: Jordan Love – Over 3400.5 Passing Yards (-125) at BetOnline

Jordan Love – Over 3400.5 Passing Yards

(-125)
---
3. Over/Under 22.5 Total TD Passes
Fun fact: Love has more touchdown passes of 60-plus yards (2) in his NFL career than he has touchdowns under 60 yards (1). That will change by September this year, but Love's only touchdown in 2022 was Christian Watson doing most of the work on a 63-yard play against the Eagles after Rodgers was injured. That play brings the excitement of the potential for this combination after Watson's breakout run in the second half of 2022.
But Watson should be a polarizing figure in 2023. He had 8 touchdowns in 4 games and only 1 touchdown in his other 10 games. Injuries were a big problem, but we see how those can be nagging on a career like in the case of Sammy Watkins.
Throw in that impressive running back duo of Jones and Dillon only finding the end zone 9 times on the ground, and you could see a boost in rushing touchdowns for this offense in 2023. Maybe Love even runs in several scores himself like Rodgers used to. A lot of unknowns to unpack with this player.
Let's go with the narrative that Love does take a step back for the offense in areas like the red zone and throwing all those short touchdown passes Rodgers and Adams could connect on blindfolded. Let's go with the under on Love's touchdown passes, because for all we know about quarterback bust rates, he is not going to be the true successor to Rodgers in Green Bay.
This team was spoiled in going from Brett Favre to Rodgers for a 30-year period, but those days are over. Love is either the third part of an incredible trilogy of quarterbacks for Green Bay, or he is the first reminder that nailing this position is incredibly hard.
NFL Pick: Jordan Love – Under 22.5 Touchdown Passes (-105) at BetOnline

Jordan Love – Under 22.5 Touchdown Passes

(-105)
*The line and/or odds on picks in this article might have moved since the content was commissioned. For updated line movements, visit BMR's free betting odds product.