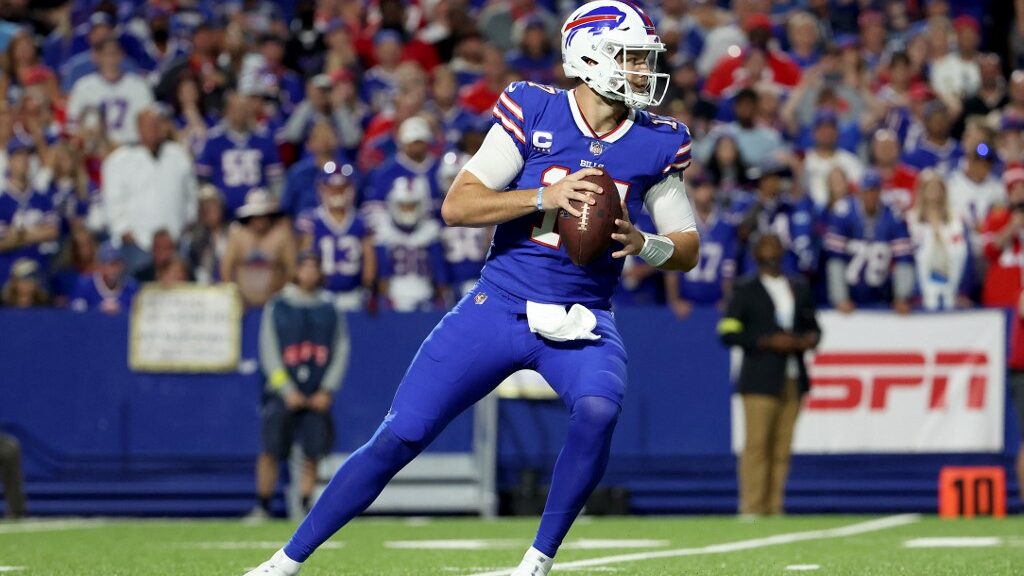 With two weeks in the books for this 2022 NFL season, the MVP race is already seeing some big risers and fallers in the odds at many of the top-rated sportsbooks.
Buffalo quarterback Josh Allen, (+300) at Bovada (visit our Bovada Review), continues to lead the pack with Patrick Mahomes (+450) not far behind.
But who had Jalen Hurts (+900) surging ahead of Tom Brady (+1800) and back-to-back winner Aaron Rodgers (+1600) in Week 2 after his excellent performance on Monday night against Minnesota?
Let's size up where the candidates stand and what to look forward to in the coming weeks as you make your NFL picks.
PLAY NOW: $25,000 Free-To-Play NFL Contest: BMR's 2022 Pick'Em Pool Opens for Registration
---
The Leader: Josh Allen (+300)
Allen was leading the MVP clubhouse at +650 going into Week 1. He has already cut his NFL odds by more than half after Buffalo's impressive start to the season.
Not only has Allen been great with a league-high 87.1 QBR, but he has had the opportunity to shine in front of a national prime-time audience for both games.
With three big games coming up on the road against teams with their own MVP candidate in Miami's Tua Tagovailoa, Baltimore's Lamar Jackson, and Kansas City's Patrick Mahomes, Allen could enter the Week 7 bye with a huge lead over his peers if he keeps rolling like this.
Sunday Night Football
Oh, and right out of the bye he will be on Sunday Night Football at home against Aaron Rodgers and the Packers. Between Allen's play and the early schedule, he could have this thing locked up going into November.
But you may recall that NBC's Cris Collinsworth was ready to award Allen the MVP after his Week 5 win in Kansas City last year.
Then he came up short at the end of a loss to the Titans, and a couple weeks later, he was terrible in a shocking 9-6 loss in Jacksonville, a game that effectively sunk his MVP case.
So, Allen has to keep this up, because if he slips badly against one of these other candidates, then they will get the push next.
---
The Rival: Patrick Mahomes (+450)
It is only fitting that Mahomes would be standing in Allen's way of his first MVP. Mahomes has been in Allen's way to getting to a Super Bowl the last two years too.
Right now, these teams still look a cut above everyone else in the AFC, so that Week 6 matchup in Kansas City could go a long way in determining everything from MVP to home-field advantage.
Buffalo Bills
If someone is going to topple these Bills soon, it would be the Chiefs, but things are going to be harder without Tyreek Hill. We saw a tough game for Mahomes against the Chargers, a team that is familiar with playing him.
Buffalo won big in Kansas City in the regular season before that dramatic playoff loss, but the Bills are better on defense with the ability to get pressure without blitzing, a key in beating Mahomes.
But like Allen, Mahomes is about to have a lot of high-profile matchups in front of national audiences, so he can absolutely play himself into the MVP lead in the next month.
---
Jalen Hurts vs. Justin Herbert (+900)
Week 2 started and ended with two quarterbacks from the 2020 draft class with the same initials, but now Jalen Hurts and Justin Herbert share the same third-place odds for MVP.
Justin Herbert
Herbert had a rough finish in Kansas City after suffering some damage to his rib cartilage. He finished the game, but his status for Week 3 is up in the air.
The pick-six he threw in the red zone was not entirely his fault as tight end Gerald Everett was so fatigued and ran a poor route, but that kind of play in a loss is going to be a sore spot for voters.
Jalen Hurts
But Hurts really shined in what was a big game for the Eagles to get to 2-0. He passed for over 300 yards and rushed for two more touchdowns, showing that the Eagles can be a scary two-way offense.
Philadelphia's schedule looks much easier than the ones the other MVP contenders have ahead of them.
This could make it easier for Hurts to garner attention for a No. 1 seed finish and more than 40 total touchdowns if he continues running them in like he has.
You may not get him at a better number for MVP the rest of the season.
---
Out With the Old
Lamar Jackson (+1000) Moves Ahead of Aaron Rodgers (+1600) and Tom Brady (+1800)
Tom Brady and Aaron Rodgers started the season in the top five in MVP odds, but after two weeks, they are sixth and seventh with Brady falling the farthest.
Basically, neither quarterback has been that sharp in leading their offenses that have been injured and lacking in talent after some offseason moves.
Rodgers and Brady
Rodgers lost Davante Adams in a trade to the Raiders, and Brady lost Rob Gronkowski to retirement.
Now Chris Godwin and Julio Jones are injured again, and Mike Evans could be suspended for Sunday's matchup after getting into a fight with Marshon Lattimore and the Saints.
The total for Sunday's Battle of the Bays is 42 points, which is absurdly low for a game with Rodgers and Brady. But based on the makeup of their current offenses and the way they have performed, it does make sense.
Given the high standards these quarterbacks have set in the past for MVP-winning seasons, it just does not seem plausible that they are going to get it together with their 2022 offenses to leapfrog all these contenders who are younger and simply playing better right now.
Lamar Jackson
One great example is Baltimore quarterback Lamar Jackson, the 2019 NFL MVP, who is up to No. 5 with +1000 odds after a great start to his season.
While Jackson watched his defense blow a 35-14 lead in the fourth quarter to Miami on Sunday, he was fantastic in the game with over 300 yards passing and over 100 yards rushing for the second time in his career, the first quarterback to do that twice in the NFL.
Jackson's defense and running game are not what they used to be this year, and the team is relying on his talents more than ever.
If he can keep throwing multiple touchdowns, leading his team in rushing by a wide margin, and outshines Allen and the Bills in Week 4, then you could be looking at a new MVP favorite in a few weeks.
---
Trust in Tua Tagovailoa (+1800)?
The quarterback who shocked everyone in Week 2 was Miami's Tua Tagovailoa. He became just the 10th quarterback in NFL history to throw for at least 450 yards and 6 touchdowns in a game. Not even Dan Marino, Brett Favre, Aaron Rodgers, or Tom Brady have ever done that.
It was also just the 10th time a team won a game after trailing by at least 21 points in the fourth quarter. Tagovailoa ranks No. 2 in QBR (85.7) behind only Allen, who he will face at home this week in a chance to go to 3-0 and first place in the conference.
The big comeback cut Tua's MVP odds by more than half from +4000 to +1800, and he is currently in the No. 8 position. He is a stronger candidate at the moment than the disappointing starts for Joe Burrow (+2000), Derek Carr (+3300), and Russell Wilson (+3300).
Tagovailoa vs. McDaniel
Before you go hammering that Tua for MVP pick, just remember that the new offensive system put in by Mike McDaniel and the addition of Tyreek Hill are going to draw a lot of the credit for this turnaround.
Even in the comeback win, that probably does not happen with any other receiver than Hill, who made a mockery by running past the Baltimore defense for two long touchdowns.
It was a great game for Tua, but it's also the fifth time the Ravens have allowed a 400-yard passer since 2021.
No other defense has allowed more than one in that time, and the Ravens have also allowed it to Derek Carr, Carson Wentz, and twice to Joe Burrow. That's not exactly a list of Hall of Famers, or even legit MVP candidates this year.
Tua vs. Buffalo
If Tagovailoa can solve this Buffalo defense with a great game on Sunday, then look for him to shoot up again and you can gain some confidence in that pick.
But for now, the real value is on McDaniel for Coach of the Year (+600 at Bovada) as he will more likely be credited for turning Tua into an MVP candidate than the voters will see Tagovailoa as the legitimate Most Valuable Player in the NFL.
---
The Dark Horse: Trevor Lawrence (+5000)
Tied with Vikings wide receiver Justin Jefferson with the 15th-best odds is Trevor Lawrence, a true dark horse pick for MVP.
With the rest of the AFC South looking bad and the Jaguars surprisingly looking decent, Lawrence is an understandable pick for a player to take off in his second season.
Christian Kirk is living up to his new contract through two games after many of us, myself included, ridiculed it this offseason. But even if the Jaguars do win the AFC South this year, we should temper any MVP discussion for Lawrence.
The offense is still going to be limited and he won't reach the highs of what Allen, Mahomes, Lamar, and Hurts can do. He might catch a break over Herbert in Week 3 because of the rib injury, but that's not a given.
Lawrence vs. Colts
The other reason to temper expectations is that the Colts play terrible football in Jacksonville every year since 2015, so that 24-0 shutout might be a bit of fool's gold.
Remember, Lawrence had the best game of his rookie season in Week 18 at home against the Colts. It is not that surprising he did it to them again, especially with linebacker Shaquille Leonard out.
---
Final Thoughts
Russell Wilson (+3300) turning things around in Denver, an offense that is No. 1 in yards per drive but continues to stumble in the red zone, is still a wiser MVP pick than Lawrence or anyone not currently in the top 10.
Of course, Wilson has never received an NFL MVP vote for good reason, and if he flops on Sunday Night Football against the 49ers, you might as well forget him too this year.
This is realistically an Allen vs. Mahomes vs. Lamar race in the AFC and Hurts is the wild card in the NFC. Those big matchups coming up in the AFC, starting with Bills vs. Dolphins this week, should go a long way in deciding this.
*The line and/or odds on picks in this article might have moved since the content was commissioned. For updated line movements, visit BMR's free betting odds product.