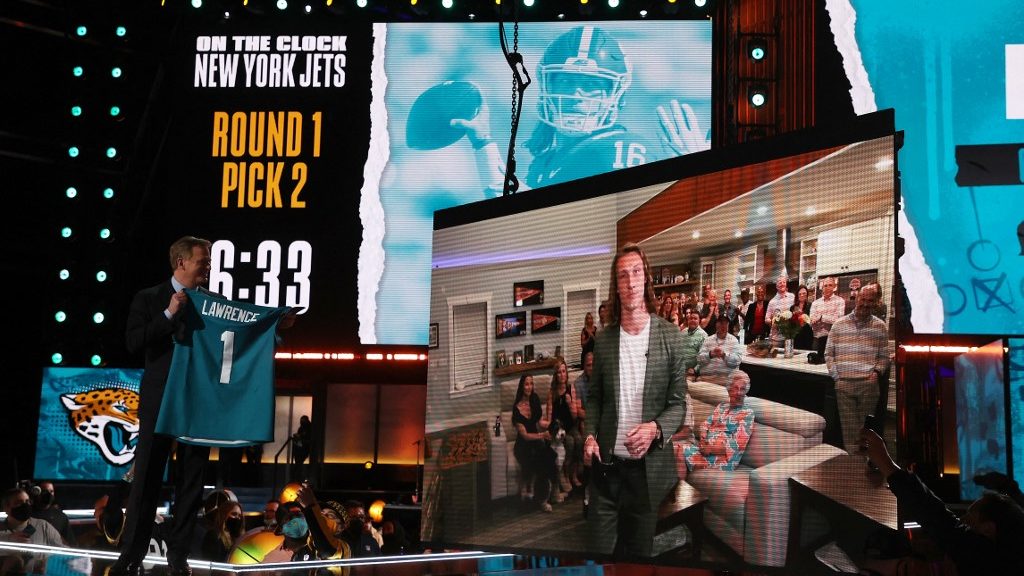 Day one of the NFL Draft is over and as the dust settles on the 32 players who've had their lives changed I take a look at what the teams might have been thinking with their selections.
#1 – Jacksonville Jaguars – Trevor Lawrence (QB – Clemson)
The most predictable pick in recent years, Lawrence has been destined to be the first off the board since high school and the Jaguars didn't stop that. A natural winner with a huge arm, accuracy and mobility, a no-miss hit here and a born winner. He's not lost a regular season game in his career through 7 years of high school and college. The Jags doubled down with Clemson players selecting Travis Etienne at 25.
#2 – New York Jets – Zach Wilson (QB – BYU)
Another pick that the world knew well in advance. There's shades of Mahomes to Wilsons' game and the Jets are clearly looking for upside with the pick, another mobile QB who can adjust arm angle and throw off balance. They then traded up to 14 to take an offensive lineman to give him some extra protection.
#3 – San Francisco 49ers – Trey Lance (QB – North Dakota State)
The first pick of the draft we weren't sure on. The betting market had fluctuated between Mac Jones and Trey Lance for a couple of weeks and the money came for Lance on draft day sending him off as the -150 favorite and it proved correct as the 49ers did the right thing and picked Lance. His high football IQ will fit nicely with Kyle Shanahan and he's landed in the best spot he could have wished for.
#4 Atlanta Falcons – Kyle Pitts (TE- Florida)
There were thoughts the Falcons could have traded down with teams wanting to get Justin Fields, but they stayed put and took the best player available. A physical freak who didn't drop a single catch in college. His 6'6" frame and athletic ability make him the best TE prospect in a decade drawing comparisons to Calvin Johnson.
#5 Cincinnati Bengals – Ja'Marr Chase (WR – LSU)
The re-unions started at 5 with the Bengals taking Joe Burrows college team-mate. It might have raised eyebrows around the league with them leaving LT Penei Sewell on the board, but the WR class drops off quicker than the OL class and Chase is an elite talent who had over 1,700 yards and 20 TDs in 2019 with Burrow including 8 scores from 50 yards or more he adds a much needed home run threat to the Bengals offense.
#6 Miami Dolphins – Jaylen Waddle (WR – Alabama)
The Dolphins brought in a player familiar with their QB as well, looking past his Heisman trophy winning team-mate to plump for a speedy receiver which arguably fits their style better this year. With comparisons to Tyreek Hill, the Dolphins will be hoping the game-breaking wideout will re-ignite his connection with Tua Tagovailoa and give them more dynamism on offense.
#7 Detroit Lions – Penei Sewell (OT – Oregon)
The Detroit Lions couldn't believe their luck when they realized Sewell was dropping to them, and they ran to get their pick in while celebrating in the draft room. A potentially generational offensive lineman who should lock up the left-hand side of the line for decades. He's been graded as one of the best prospects coming out of the draft in 20 years at left tackle and they really needed help in that position.
#8 Carolina Panthers – Jaycee Horn (CB – South Carolina)
The first shock of the night in my opinion. I had expected them to take offense after drafting exclusively on defense last year and to give Sam Darnold either more protection with Rashawn Slater or more weapons with DeVonta Smith, but they took the first defensive player of the draft in Jaycee Horn who possesses elite speed and can play inside and outside on the defensive side of the ball.
#9 Denver Broncos – Patrick Surtain II (CB – Alabama)
It must have been tempting for the Broncos to take Justin Fields even after bringing in Teddy Bridgewater but they've kept their QB room the same and went on the defensive side of the ball to add another talent to their defense. Surtain and Horn were closely matched. Surtain started 38 consecutive games for Alabama and possesses elite physical traits as well as athletisism.
#10 Philadelphia Eagles – DeVonta Smith (WR – Alabama)
In a shocking move with the top 2 cornerbacks off the board, the Dallas Cowboys traded away their #10 pick to their divisional rivals enabling the Eagles to jump above the Giants for the cost of their third round pick this year. They used that move to pick up the Heisman Trophy-winning DeVonta Smith. His size has been a concern for analysts during the draft process, but the Eagles needed talent and there's few more talented than him coming out due to his quickness and fluidity, traits which took him to 23 TDs in his final year in college.