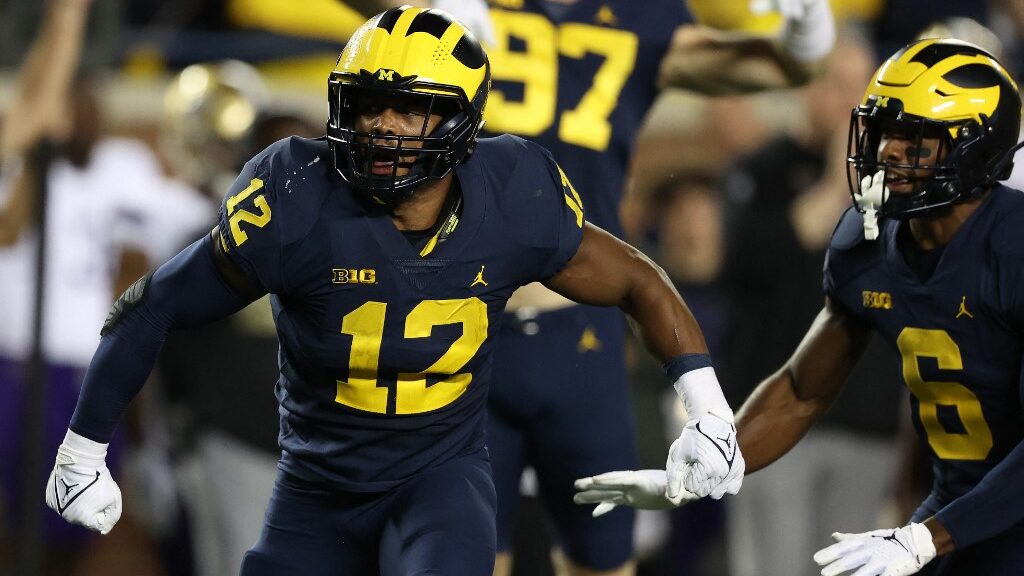 It's a weak slate of games for college football. There's not a single game featuring two ranked opponents. Things will get better. Just look at next week's schedule. We'll just have to get through this week.
At the start of the season, nobody expected this week to be so poor on paper. Many lines have shifted at the NCAAF odds and moved based on terrible performances from some teams this season. Let's break it down.
Michigan Wolverines: -23.5 (-110)
Opened -.5 (-110)
Currently -23.5 (-110)
Northwestern really wasn't supposed to be this bad. They're 3-3 on the season averaging just 21.8 points per game while allowing nearly 24 points per game. The offense has had to rely on Ryan Hilinski who has just three touchdowns all season and the defense has given up 410.8 yards per game, despite only giving up 23.8 points per game.

Meanwhile, Michigan is having one of the best seasons in quite some time with an undefeated record. They're not ranked sixth in the nation and have surprised many this season. The Big Ten is wide open with Michigan undefeated. Bettors know the gauntlet begins next week. Therefore, Michigan will do whatever they can to get a big win here and rest their guys in the fourth.
Wisconsin Badgers: -3 (-110)
Opened -10.5 (-110)
Currently -3 (-110)

Despite Purdue being ranked in the Top 25, Wisconsin is still a three-point favorite on the road against Purdue. The Badgers are currently 3-3 on the year and are averaging just 19.7 points per game. It's kind of hard to win games when you're scoring under 20 points per game.

Meanwhile, Purdue is coming off a big win against Iowa and has actually been terrific defensively, allowing 294.8 yards per game while averaging 423 points on the offensive end. Wisconsin doesn't deserve to even be a favorite at this point, so while I agree with the line movement, I'd expect even more before kick-off.
Oregon Ducks vs UCLA Bruin: -1.5 (-110)
Opened +5 (-110)
Currently -1.5 (-110)
Oregon is ranked 10th in the nation but that hasn't stopped bettors from betting against Oregon and making UCLA the favorite, at home. Oregon hasn't looked great against poor Pac-12 competition, beating California by seven and losing to Stanford, on the road in overtime. Therefore, people believe UCLA can pull off the upset.

UCLA has lost three of their last four games with the lone loss coming against a respected Arizona State team. Both of these teams mirror each other with high-powered offenses and defenses that sometimes can't stop a nosebleed. It makes sense that this game is nearly a pick-em at this point.
If anything, UCLA has done better stopping the run, allowing just 91 yards per game on the ground. However, they also allowed nearly 300 yards in the air. Both teams also average about 34 points per game with Oregon allowing just 21 points on the defensive end while UCLA is allowing 25.1 yards per game on the defensive end.

This is one of the more intriguing college football games of the week and it's a Pac-12 03:30 PM EDT. thriller.