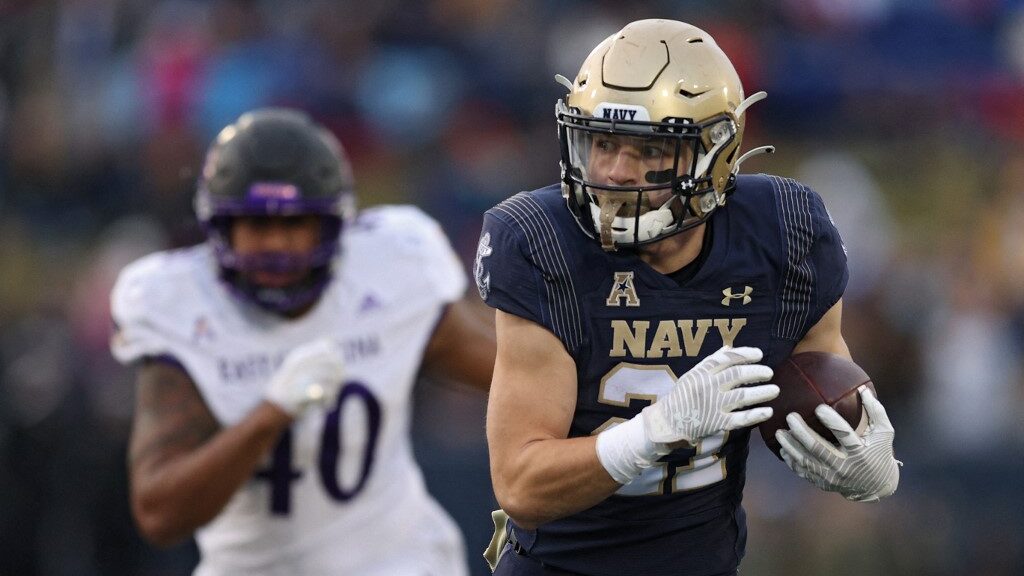 Every year, the Army and Navy game is a must-watch. The crazy formations, the exciting uniforms, and everything in between makes this Army vs. Navy game a huge tradition of fun.
It hasn't been the best season for the Navy Midshipmen, however, despite going 3-8, Navy will be absolutely prepared to take on an 8-3 Army Black Knights team.
Here are three keys for Navy to win this game for our college football picks. I wouldn't say Army's rushing defense is far better than Navy, but Army has performed better against the run in comparison.
Navy Midshipmen vs. Army Black Knights
Saturday, December 11, 2021 – 03:00 PM EST at MetLife Stadium
Key 1: Stop the Run
This is simple for any team facing a triple-option offense. To win a game against Army, the Navy defense will need to stop the run. Army is rushing for over 300 yards per game and scoring over 35 points per game.
Not even an ACC team like Wake Forest had answers against Army this NCAAF season, as Wake Forest allowed 56 points to Army and still ended up losing.
On the season, Navy has allowed just 131.6 yards per game on the ground. But Army, on the other hand, allowed just 103.6 yards per game on the ground.
The Black Knights have five players that have carried the ball 59 or more times this season and have attempted 670 rushes for a total of 3,313 yards. That's an average of 4.9 yards per carry-on the season.
For Navy (and Army), it's not as hard to prepare for a triple-option as these defenses practice against it on a daily basis.
But it's truly hard to stop Tyrell Robinson, who has rushed 59 times for 9.9 yards per carrying this season. He could be the x-factor for Army, despite only getting 59 carries. When he rushes the ball, he's lightning-quick at 5-foot-9-inches.
Key 2: Beat Army in Special Teams
If Navy wants to win this game, they'll have to do all of the little things well. Navy has the potential to gain more yardage on kick-offs and simply have the better kicking unit.
There's a good chance Army averages more yards per play and gains more yardage in this game. But if Navy does an excellent job in special teams and does the little things well, Navy will be in this game until the end.
Key 3: Find Ways to Score
Maybe it's time for some more trickery. These two teams already use the triple option, but for Navy, this is the final game of the season. It's time to open the playbook and find ways to score against a very good Army defense.
Army has missed plenty of tackles this season and doesn't have the best secondary. Navy's quarterback Tai Lavatai only has thrown for 367 yards on the season with 5 touchdowns and 2 interceptions.
Why not complete a pass deep and catch Army off guard?
I'm not a coach, but if I were Navy, I'd be looking for any way to get on the board against Army. Navy's defense will get stops. But with Navy only averaging 283.3 yards per game, it's time to find plays to score points.