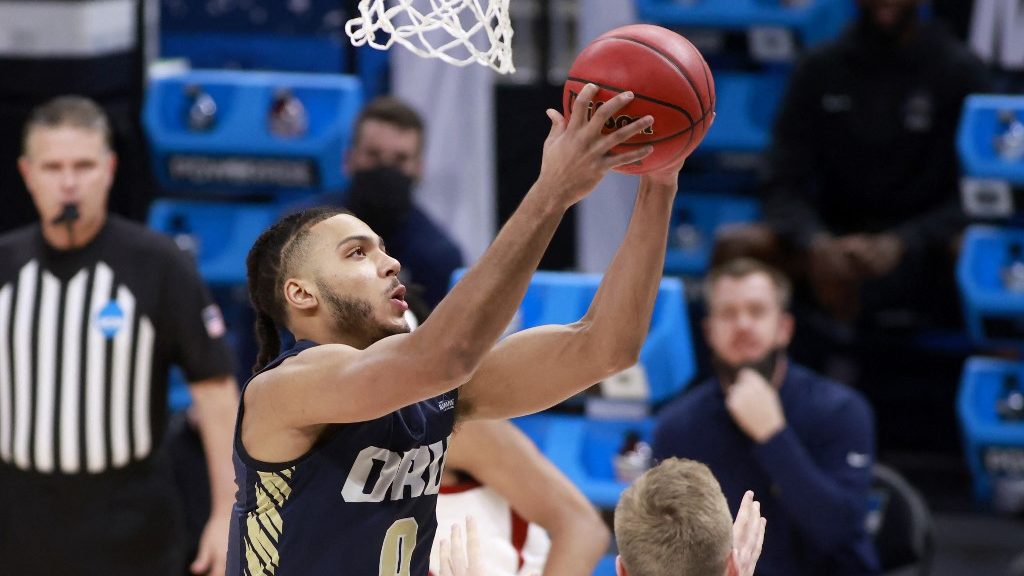 Oral Roberts made some runs in the NCAA Tournament last season. The team finished 4th in the Summit League regular season standings only to win the Summit League and force their way into the NCAA Tournament.
In the tournament, Oral Roberts defeated Ohio State and Florida before losing to Arkansas by two points in the Sweet 16.
On July 2, one of their major stars in Kevin Obanor entered the transfer portal. He listed Arizona, Oklahoma, Maryland, Illinois, Florida, Arkansas, Texas Tech, Texas A&M, Creighton and Alabama as his top 10.
Obanor finished the 2020-2021 season with 18.7 points, 9.6 rebounds and a field goal percentage above 50 percent, at 50.3 percent.
He struggled in the Sweet 16 scoring just 12 points and 11 rebounds in 40 minutes. The reality was, Arkansas defended really well, not allowing Obanor to shoot the volume he was used to shooting.
Obanor wasn't having the best playoffs in divisional play. In the quarterfinal against North Dakota, he scored nine points with six rebounds in just 30 minutes. In that game, he went 3-of-8 from the floor and wasn't much of a factor before fouling out.
In the semifinals, Obanor gave just 21 minutes and scored 14 points with just two rebounds against South Dakota State. Oral Roberts ended up winning the game 90-88 but it wasn't Obanor who was much of a factor. Instead, it was teammates like Max Abamas who had 18 points and 10 assists in that one.
In the finals of the Summit League, Obanor dropped 21 points and nine rebounds but, again, fouled out of that contest after going 8-of-13 from the floor.
But under the bright lights, he performed.
Obanor dropped 30 points against Ohio State in the South Region 1st Round game as a 15 seed. He played 45 minutes, stayed out of foul trouble and tok 12 threes while making five of them.
In the next game, he took on Florida and scored 28 points with 11 rebounds. Again, he nailed 4-of-7 from downtown and shot above 50 percent against an SEC school.
However, even with 40 minutes against Arkansas, he wasn't as much of a factor as he would've hoped. He scored 12 points and rebounded 11 but only took seven shots the entire game.
So now, because of his inconsistent performances, he's getting looked at by some of the top teams in the country while his former teammate Max Abmas decided to stay at Oral Roberts.
Abmas was the true star of this team, scoring 24.5 points per game on 47.7 percent from the field. He's the guy who showed up every game, even in conference play. It wasn't Obanor.
Abmas understands he'll be more successful with Oral Roberts and can do bigger and better things with Oral Roberts. Obanor is going to transfer to a big school, likely come off the bench, give inconsistent play and then we'll all wonder what happened to him.
Selfishly, he left wanting to play for a bigger school after beating Ohio State and Florida in the NCAA Tournament with the team he was already on. Abmas understood the situation while his teammate in Obanor didn't.
With that, you'll be hearing a lot more about Abmas in the near future and you'll forget about Obanor once he chooses his new school.