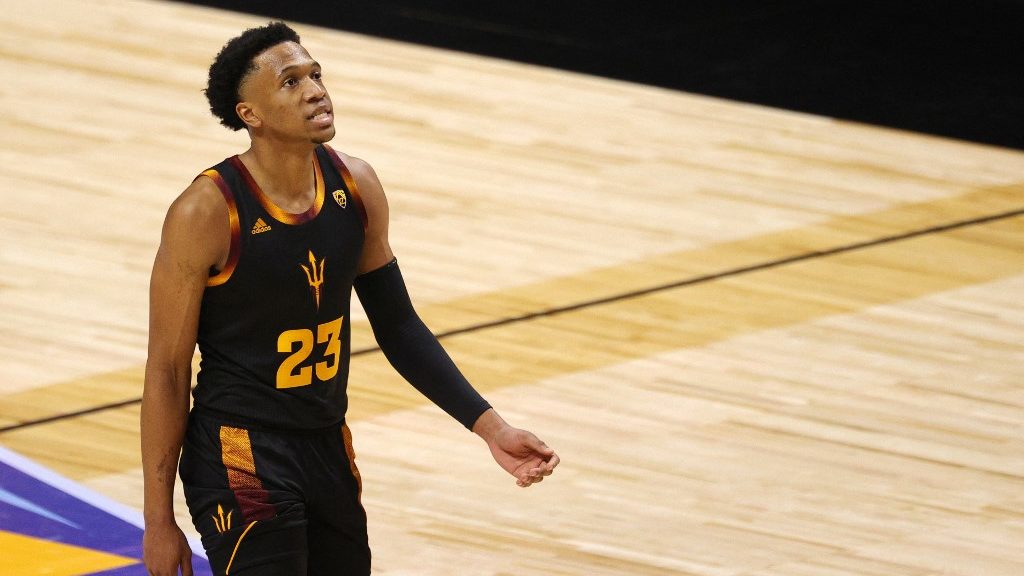 Marcus Bagley could have entered the NBA Draft after one season, but he decided to return to college. However, his decision regarding a landing spot is still up in the air. Bagley declared for the NBA Draft while also entering the Transfer Portal. This means that if he were to return to college, his options would be open. It now seems that he can go anywhere.
With Bagley's bloodlines and skills, he is one of the biggest names still left in the Transfer Portal. Plenty of teams are looking to add starting players to their rosters this late in the process, and Bagley fits the bill. While Bagley was limited due to injuries in his freshman season, he still averaged double digits and started almost every game for Arizona State. So, where could he possibly land? What does he bring to the table for his new team? Can he move the needle enough for a team to go from a bubble team to a title contender? Let's start with that first question.
Landing Spots for Bagley
While there are a few logical landing spots for Marcus Bagley, there is a small chance that he returns to Arizona State. The Sun Devils could use a player as talented as Bagley for a whole season. While entering the Transfer Portal keeps your options open, Bagley could still theoretically stay put.
If Bagley wants to leave, three landing spots come to mind. His brother played for Duke, so he would have to consider the Blue Devils. He could play for Coach K in his final year as a head coach. However, this may seem unlikely. Just because Marvin Bagley played for the Blue Devils doesn't mean that his brother will automatically get a spot in the starting lineup.
Alabama has a scholarship available, although it could be taken up if Jaden Shackelford returns to Tuscaloosa. If Shack goes elsewhere, Nate Oats will be looking for an athletic scorer who brings versatility on defense. Don't count out Texas as an option. With a new head coach, the Longhorns have been connected to plenty of the Transfer Portal's top players. If they can make it work from a scholarship standpoint, Bagley could be heading to Austin.
What Does Bagley Bring to the Table?
Marcus Bagley wasn't necessarily electric as a freshman, but he brings multiple levels to his game. He took six three-point attempts per game. He made a decent number of these shots, but his efficiency has to improve if he wants to reach the next level as a scorer. Take that in mind next time you look for your NCAAB Picks.
Bagley isn't the best ball-handler. His assist numbers were low despite spending a lot of time on the perimeter. Defense is where Bagley sets himself apart. He uses his long frame to force turnovers, and his size and athleticism make it easy for him to switch on screens. He's also a solid rebounder when he's against other wings.
A question mark surrounding Bagley is health. After only playing 11 games in his freshman year, what will he look like in 2022? He could be at full strength, but that is far from a given. Teams will be taking a risk by adding him to the roster, but his talent makes it worth it. At the end of the day, the only thing that matters is winning. Is Bagley going to be enough to get a team over the edge?
Can Bagley Push the Needle?
This is where it comes down to a landing spot. If he returns to Arizona State, he won't be enough to help his team win a title. However, he can be a key rotational player on a solid roster. If he finds an offense that works with him and a coach who can develop him, he'll be able to help a good team become great.
Alabama is a great example of this. The Tide have +2000 odds to win it all this year despite being short a scholarship player. Nate Oats could help Bagley as a shooter, and he would let him play in an offense that fits his strengths. At that point, he wouldn't be asked to be the best player on the roster. In fact, he might not even be a starter for Alabama basketball. Still, he could contribute in that hypothetical environment.