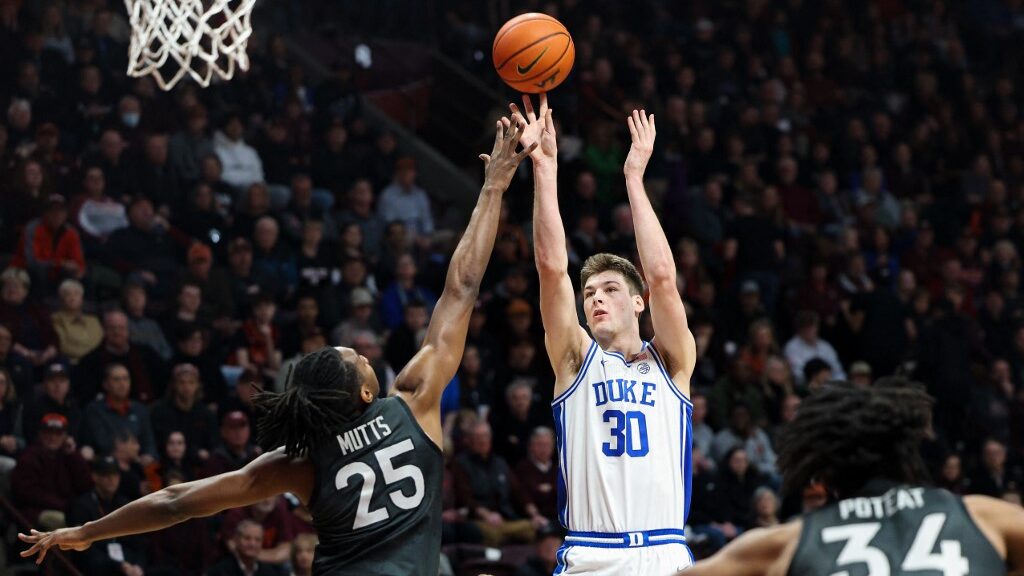 ---
NCAAB Pick: Duke -7 (-108) at Heritage Sports (visit our Heritage Sports Review)

---
Top sportsbooks have released their NCAAB odds for tonight's game between Virginia Tech and Duke. The Hokies look to bounce back from a loss at home to Miami, but a Duke team riding a three-game winning stream will pose another challenge.
For reasons that I will explain, you should play the spread and the total for tonight's game.
Virginia Tech Hokies vs. Duke Blue Devils
Saturday, February 25, 2023 – 08:00 PM EST at Cameron Indoor Stadium
The First Meeting
These teams played each other on Monday, January 23 at Virginia Tech, and the Hokies won 78-75. This game was one of Duke's worst defensive performances of the season.
But the bad defensive performance was par for the course in a certain sense: the Blue Devils repeatedly struggle on the road and especially in road games where they had minimal rest and prep time.
What Happened?
In its earlier game against Duke, Virginia Tech scored 29 points in the first 10 minutes. The Hokies utilized off-ball screens to free up its shooters behind the arc. Both of their highest-volume shooters happened to be unusually efficient, allowing the team as a whole to convert 10 of their 19 three-point attempts.
Inside the arc, Virginia Tech used the Blue Devils' switch-heavy scheme against them by creating mismatches to take targeted Blue Devils off the dribble and then exploiting Duke's lack of rim protection.
One potential tactic that Duke's defense experimented with was a zone. But the Hokies' combination of good passing (especially the characteristically strong interior passing of forward Justyn Mutts) and good shooting overwhelmed their opponent's zone defense.
---
Duke's Adjustments
Duke allowed an average of just over 15 points for each of the three remaining 10-minute segments of the game. Given the strength of Virginia Tech's outside shooting, the Blue Devils learned to be more aggressive.
They denied the dribble-handoff behind the arc to a guard and potential shooter, making the most of their length; Duke is the nation's tallest team. Furthermore, they denied passes behind the arc to a shooter, thus compelling would-be three-point shooters to cut inside.
Guys like Jeremy Roach also fought through screens. Likewise, they closed out hard on shooters.
The effect of these actions was to funnel opposing shooters toward the basket, thus undermining their three-point shooting potential while forcing them to deal with Duke's rim protection, which will be vastly stronger in the rematch.
The Rise of Dereck Lively
Since mustering 13 minutes against the Hokies, Blue Devils' center Dereck Lively has become a crucial force in his team's interior defense. In addition to his increase in minutes, he has blocked 27 shot attempts in his last eight games, whereas he had zero blocks against the Hokies.
Lively's increased presence will post a vastly tougher challenge to Hokie players as they try to attack the basket in the rematch. With Duke knowing to be more aggressive in limiting Virginia Tech's three-point shooting attempts, the Hokies will have to deal with Lively's rim protection rather often.
Inside, the Hokies will also rely on the skill set of center Grant Basile. Duke's recent performance against top Orange scoring center Jesse Edwards offers a lot of promise for its outlook against Basile inside.
Lively used his physicality, in the form of bumping and other forms of disruptive but licit body contact, and help from forward/center Kyle Filipowski to stymy Edwards. Evidently, Duke is reliable against savvy inside-scoring options.
More Help Against Hokies' Guards
Since its loss at Virginia Tech, Duke has introduced more nuance into its switch-heavy defensive scheme.
In that win over Syracuse, the Blue Devils sometimes switched their defender onto an Orange ball-handler only for long enough to deny him dribble penetration and to close his passing lanes inside until the initial defender recovered back to guard that Orange ball-handler. Moreover, when opponents do beat their Blue Devil defender after hunting for switches, Duke's help defense arrives to disrupt ball-handlers' driving lanes.
One key weapon against Hokie guards will be Tyrese Proctor, whose defensive performance has improved tremendously since their first meeting. In its most recent game against Louisville, Duke used Proctor to bother Cardinal guard El Ellis, who had helped his team obtain an early 18-9 lead.
Proctor will hound the opposing ball-handler the length of the court. He'll fight through screens and generally be physical. His physical skillset will help him limit Virginia Tech's top-scoring option at the guard position.
Virginia Tech's Defense on the Road
The Hokies have won one road game all season; this win came in November at Georgia State. As evident in its last road game, an embarrassing 77-70 loss at lowly Georgia Tech, which has the ACC's least efficient offense, Virginia Tech's road struggles are primarily defensive.
This same point is illustrated by the fact that Virginia Tech had allowed over 80 points in two straight road games, at Notre Dame and at Miami, before losing at Georgia Tech.
Especially on the road, the Hokies give up way too many easy looks at the basket, and they allow opponents to get hot from deep.
Duke's Inside Scoring
Regarding the Hokies' interior defense, Virginia Tech is vulnerable especially to versatile bigs. The Hokies could not stop Filipowski, allowing him to score 29 points,
Likewise, they allowed fellow center, Boston College's Quinten Post, to score 24 points, his second-highest scoring output of the season.
In Filipowski, Duke has the sort of player who will bother Virginia Tech's defense.
Dariq Whitehead
For all of its defensive ineptitude in its early phase against Virginia Tech, Duke could have won if forward Dariq Whitehead had not suffered an injury just three minutes into the second half.
Whitehead is a sharpshooter, converting an ACC second-best 46.4 percent of his three-point attempts in conference play. After scoring 10 points in 17 minutes in the first meeting, he will help exploit a vulnerable Hokie perimeter defense on the road and thus complement the inside scoring prowess of Filipowski.
Game Prediction
Duke is going to utilize its extra prep time for the rematch ( Duke gets four full days without travel) to make the most of the adjustments that it made in the first game.
For the rematch, Blue Devils will bring improved quality in its individual defenders, especially Lively inside and Proctor on the perimeter, and more aggressive perimeter defense that funnels would-be shooters inside.
Offensively, Duke will utilize especially the versatility of Filipowski and the three-point shooting of Whitehead to create a balanced attack against Virginia Tech's awful road defense.
The Pick
For the above reasons, expect the Blue Devils to cover the spread established at North Carolina betting sites while remaining undefeated at home, whereas the Hokies will continue to struggle on the road.
With your NCAAB picks in mind, play Duke ATS in what will be a high-scoring game largely because of Virginia Tech's defensive impotence on the road and the Blue Devils' offensive abilities.
Score Prediction: Duke 81 - Virginia Tech 67
NCAAB Pick: Over 141 (-110) at BetOnline (visit our BetOnline Review)

*The line and/or odds on picks in this article might have moved since the content was commissioned. For updated line movements, visit BMR's free betting odds product.