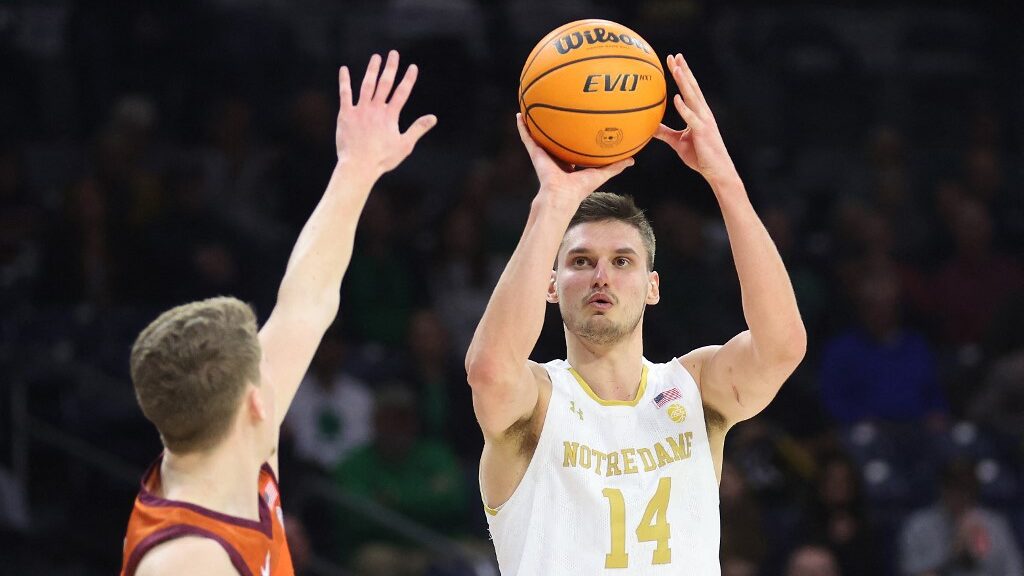 ---
NCAAB Pick: Notre Dame +14.5 (-110) at BetOnline (visit our BetOnline Review)

---
Top Sportsbooks have released their NCAAB odds for Saturday's game between Virginia and Notre Dame. Virginia won yet another close game to extend its win streak to three. Meanwhile, the Fighting Irish remain hungry for a win after losing their third straight close call.
For reasons that I will explain, you should play both the spread and the total for this game.
---
Notre Dame Fighting Irish vs. Virginia Cavaliers
Saturday, February 18, 2023 – 12:00 PM EST at John Paul Jones Arena
Virginia's Pack-Line Defense
Notre Dame's offense is constructed primarily to exploit a potential weakness of Virginia's pack-line defense. To explain, Virginia's pack line is designed to prevent opposing ball handlers from driving to the basket, by funneling them to the middle of the paint where the help defense is located.
Virginia's pack line is also designed to prevent low-post scoring. By pressuring the low post and walling up the interior, Cavaliers defenders compel opponents to shoot a higher rate of three-point attempts. Hence, nationally, Virginia ranks 247th in limiting the opponent's rate of three-point attempts.
Notre Dame's Valuable Offensive Style
Notre Dame's offensive style is valuable in the sense that it does not want to do the things that Virginia's defense is designed to take away. The Fighting Irish lack low-post-scoring talent and they likewise generally lack the will to drive all the way to the basket.
Instead, they shoot a lot of threes. They attempt the third-highest rate of threes per game in the ACC. Impressively, they will play five guys who can shoot efficiently. In fact, the point guard that they play most often, Trey Wertz, is best described as a combo guard, as he has a lot of experience in the shooting guard position.
Overall, four different Fighting Irish players convert 38 percent or more of their three-point attempts. They are thus designed and built to do the very thing that offenses are most likely to rely on in order to challenge Virginia's defense.
Generating Open Looks
In Notre Dame's game against Virginia Tech, for example, the Hokies' defense moved up to push catches further away from the basket. By pushing potential Fighting Irish shooters backward, Hokies defenders endeavored to limit their three-point efficiency by compelling them to attempt longer shots.
Given such tactics and endeavors, the Fighting Irish players find it important to suck in the defense, bringing defenders further inside from where they have more trouble contesting three-point attempts. Specifically, the Fighting Irish favor an inside-out game in which they drive inside—to suck in the defense—and kick the ball back out to a shooter.
Notre Dame players use on-ball and off-ball screens to create space for drivers. They also use off-ball movement to pull defenders away from the areas into which Notre Dame ball handlers want to penetrate. A classic way of getting inside against the Virginia defense is to execute a slip screen against Virginia's characteristic hard hedge.
The Fighting Irish offense does a lot of ball-screen continuity, and slipping screens will be a common tactic because it forces weak-side help from the defense, which will have difficulty arriving punctually because the floor will be so spread out thanks to Notre Dame's array of shooters.
Virginia's Centers
While the Fighting Irish don't like to score as often at the basket, they'll have the advantage of attacking a basket unprotected by top Cavaliers' rim protector Kadin Shedrick. Shedrick, who, if he gets a lot of playing time in this matchup, will be occupied with his Notre Dame counterpart, Nate Laszewski, who is an efficient three-point shooter that provides valuable floor-spacing by positioning himself away from the basket and behind the three-point line.
It could be, though, that Ben Vander Plas gets more playing time than Shedrick at the center position. As evident in the disparity between their block rates, Vander Plas is nowhere near the defender Shedrick is, notwithstanding the latter's terrible tendency to get into foul trouble.
The Potential for Vander Plas
Vander Plas' value is purely offensive. While he won't typically exploit Laszewski's difficulty with keeping ball handlers in front of him, he helps provide Virginia with floor-spacing by positioning himself behind the arc—60% of Vander Plas' shot attempts come from behind the arc.
Back in mid-January, Vander Plas had terrific success in Virginia's offense. With Shedrick getting almost no playing time, Vander Plas helped Virginia play small. His passing and the general offensive threat were instrumental to Virginia's success in its triangle, or three-man, offense, which helped the Hoos avoid the stagnation that often accompanies their mostly predictable and well-known mover-blocker, or sides, offense.
As part of Virginia's triangle offense, Cavaliers players would create complex motion in the interior with dangerous players. Vander Plas, for example, could pop up from those interior screens to shoot a three. However, as evident in his starkly reduced three-point efficiency, Vander Plas has fallen off offensively, thus posing less of a threat by himself and, by extension, to Virginia's triangle scheme.
While the spacing and the interior commotion provided by Vander Plas in the triangle offense helped encourage the dribble penetration of teammates like Reece Beekman. Beekman is also terribly inefficient close to the basket, as he has an awful tendency to miss the bunnies.
Other guys benefitting on the wings from driving space opened by the triangle offense, like forward Armaan Franklin and the short guard Kihei Clark, are not at their best when attacking the basket. Franklin is primarily a three-point shooter and Clark, on whose uniquely high assist rate the Cavaliers' assist-heavy offense starkly depends, is primarily a distributor.
Stagnation
Virginia's offense has, excluding overtime, failed to exceed 63 points in three straight games. Its stagnation was apparent even in its game against Louisville, whose defense is ranked atrociously.
Besides stagnating as a result of the simplicity and repetitiveness of the mover-blocker offense, which consists in setting off-ball screens on either side for potential shooters, Clark will be limited in his endeavor to generate assisted baskets via dribble penetration. Given how short he is, Clark is limited by lengthy defenders—evident in his most recent game against Louisville. While Clark is 5'10, an Irish guard who is at least 6'4 will limit him.
While primarily a 'man' team, sometimes Notre Dame will employ a 2-3 zone in order to stop dribble penetration—this strategy also helped create lower-scoring games against stronger Virginia offenses of previous years. But the Fighting Irish might be less motivated to employ a 2-3 zone as they did against North Carolina because Virginia lacks an Armando Bacot.
A major reason why Notre Dame's defense is ranked so low is that it struggles with talented frontcourts. With fours and fives who possess a versatile skillset like Virginia Tech's Justyn Mutts and Grant Basile and with others like Bacot who are more inclined to score at the basket perhaps exploiting Laszewski's skinny frame in addition to the latter's poor on-ball defense.
Virginia's offense, though, misses the personnel to take advantage of this weakness because Shedrick lacks polish in the low post—he now goes entire games without even attempting a shot.
---
The Verdict
Virginia's offense will continue to stagnate: Vander Plas' minimized offensive threat exacerbates the outlook for its triangle scheme; its top distributor, Clark, will be limited by the length of his Notre Dame's defender; and Virginia lacks the personnel to exploit Notre Dame's primary defensive weakness.
But the Fighting Irish offense will use screens, dribble penetration, floor-spacing, and other tactics to use its array of efficient shooters to take advantage of the three-point opportunities offered by Virginia's defense.
For your NCAAB picks, count on the Fighting Irish to cover in a game that stays lower-scoring because Virginia's highly-ranked defense will do a good enough job contesting Fighting Irish shot attempts and because UVA's offensive outlook is too negative.
NCAAB Pick: Notre Dame +14.5 (-110) at BetOnline
NCAAB Pick: Under 129.5 (-110) at BetOnline

*The line and/or odds on picks in this article might have moved since the content was commissioned. For updated line movements, visit BMR's free betting odds product.