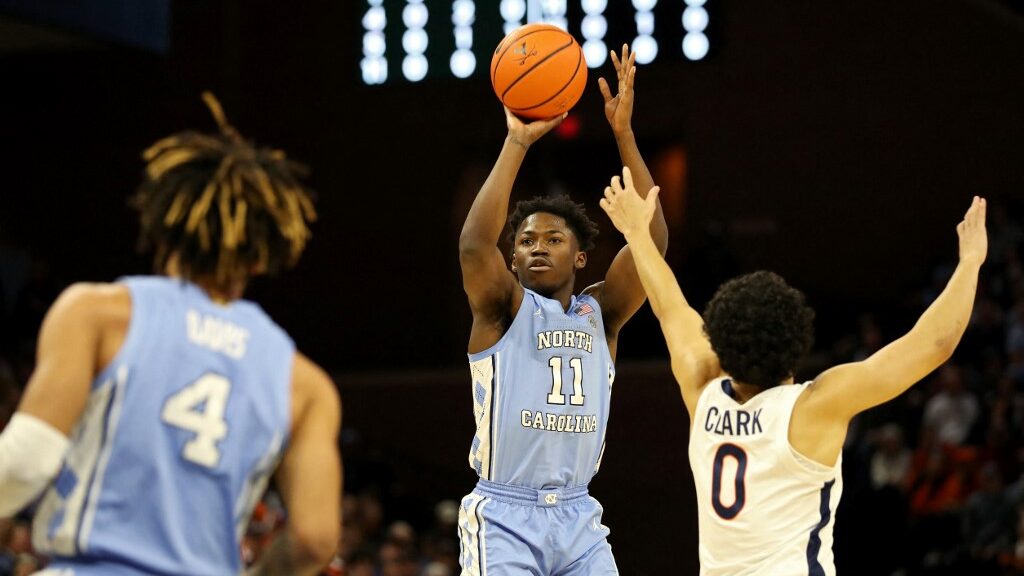 NCAAB Pick: Under 130.5 (-110) at BetOnline (visit our BetOnline Review)

---
Picks Summary:
Under 130.5 (-110)
North Carolina -2.5 (-110)
Virginia Team Total – Under 63.5 (-115)
Top sportsbooks have released their NCAAB odds for Saturday's game between Virginia and North Carolina.
The Cavaliers are coming off a double-digit loss at unranked Boston College. Meanwhile, North Carolina eked out a victory over Notre Dame to end a two-game losing streak.
The Tar Heels need a win on Saturday to help their chances of making the NCAA Tournament. For reasons that I will explain, you should invest in a side, a total, and a team total for this game.
Remember, fans from the Research Triangle area who want to wager on this game should check out our top-rated North Carolina betting sites.
---
Virginia Cavaliers vs. North Carolina Tar Heels 
Saturday, February 25, 2023 – 06:00 PM EST at Dean E. Smith Center
Virginia's ATS Losing Streak
After edging out a cover in overtime against Duke, Virginia began an ongoing three-game ATS losing streak.
After beating 16-point underdog Louisville by three points, Virginia beat 12.5-point underdog Notre Dame by two points before, most recently, losing by 15 points to nine-point underdog Boston College.
---
Why is Virginia losing?
Relevantly to both my spread and total recommendations for this game, Virginia is losing because the quality of its offense has dropped dramatically.
At the start of this month, Virginia's three-point percentage for the season was 39.4 percent. But in February, Virginia has been shooting 28.1 percent from deep.
In a similar vein, the Hoos' free throw percentage at the start of February was 72.3 percent. So far this month, however, the Hoos are shooting 63.8 percent from the free throw line.
Because Virginia is shooting the ball so poorly, it failed to exceed 61 points against either of the ACC's two lowest-ranked defenses (in terms of efficiency) before mustering 48 points at Boston College.
---
Is Virginia Tired?
Is Virginia losing because its players are tired?
I do not find this possibility very convincing, because the team plays two games a week and, outside of point guard Kihei Clark who ranks 195th nationally in percentage of minutes played -- which is a drop from last year, by the way -- none of his teammates plays an unusually high amount of minutes.
---
Focused on Defense
I do think that Virginia is tired in a sense -- specifically, the Hoos are tired on offense.
Since they conceded 74 points in a loss at Virginia Tech, the Hoos have been focused on playing good defense. After all, the defense has always been Coach Tony Bennett's calling card.
Before Boston College used steals and unusually efficient three-point shooting to barely become an exception, Virginia, after playing Virginia Tech, has held all four of its opponents to below 60 points in regulation.
Virginia players are investing their energy primarily on the defensive end of the floor, which is taking away their shooting legs.
---
The Main Problem
Unfortunately for Virginia, the main problem is that the Hoos are overrated quality-wise.
They are repeatedly failing even to come close to covering the spread because oddsmakers fail to appreciate just how subpar they really are.
After all, this is a team that failed to make the NCAA Tournament last year while featuring a point guard who almost went to play for UC Davis, transfers from middling Indiana and lowly East Carolina, a shooting guard in Reece Beekman who can't shoot and is inefficient near the basket, and a host of offensively inept centers.
This year, those players returned plus Virginia acquired a MAC transfer and added a couple of freshmen.
For the greater part of the season, the Cavaliers shot well beyond themselves.
While their defense is truly better -- defense, after all, is largely a product of coaching and playing experience, and Virginia's players get the benefit of both -- their offense is falling back down to Earth.
---
Please Bench Ben Vander Plas
Center Ben Vander Plas, the MAC transfer, has become unwatchable.
He is supposed to stretch the floor with good three-point shooting, but in no game since January 21 has he shot above 33 percent from beyond the arc while attempting more than one of them.
Typically, he attempts a lot of threes, yet he has failed to make more than two of them in a game since January 14. If he's not making threes, then his value is non-existent because he is too small and thin to contain opposing centers near the basket.
Loyal to a Fault?
Now, some may criticize Coach Bennett's loyalty (or call it stubbornness), citing the cringeworthy-bad Kody Stattmann's playing time last season.
But Coach Bennett has experimented this year with the playing time of his centers.
I have to believe that a coach of his caliber makes the right decision on Saturday, which is to start his top-level rim protector, Kadin Shedrick who ranks 19th in block rate, to use his size, strength, and athleticism to contain key Tar Heel offensive centerpiece, center Armando Bacot.
Shedrick doesn't really do anything on offense, but neither does brick-master Vander Plas.
So the magnified value of defense that we know Coach Bennett emphasized would not be attended by a meaningful sacrifice of offensive production.
---
The Importance of Shedrick
When Virginia beat North Carolina 65-58, Coach Bennett gave Shedrick a fair amount of playing time, although the necessity for Shedrick's playing time was hardly existent given Bacot's absence from the game and Vander Plas' strong form.
One might expect North Carolina to improve upon its point total, but Shedrick's presence would thwart this expectation.
Bacot's involvement in the offense would lead to his teammates scoring fewer points while Shedrick would do to him what he repeatedly does to other centers.
Most recently, by playing 26 minutes against NC State, he helped limit Wolfpack center D.J. Burns to eight points, which is seven fewer than Burns has scored in any game in February. 
Consideration of these two games strengthens the expectation that Shedrick gets plenty of playing time on Saturday.
---
North Carolina's Bad Shooting
Last year, the Tar Heels got hot shooting-wise at the right time while relying on the leadership of sharpshooter Brady Manek.
But the Tar Heels were only an eighth seed last year and are doing so poorly this year because their sort of freelance offense that relies on individual player talent does not yield consistently positive results.
North Carolina is limited by the lack of passing and, above all, the high-volume but inefficient three-point shooting of its two guards, Caleb Love and R.J. Davis.
Problematically, North Carolina shoots 28.4 percent from deep, which puts them in last place in the ACC in three-point percentage.
Three's Could Decide Game
While scoring 58 points against UVA in their first meeting, the Tar Heels actually shot above their average from behind the arc. 
Their lack of three-point shooting will be critical on Saturday because Virginia's pack-line defense yields a high rate of threes while focusing on protecting the paint.
The best way to beat Virginia's defense is by getting hot from deep, but we can't expect the Tar Heels to do this.
Hence, we should expect a low-scoring game in which both teams fail to reach 60 points.
---
Choosing a Side
Virginia relied on much stronger offensive play than it displays nowadays to beat a Tar Heel team that missed Bacot.
UVA's triangle offense featured the shooting of Vander Plas, who likewise showed much stronger form than he does now.
This team's limited offensive capacity plus Bacot's presence plus the fact that Virginia's close win came on its own home floor -- Virginia has covered the spread in one road game since the start of January -- all constitute considerations in favor of a Tar Heel cover that would extend overrated Virginia's ATS losing streak.
---
The Verdict
For your NCAAB picks, expect a low-scoring game in which both offenses struggle.
Unlike the Miami and NC State teams that utilized ball-screen actions to plague the Tar Heel defense, Virginia likes to employ off-ball screens to free up its shooters from behind the arc.
But the Cavs will continue to shoot poorly, especially against a mostly lengthy Tar Heel defense that ranks number one in the ACC at limiting opposing three-point attempts and number two in the ACC at limiting opposing three-point efficiency.
North Carolina does lack the weaponry and the organization on offense to score much against Virginia's still high-caliber defense.
ATS-wise, there is value in fading overrated Virginia. North Carolina has the talent and composure in its guard play plus Bacot to score enough points -- and it won't take many -- to cover the spread.
Given Virginia's offensive problems, a team total play on the Virginia team total "under" would add to your profits from this game.
NCAAB Pick: North Carolina -2.5 (-110) at BetOnline
NCAAB Pick: Virginia Team Total - Under 63.5 (-115) at Bovada (visit our Bovada Review)

Virginia Team Total - Under 63.5

(-115)
*The line and/or odds on picks in this article might have moved since the content was commissioned. For updated line movements, visit BMR's free betting odds product.