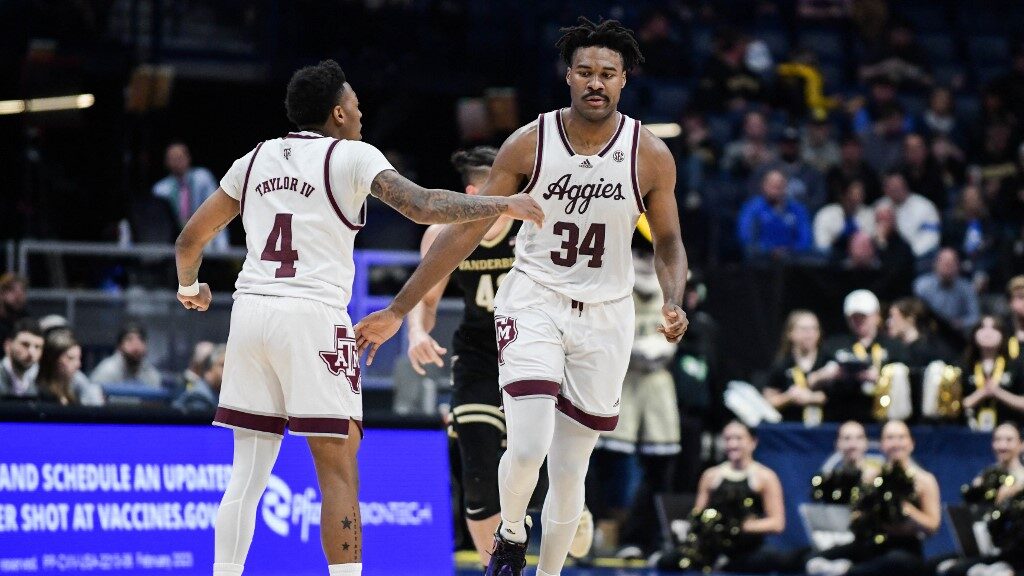 NCAAB Pick: Texas A&M First-Half +2.5 (-110) at Bovada (visit our Bovada Review)

Texas A&M First-Half +2.5

(-110)
---
The sportsbooks have released their betting odds for today's SEC Tournament Final between Texas A&M and Alabama.
For reasons that I will explain, you should play both the first-half and the full-game spread.
---
Texas A&M Aggies vs. Alabama Crimson Tide
Sunday, March 12, 2023 – 01:00 PM EST at Bridgestone Arena
---
Alabama's Slow Starts
Alabama has an awful tendency to start games slowly. In its last game, for example, Bama was beating Missouri 31-29 at the half before outscoring the Tigers 41-32 in the second half.
Similarly, on March 1, the Crimson Tide were losing 33-40 at halftime to Auburn before winning the second half 42-35 and triumphing in overtime.
These slow starts, in tandem with further considerations, justify a first-half ATS play on Texas A&M. In order words, because I like the Aggies to cover the full-game spread, I also find it uniquely worthwhile to invest in them to cover the half-game spread as well.
Series History
Texas A&M reliably covers the spread against Alabama. As long as Buzz Williams has coached the Aggies and Nate Oats Alabama, Texas A&M is 3-0 SU and ATS against the Crimson Tide.
The Aggies have won those three games by an average margin of victory of nearly 10 points.
---
Alabama's Offense
This series' history indicates that Texas A&M is comfortable dealing with the Crimson Tide offense.
Alabama's offense is predicated on quick tempo and three-point shooting –the Tide rank fourth nationally in adjusted tempo and attempt three-pointers at the nation's eighth-highest rate.
Video footage shows that Bama relies on good spacing, positioning shooters on both corners. Crisp passing around the shooters positioned along the perimeter is supposed to make it harder for the help defense to arrive on time.
Although, the Tide often like to work for their open three with inside-out play. They'll execute a baseline drive, a short roll to the free throw line, and perform other actions inside the arc before kicking it back out.
Don't Be Fooled About Texas A&M's Perimeter Defense
A superficial glance at the numbers gives a misleading impression of the quality of Texas A&M's perimeter defense.
The Aggies have also had bad games against teams that normally don't even like to rely on three-point shooting. For example, they lost to a Kentucky team that scored 76 points largely by converting 11 three-point attempts.
In this game, though, the actual reason why the Aggies suffered was its thin rim protection. They devoted extra attention inside to Kentucky's star center, and this attention enabled Wildcats shooters to thrive outside the arc.
---
Key Trend
Defensively, Texas A&M regularly thrives against teams whose perimeter offense it is able to focus on.
The Aggies handled Missouri twice, beat Vanderbilt once despite shooting awfully and blew out Vandy in the rematch, dominated South Carolina, beat highly-ranked Tennessee by six, and defeated Alabama by six.
What those five teams have in common is that they rank top-100 nationally in rate of three-pointers attempted.
Texas A&M is reliable against teams that mostly want to shoot the three.
How Do The Aggies Do It?
Texas A&M defenders did things against Alabama that, also given their repeated success against determined three-point shooting teams, they can easily do again.
They stayed glued to potential shooters or were at least ready to close down on them hard. Generally, they made the baseline drive difficult and positioned players well so as to take away the corner three –they repeatedly forced Bama to turn the ball over while trying to pass to a would-be shooter in the corner.
Against Alabama's ball-screen offense, they utilized versatile defenders who can switch in order to prevent Bama ball-handlers from using screens to create space for themselves for an uncontested shot attempt.
Intelligently, they utilized a three-quarter-court press to slow down the overall tempo, keeping the Tide from playing as fast as they characteristically want to do.
---
Alabama's Key Defensive Problems
Alabama's perimeter defense is solid, for sure, but the Tide have problems guarding players who are adept at getting to the basket. Success scoring at the basket is something that Bama's victorious opponents have all been able to rely on.
This success has persisted throughout the season, whether Alabama has dealt with teams like UConn or Gonzaga who have strong frontcourt players, or with teams who feature strong guards or wings.
The Tide often have trouble containing the quickness of opposing guards, such as Tennessee's Zakai Zeigler, who used his speed driving in the paint along with his incisive passing to create scoring opportunities inside for teammates.
Can They Guard The Aggies Without Fouling?
It's not just super quick guards who trouble Bama's interior defense, but also ones like Auburn's K.D. Johnson, who can be crafty with a stop-and-go and who boast an explosive burst at the basket where they're inclined to challenge shot-blockers directly.
It is hard for Bama defenders to guard such players and especially to do so without fouling –statistically, Bama is easily one of the worst teams in the nation and in the SEC at defending without fouling.
Generally, the dribble-drive potential of opposing scorers is hard to account for in tandem with their three-point shooting ability.
If a defender fears the dribble-drive too much, then he becomes prone to conceding a three-pointer, but if he tries too hard to take away the three-ball, then the opposing would-be shooter can more easily blow by him.
---
The Aggies Will Take Advantage
Texas A&M is well-built to exploit Alabama's defensive weaknesses because they like to live at the rim and to draw fouls –the Aggies attempt field goals at the rim with the nation's 62nd-highest frequency, and they rank second nationally at drawing fouls.
They feature guards like Wade Taylor IV, whose efficiency from deep demands respect but who are also super quick driving to the basket.
Taylor's dribble penetration is difficult to contain, but he also excels at hunting for and drawing contact.
---
---
The Verdict
For your this game's betting picks, expect the Aggies to cover both halves. They will disrupt Alabama's offensive rhythm by creating a methodical game tempo and by locking down Alabama's three-point-oriented offense.
Offensively, the Aggies will thrive in the paint, successfully living both at the basket and at the free-throw line.
Include the Aggies in your NCAAB picks because they match up well on both sides of the ball against the Tide, and history is on their side, too.
If you're a Texas local planning on betting on this game, don't forget to check out our guide on the best betting sites for Texans!
NCAAB Pick: Texas A&M +4.5 (-105) at Bookmaker (visit our Bookmaker Review)

*The line and/or odds on picks in this article might have moved since the content was commissioned. For updated line movements, visit BMR's free betting odds product.