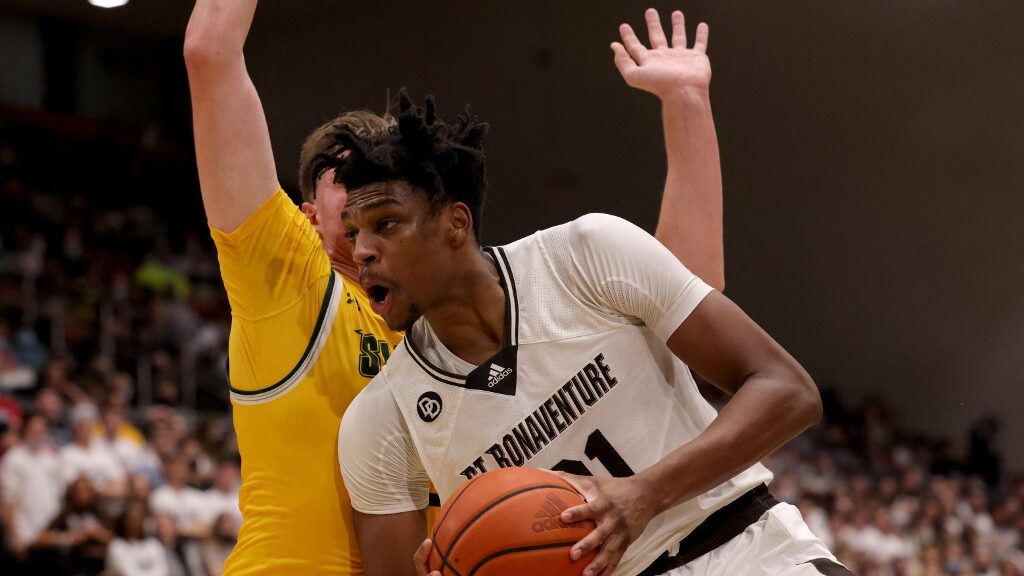 St. Bonaventure gets to face another ACC team: this time it's the Hokies. Virginia Tech has lost four of its last six, although it was favored in two of those games. The Hokies are favored to bounce back against a St. Bonaventure team that will look to build another NCAA Tournament-caliber resume.
Do note that this is an afternoon game, so please don't forget to place your bets on time. Also, note that this game will be played on a neutral site as it is part of the Basketball Hall of Fame Shootout that takes place in Charlotte.
The top sportsbooks have released their college basketball odds for this afternoon's game between St. Bonaventure and Virginia Tech. For reasons, that I will explain, you should bet the spread for this game.
St. Bonaventure Bonnies vs. Virginia Tech Hokies
Friday, December 17, 2021 – 04:00 PM EST at Spectrum Center
Virginia Tech Three-Pointers
Like last year, the Hokies love to shoot threes. More so than the vast majority of teams in the nation, they rely on their points coming from behind the arc. Their guards and small forward are their top shooters: Nahiem Alleyne, Hunter Cattoor, and, his down season notwithstanding, Storm Murphy.
Given their dependence on three-point shooting, they tend to lose when they struggle to find a rhythm from deep. For example, when they most recently lost to underdog Dayton as part of their current 2-4 SU and ATS runs, they mustered 57 points as they converted six of 22 (27.3-percent) three-point attempts.
Their ability to shoot three-pointers today will thus be decisive for their chances of covering the spread.
Three-Pointers Allowed Stat
One statistic may alarm you about the St. Bonaventure perimeter defense, but it should not. The Bonnies rank 339th at limiting opposing three-point attempts. This might suggest to you that the Hokies will accrue many great looks from deep, but it should not.
Keep in mind for your sports betting that the main reason why the Bonnies are allowing so many threes is that they happen to be facing a ton of teams that love to shoot threes.
Looking at some of their opponents so far, Loyola Maryland attempts the nation's 92nd-highest ratio of threes, Coppin State the 17th, Northern Iowa the 23rd, Marquette the 38th. Clemson doesn't attempt that many threes, but it is one of the nation's most efficient three-point shooting teams.
Bonnies' Perimeter Defense
Because it is to be expected that these teams jack up a lot of threes, it is relatively important to note their conversion rate. Since the Bonnies tightened up defensively in the last 10 minutes against Clemson in order to win that game, it can't be said that an opponent really gave them trouble from deep except Northern Iowa, a squad that simply enjoyed one of those nights.
Looking at the Bonnies' play, one can see why they are able to mount a stout perimeter defense. They do play some 3-2 matchup zone but are characteristically in man. St. Bonaventure's entire defense benefits from the presence of reigning Atlantic-10 Defensive Player of the Year Osun Osunniyi.
Osunniyi is an elite rim protector who currently ranks 17th nationally in block rate. His elite rim protection encourages Bonny perimeter defenders to guard three-point shooters more aggressively because they know they have a 6-10 menace behind them who can clean up any messes at the rim in case an opposing ball-handler should drive by them.
Failing to Navigate Osunniyi
The Bonnies are much better when Osunniyi is on the court and are much better when he's at the rim. Thus, the Hokies should want to do two things: get Osunniyi off the court and get him away from the basket. Regarding the former option, the best way to get him off the court is to get him in foul trouble.
However, the Hokies are statistically one of the very worst teams in the nation at drawing fouls. As for the second option, Virginia Tech would love to have a center like Clemson's P.J. Hall who can shoot from deep. By posing a threat from behind the arc, such a center must compel Osunniyi to vacate his comfort zone by the basket.
Virginia Tech's center is Keve Aluma, though, and he's having an atrocious season from deep. Aluma is converting six of his 26 three-point attempts (23.1 percent) and four of those six makes came in a blowout loss at home. He has attempted three threes in his past two games combined, indicating that his confidence from behind the arc may be shot.
In sum, Virginia Tech lacks the weaponry to hurt the St. Bonaventure defense.
St. Bonaventure Offense vs. Virginia Tech Defense
Offensively, the Bonnies love to attack the basket. They rarely shoot threes, instead opting to use spacing, ball-reversal, cutting, and precision-passing in order to create easy scoring opportunities at the hoop.
Know for your best bets that they benefit in this endeavor from having experienced personnel who know each other very well. Kyle Lofton is known for his patience as a distributor who rarely turns it over, Jaren Holmes for being a three-level scorer who can shoot threes -- he's shooting 37.2 percent from deep right now --and Jalen Adaway for being a solid floor-spacer as a power forward converting 45 percent of his three-point attempts.
They will have their way, with or without Lofton who has been upgraded to 'questionable' for tonight's game, against a Hokie defense sorely lacking size and overall rim-protecting ability inside.
The Hokies allow the nation's 39th-highest point distribution from inside the arc, which makes them vulnerable to the Bonnies' plan of attack.
The Verdict
Already struggling Virginia Tech won't be comfortable on offense facing the Bonnies' stout perimeter defense and elite rim protection. Meanwhile, the Bonnies will score plenty by exploiting the Hokies' soft interior defense.
For the above reasons, I recommend investing in St. Bonaventure for your NCAAB picks.
NCAAB Pick: Bonnies +2.5 (-110) with BetOnline (visit our BetOnline Review)

*The line and/or odds on picks in this article might have moved since the content was commissioned. For updated line movements, visit BMR's free betting odds product.