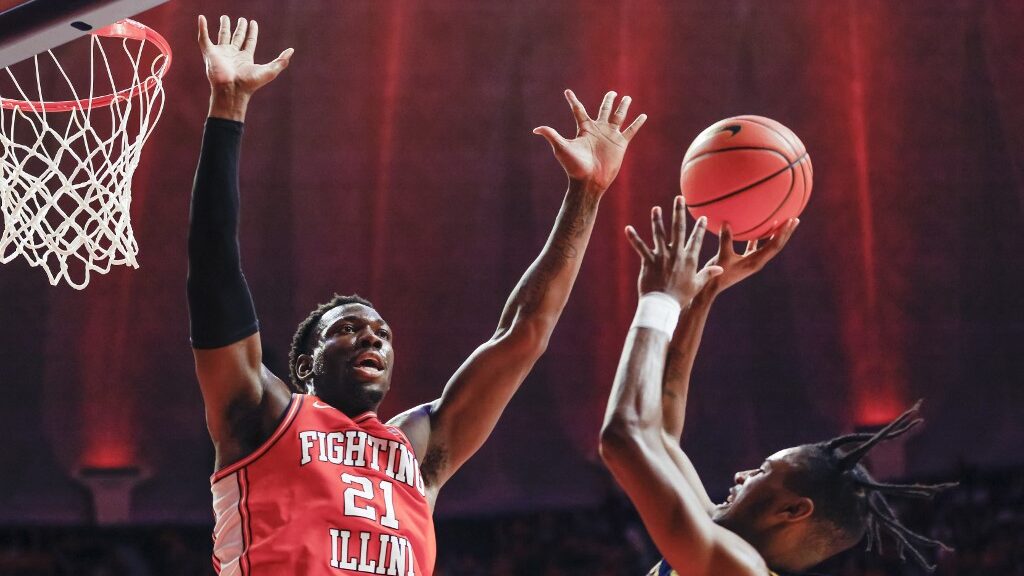 Both teams have, undoubtedly and understandably, had their early-season hiccups: Illinois lost at home by 20 to Cincinnati while Rutgers lost at home to lowly Lafayette. But both squads have lately been finding their footing in what still feels like a new season. I don't prefer to bet on either side, though.
The top-rated sportsbooks have released their NCAAB odds for tonight's contest between Rutgers and Illinois. For reasons that I will explain, I recommend playing the total for this game.
Rutgers Scarlet Knights vs. Illinois Fighting Illini
Friday, December 03, 2021 – 07:00 PM EST at State Farm Center
Misleading Impressions
Currently, the Scarlet Knight defense ranks 57th national inefficiency. This statistic is not impressive given the softness of its schedule until now. But Rutgers' relatively poor defense in the earlier stages of the year -- even as it was playing low-profile opponents -- encourages a misleading impression of its current quality.
After losing some key players during the offseason and having new players occupy key positions and adopt important roles, some growing pains were inevitable. These growing pains were apparent in the players but also manifested themselves in the coach, who had to learn a lot about his players.
Broadly, one thing that Coach Pike learned was that he has a lot of players who, based on their skillset, might be poorly equipped for man-to-man. Specifically, they tend to lack the necessary foot speed or lateral speed to keep pace with opposing guards handling the ball. Thus, schematically, Rutgers is playing less man-to-man and more zone. On defense, the team is often disguising its scheme and switching from zone-to-man and vice versa.
Getting to specifics, the Scarlet Knight perimeter defense has struggled considerably. Rutgers defenders have been slowly closing out, losing track of assignments, and committing other sorts of breakdowns. These problems explain why the Scarlet Knight defense still ranks 214th nationally in limiting opposing three-point percentage.
The Clemson Game
In its most recent game, Rutgers' defense got to flex its improving muscles. Clemson should have been a nightmare opponent for the Scarlet Knights, considering their problems on perimeter defense, because the Tigers rank very highly in three-point percentage. Despite being one of the best three-point shooting teams in the nation, the Tigers shot a woeful 4-of-18 (22.2%) from behind the arc. Keep this result in mind for your NCAAB Picks.
Illinois' New offense
Like Rutgers, Illinois lost some key pieces and have had to reinvent themselves. Their most important loss was that of Ayo Dosunmu. Despite being justly regarded as a three-level scorer, he was primarily a slasher. His team's leading shot-taker, Dosunmu's best scoring assets revolved around his ability to get to the basket. With Dosunmu gone, Illinois' ratio of three-point attempts to field goal attempts has increased by about 10 percent.
Without their top slasher, the Illini are attempting way more threes. With respect to shot profile, then, Illinois' offense is new this year. I like the Rutgers defense because its perimeter defense is strongly improved, well-tested, and thus well-equipped to handle Illinois' newly three-point reliant attack.
Rutgers Bigs vs. Kofi Cockburn
To move away from talking about Rutgers' perimeter defense, let's consider the interior. Rutgers' big man defending the basket is usually going to be 6-11, 240-pounder Cliff Omoruyi, a well-known variable who is understandably getting a big increase in playing time this year especially after Myles Johnson's departure.
With his size, Omoruyi distinguishes himself from smaller Notre Dame bigs and other defenders who Illini star center Kofi Cockburn enjoyed a massive size advantage against. Omoruyi will thus be able to test Cockburn in a way that the latter has hardly been tested this season.
But size is not the end-all to be all and Omoruyi won't be on the court at all times. I get that Illini backers will want to make this point. What I really like about Rutgers' interior defense, beyond Omoruyi's individual defending and his physical skill set, is how well organized it is.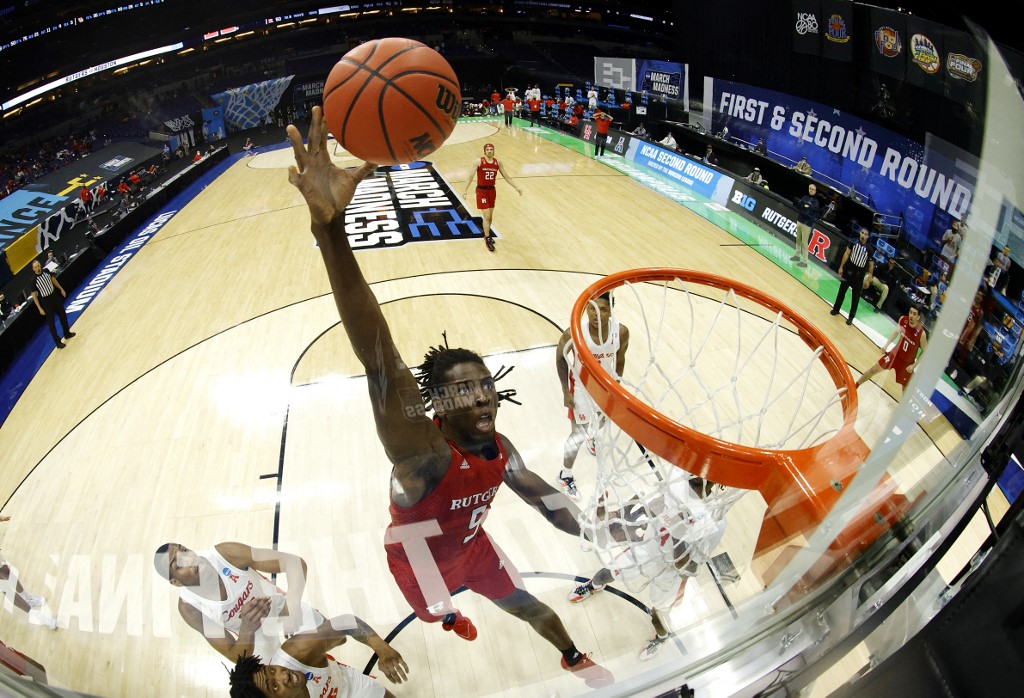 Given the overall quality of the Scarlet Knight interior defense, it just stymied a very talented, well-respected former recruit in Clemson center PJ Hall. Hall's productivity was relatively negligible and he suffered by far one of his lowest offensive ratings of the season. Let's take a look at some video footage -- go to 22:32 in the following video -- to see what I mean.
In this play, Clemson runs a ball-screen where Rutgers' off-ball defender switches onto the ball-handler in order to take away his driving lane. The opposing Tiger ball-handler responds by throwing it to the roller as the latter heads to the basket. But before the Tiger ball-handler makes the pass, look at the other three Rutgers defenders.
Those three defenders are highly attentive with their feet almost already set in the paint. As Clemson's ball-handler makes the pass, the rotation is quick: one Scarlet Knight defender gets his way in front of the rim-attacker. The rest of Rutgers' defense collapses. With good hands on the part of Paul Mulcahy, the Tiger attacker does not get a shot off but instead turns the ball over. Keep plays like this in mind for your college basketball betting.
Rutgers Offense vs. Illinois Defense
Offensively, Rutgers is exceedingly one-dimensional, which is already evident in the fact that it ranks 339th nationally in three-point percentage. The Scarlet Knights rely on Ron Harper and Geo Baker to be threes from deep. Neither one is very threatening, but they are Rutgers' best three-point shooting options.
Baker is generally, also, an important leader and veteran playmaker on the team. But know for your best bets that he is listed at 'questionable' for tonight's game with a leg injury that also impeded him from playing in either of his team's last games.
Relying overly strongly on interior scoring, Rutgers will struggle against an Illini defense who has point guard Trent Frazier to harass Rutgers' top play-creating guard, who, without Baker available to the team, is 6-6 former small forward Mulcahy.
Frazier, last year, earned All-Big Ten Defensive Team honors for his feisty perimeter defending. Moreover, with guys like Cockburn, Illinois has the size and strength inside to handle what is a Scarlet Knight team that is less able to bully the opponent since Johnson departed for UCLA.
The Verdict
Rutgers' improved perimeter defense will limit Illinois' newly three-point-focused attack while, offensively, one-dimensional Rutgers will struggle against one of the most efficient defenses in the nation, which is spearheaded by strong perimeter defending and great size and strength inside. For the above reasons, expect a low-scoring game with your NCAAB Picks.
NCAAB Pick: Under 133.5 at -110 with BetOnline (visit our BetOnline Review)

*The line and/or odds on picks in this article might have moved since the content was commissioned. For updated line movements, visit BMR's free betting odds product.