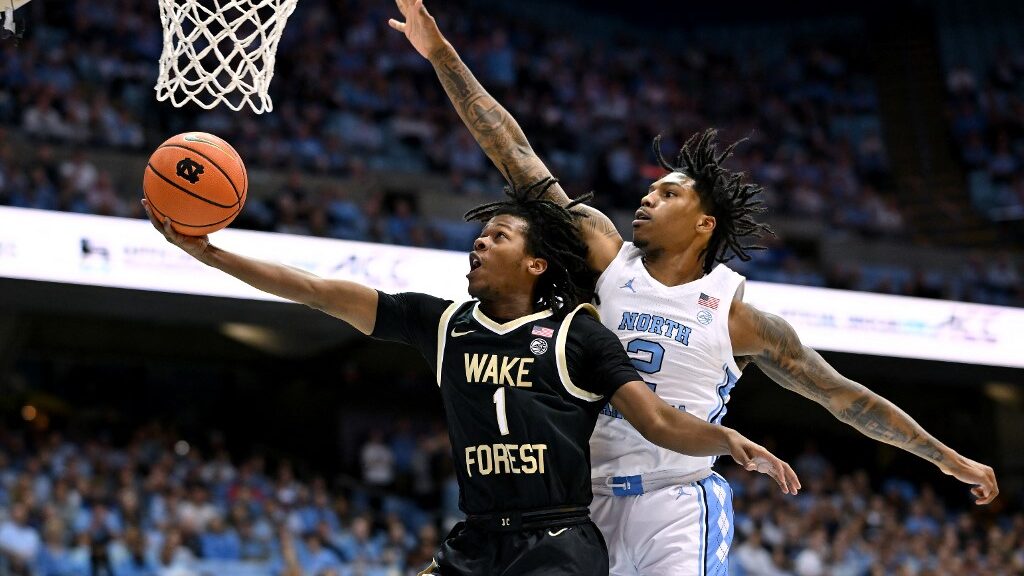 NCAAB Pick: Demon Deacons +1 (-110) at Bookmaker (visit our Bookmaker Review)

Top Sportsbooks have released their NCAAB odds for tonight's game between the Tar Heels and Demon Deacons. After losing to archrival Duke, North Carolina enters this game on a two-game losing streak.
Wake Forest, meanwhile, was suffering a losing streak mostly created by two-point losses. But the Demon Deacons won by 17 on Saturday and will look to continue their momentum tonight.
For reasons that I will explain, you should play both the spread and the total at a North Carolina betting site for tonight's game.
---
North Carolina Tar Heels vs. Wake Forest Demon Deacons
Tuesday, February 7, 2023 – 07:00 PM EST at Lawrence Joel Veterans Memorial Coliseum
Tar Heels Dependence on Bacot
North Carolina lives and dies with the offensive success of center Armando Bacot. The Tar Heels won all nine games in which his offensive rating exceeded 115. Conversely, they are 1-6 against teams with a winning record in which Bacot's offensive rating does not exceed 115. Bacot's importance is understandable given the fact that he takes a high rate of his team's shots.
Much of the Tar Heels offense involves passing the ball around the arc, looking to make a favorable entry pass to Bacot in the post, who will then try to utilize his mixture of polish and physicality to score on his own, if he doesn't pass the ball. In view of Bacot the scorer's centrality to his team's success, we need to look at Wake Forest's interior defense.
Demon Deacons' Defensive Mentality
On defense, Wake Forest likes to play compactly, with multiple guys incessantly positioned right around the paint area. Their determination to invest extra attention to guarding the area nearest the basket allows opponents to have an easier time scoring outside the arc. Thus, Wake Forest allows one of the highest ratios of three-point attempts in the nation.
Demon Deacons Interior Defenders
Wake Forest's resolution to prevent baskets scored around the rim might seem like overkill in view of the physical toolkit of its centers. Matthew Marsh is 7-1 and, using his length, will guard Bacot straight up in the post. But the Demon Deacons will rotate defenders on Bacot, giving him different matchups to figure out.
While Marsh is well-sized, fellow seven-foot center Davion Bradford is more agile and is thus more equipped to handle the finesse aspect of Bacot's offense. They will get help from other Demon Deacon defenders inside, who will help limit Bacot's scoring and force turnovers.
Wake Forest's interior-focused defense regularly forces opposing centers to turn the ball over. Against the Demon Deacons, top center PJ Hall, for Clemson, turned it over four times while another top ACC center, Duke's Kyle Filipowski, turned it over six times.
North Carolina Three-Pointers
Is North Carolina equipped to punish Wake Forest's defense for focusing on limiting its opponent's scoring inside? When these teams first played and the Tar Heels won, they benefitted from playing at home and exceeded their average three-point percentage.
Whereas they rank last in the ACC in three-point percentage, they converted 37.5 percent of their 24 three-point attempts against Wake Forest. Expect them to fall back to Earth in this respect, as they are literally the last team one should expect to punish Wake Forest's defense for playing compactly. The Demon Deacons will get away with doing all they can to limit Bacot and North Carolina's scoring inside the arc.
Demon Deacons Ball-Screen Offense
Video footage reveals that Wake Forest likes to run a lot of ball-screen actions on offense. The Tar Heels like to switch on defense, which requires them to communicate well. However, as Duke point guard Jeremy Roach has recently made public, Tar Heels defenders don't communicate well with each other.
Opposing ball-handlers are able to take advantage of the Tar Heels switching by hunting for desired matchups and then driving past a slower-footed defender unsuited to contain them.
Bacot himself, though, likes to remain parked around the basket. It's easy enough, though for teams to use their big men to draw him away from the basket, such that he is not in a position to contest opposing shots.
Tyree Appleby
As evident in its games against Alabama, Pittsburgh, and elsewhere, North Carolina defenders struggle to contain opposing guards or guard-forwards in isolation. The Demon Deacons like to isolate their point guard, Tyree Appleby.
He will often beat his on-ball defender one-on-one. Screens will help him get downhill. If North Carolina hard hedges, he'll pass to a teammate. Appleby will also reject screens in order to get going downhill.
Once in the paint, Appleby excels at drawing fouls—he helps Wake Forest own the ACC's second-highest free throw rate, which is something that will especially help the Demon Deacons tonight as they benefit from the home court whistle.
This will be a problem, especially for Bacot who has committed four fouls in four of his last six games. When in foul trouble, he'll have to defend more conservatively, which will make it easier for the opponent to score on him.
Appleby's uniquely high assist rate also attests to his court vision and, in alignment with the speed of his dribble vision, his ability to make speedy decisions with the ball in his hand.
Demon Deacons Three-Pointers
Wake Forest employs motion on the perimeter, relies on Appleby's dribble penetration, and finds other ways to generate three-point shooting opportunities. In the first game, at North Carolina, the Demon Deacons converted 10 of their 21 three-point attempts. Unlike the Tar Heels, Wake Forest's three-point shooting has been excellent throughout the season.
The ACC's most efficient three-point shooting team, Wake Forest will use three-pointers to balance its inside scoring success, especially via Appleby's dribble penetration and forward Andrew Carr's efficient scoring.
---
The Verdict
By limiting Bacot, riding Appleby, drawing fouls, and finding ways to generate three-pointers, Wake Forest will cover the spread tonight. As for the total, Wake Forest's improved defensive success against the Tar Heels offense and North Carolina's ongoing lackluster scoring tendencies will produce a lower scoring output. For your NCAAB picks, play the "under" in addition to the Demon Deacons.
NCAAB Pick: Demon Deacons +1 (-110) at Bookmaker
NCAAB Pick: Under 154 (-108) at Heritage Sports (visit our Heritage Sports Review)

*The line and/or odds on picks in this article might have moved since the content was commissioned. For updated line movements, visit BMR's free betting odds product.