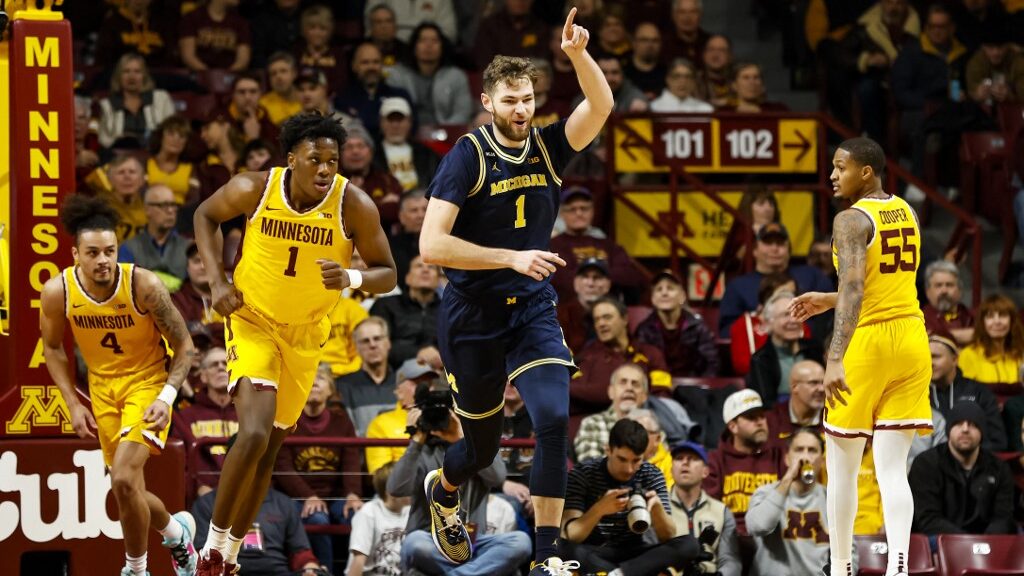 NCAAB Pick: Two Legged Parlay (+264) at BetOnline (visit our BetOnline Review)
Boilermakers/Wolverines Over 136 (-110)
Ducks -6.5 (-110)

Top Sportsbooks have released their NCAAB odds for tonight's best matchups in college basketball action.
Two games, in particular, interest me as worth investing in, Purdue vs. Michigan and Colorado vs. Oregon.
For reasons that I will explain, you should play the Total for the first game and the Spread for the second.
Feel free to parlay both bets to maximize your NCAAB picks at one of the best US Sports betting sites in order to maximize your profit.
---
Purdue Boilermakers vs. Michigan Wolverines
Thursday, January 26, 2023 – 09:00 PM EST at Crisler Center
Hunter Dickinson vs. Purdue
Star Michigan center Hunter Dickinson has constructed a strong track record against Purdue.
Last season, he scored 28 points in a six-point road loss before scoring 22 points in an 82-58 blowout win at home.
His strong play and seminal role in the team's offense as its ongoing top shot-taker will be fundamental to Michigan's chances tonight.
---
Dealing With Edey
The big obstacle to a Purdue opponent's prospects of scoring inside is the unique height and length of Purdue center Zach Edey.
Edey's size, though, limits the number of ways in which he can successfully guard an opponent, because his size makes him slow.
Because Edey is thus limited, his counterparts match up well against him when they are versatile.
Last year, Michigan's big man refused to play into Edey's hands by slowly backing into him. Instead, as he gladly does this year in general, he attacked the opposing center by facing up.
By facing Edey, Dickinson can use his superior foot speed to his advantage Especially, he can beat the slower-footed Edey off the dribble.
---
Drawing Edey Away From the Basket
Defensively, Edey wants to patrol the rim where he can be an effective shot-blocker.
Dickinson, though, will pull Edey away from the basket by posing a threat in the mid-range or on the perimeter -- Dickinson is his team's most efficient high-volume mid-range jump shot-taker and he converts 40 percent of his three-point attempts.
In addition to making shots from spaces where Edey is uncomfortable as a defender, Dickinson's assist rate over the years shows his ability to find teammates -- with Edey away from the basket, the Boilermaker hoop will be open to attack via backdoor cuts, and the like from Dickinson's teammates.
---
Ball Screens
Another way in which Dickinson will pull Edey away from the basket is by setting screens on the elbows -- Dickinson loves to do this.
He'll shield a defender, allowing a teammate to attempt an open shot.
Ball screens are critical also for other players than Dickinson. Michigan ranks among the nation's leaders in points per game via a ball screen.
In particular, they have the sort of ball-dominant, versatile guard play that can attack Edey's drop coverage.
One key piece will be Kobe Bufkin, a balanced scorer who attempts a high ratio of his shots at the basket or in the mid-range. With Edey in no man's land between the basket and the three-point line, Bufkin can score by himself by pulling up or beating Edey to the basket.
When, for example, Michigan State nearly upset Purdue, the Spartans relied on their guard play against Edey's drop coverage.
---
Purdue's Offensive Outlook
Purdue is surely not going to shoot 22.2 percent from deep, as it did in last year's loss to Michigan, even if Michigan's perimeter defense is stronger than it was in its early-season loss to Arizona State.
My main issue with Michigan's defense is twofold:
One, high-level scoring centers have no problem scoring on it, one example being North Carolina's Armando Bacot in North Carolina's 80-76 win.
Edey, his team's top shot-taker, will use his superior length to thrive at the basket.
Two, Wolverine guards struggle to contain the dribble drive and to keep the ball in front of them.
The Struggle is Real
This struggle is not so apparent in Michigan's wins over the Big Ten's offensively most inefficient teams, like Minnesota. But it was apparent in the game against Northwestern where Wildcat guard Boo Buie was able to exploit the vacant spaces inside the arc after beating his man off the dribble.
Purdue has plenty of driving ability in the form of Braden Smith among others who gladly attack the basket by themselves.
Remember, fans from the Hoosier State or Wolverine Country who are looking to make a wager on this game should be sure to check out our top-rated Indiana and Michigan betting sites.
NCAAB Pick: Boilermakers/Wolverines Over 136 (-110) at BetOnline
---
Colorado Buffaloes vs. Oregon Ducks
Thursday, January 26, 2023 - 09:00 PM EST at Knight Arena
Key Patterns
Every year, Oregon responds well to an earlier loss to Colorado. Last year, the Ducks beat Colorado by 15 points after losing by four in the first meeting.
They likewise avenged an earlier loss to Colorado in both years before last.
In addition to being in a good revenge spot, the Ducks are in a positive bounce-back spot. They are 4-0 after losing to a conference rival, with their biggest win coming by 19 over Arizona.
---
Oregon's Inside Scoring
The way to beat the Buffaloes is by succeeding offensively, because, as evident in their atrocious offensive efficiency in conference play, they lack the weaponry to keep pace.
To thrive scoring-wise against Colorado, an offense will need to score at the basket -- Colorado allows one of the highest rates of field goals at the basket.
Expect Oregon to use dribble hand-offs and screens to free up paths for their ball handlers.
As evident in his assist rate, Duck guard Will Richardson is an excellent passer, and he forms a potent duo with center N'Faly Dante whose rim-attacking prowess is hard for a defense to impede.
Teams like Cal thrived offensively against Colorado as they relied on interior scoring from their center.
Those teams illuminate the potential for pick-and-roll actions to work against a Buffalo defense that is vulnerable, especially inside where its defenders will get beat one on one in the post, fail to impede the driving momentum of opposing ball-handlers, and struggle to contain the opposing roller.
NCAAB Pick: Ducks -6.5 (-110) at BetOnline
---
Parlay Verdict
For your best bets, expect a high-scoring game in Michigan and a strong Oregon victory.
Be sure to use our trusty parlay calculator for your parlay betting needs.
Boilermakers/Wolverines Over 136 (-110)
Ducks -6.5 (-110)
NCAAB Pick: Two Legged Parlay (+264) at BetOnline
*The line and/or odds on picks in this article might have moved since the content was commissioned. For updated line movements, visit BMR's free betting odds product.