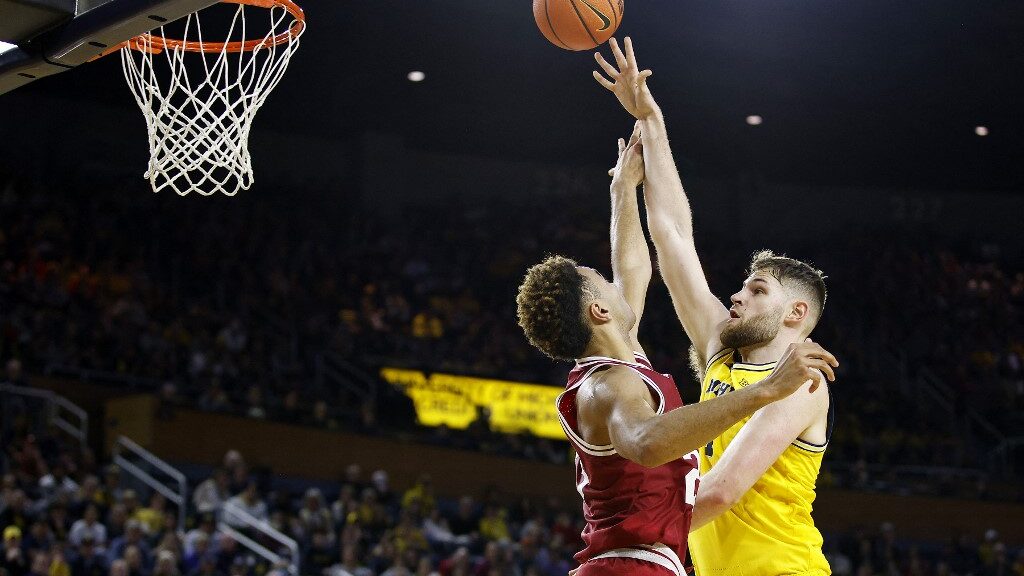 NCAAB Pick: Over 144.5 (-107) at BetOnline (visit our BetOnline Review)

---
The sportsbooks have released their betting odds for today's college basketball action, and two games, in particular, interest me as worth investing in: Michigan vs. Indiana and Northwestern vs. Rutgers.
For reasons that I will explain, you should play the total for the first game and the spread for the second.
Picks Summary
Michigan vs. Indiana: Over 144.5 (-107)
Northwestern vs. Rutgers: Northwestern +5 (-110)
---
Michigan Wolverines vs. Indiana Hoosiers
Sunday, March 05, 2023 – 04:30 PM EST at Simon Skjodt Assembly Hall
Michigan's Spacing
Michigan's offense emphasizes spacing in that it will often keep four players outside the arc with one guy inside. Sometimes you will also see all five Wolverines players positioned outside the arc.
In the latter scenario, center Hunter Dickinson will be using his threat as a three-point shooter – in addition to being effective in the mid-range, he shoots 41.7% from deep – to pull his defender away from the basket.
Without the opposing basket being guarded by the opponent's top rim protector, there is more space with which to have players cut to the basket.
Kobe Bufkin's Consistency
This is a lot of Kobe Bufkin's game – in addition to shooting 39.7% from deep in Big Ten play, he will engage in intelligent off-ball movement before receiving a pass and driving inside, where he converts his attempts at the rim with 67.3% frequency.
Bufkin's versatility – his effective combination of dribble penetration and three-point shooting – has made him a reliable scoring option every game. He has scored double digits in nine straight games while scoring over 20 points in both of his last games.
Because Indiana will have to respect Michigan shooters – especially with Jett Howard, arguably the team's top shooter in view of his volume – back – and because they will be well-spaced, the operating room inside the arc will be there for Bufkin.
Guards Against Indiana
Indiana truly misses injured point guard Xavier Johnson. In addition to having the intangibles – he was a tough, veteran-minded leader – his on-ball defense was excellent.
Without Johnson, the Hoosiers are at an injury-induced disadvantage against guard-centered teams like Northwestern, Maryland, and Michigan State.
Northwestern, for example, beat Indiana by relying on the drive-and-dish, which Indiana's guards lacked the quickness and the general ability to contain.
Dug McDaniel
Indiana's vulnerability to opposing guard play is meaningful today in view of Michigan point guard Dug McDaniel's improvement. The freshman is developing into a more selective and more efficient offensive threat.
While he is short, he is nifty inside the arc – he might use a screen to free himself to probe inside, where he ably finishes even over longer defenders – so Indiana's longer defenders will not bother him.
After a setback against Illinois, expect him to bounce back by returning to the form he displayed in consecutive games against Wisconsin, Rutgers, and Michigan State, all teams that show that he is ready to facilitate greater scoring than he did back on February 11, when Indiana beat Michigan 64-62.
Today's game will be higher-scoring in large part because of Michigan's guard play, and especially the improvement of the more consistently higher-scoring McDaniel, who is also using his excellent vision and quick passing to improve his assist-to-turnover ratio.
Hunter Dickinson
Of course, top Michigan scorer Dickinson remains the best candidate to lead his team in scoring today as he is always primed to score in double digits and maybe over 20 points.
Throughout the season, the Hoosiers have, however, increased their commitment to stopping opposing centers. They'll spring double teams in the low post, remain highly attentive to the opposing roll man in pick-and-roll actions, and so on.
But it will be hard for them to account for Dickinson and for Michigan's shooters — the fact that the latter are spaced out helps keep help defenders from arriving on time to contest their shot attempts.
Michigan's Different Strategy
Michigan is more inclined than Indiana to let opposing star centers try to win the game by themselves. Thus, video footage of Michigan games against, for example, Purdue, show single coverage, allowing the likes of Zach Edey to score more easily.
Given this tendency apparent in the Wolverines' game against Purdue and elsewhere, one should expect another strong effort from Hoosiers center Trayce Jackson-Davis, who scored 28 points in his first game against Michigan. He'll bully or finesse his way to the basket, using his physicality in the former case and his quick footwork and arsenal of post moves in the latter case.
Even when teams double him, he moves a lot by, for example, setting screens to free himself to receive a pass and he is also comfortable catching passes and operating further outside the arc.
On the top of the key, for example, he'll flex his passing ability evident in his high assist rate, as Indiana will run high-low stuff to not have to deal with double teams in the post. In any case, Michigan's defensive strategy creates a promising outlook for the Hoosiers' top scorer.
Helping Jackson-Davis and Hood-Schifino
I like Indiana to score more points in the rematch because players besides Jackson-Davis and point guard Jalen Hood-Schifino, who scored 21 points in the first game against Michigan, will step up.
More Hoosiers scorers will get involved via the ball-screen game, because Michigan's defense struggles to stop opposing ball-screen actions, where Wolverines' defenders fail to stop dribble penetration or to account for the opposing roller.
Indiana can do a lot offensively out of its ball-screen game. While the Hoosiers do not shoot a lot of threes, they only attempted six in the first meeting, which is surprising because they do have efficient three-point shooters.
Actually one of the most efficient three-point shooting teams in the nation thanks to guys like Miller Kopp, Indiana will use especially the threat that he poses inside the arc to create and exploit opportunities outside the arc.
NCAAB Pick: Over 144.5 (-107) at BetOnline
---
Northwestern Wildcats vs. Rutgers Scarlet Knights
Sunday, March 05, 2023 – 07:30 PM EST at Jersey Mike's Arena
Rutgers' Increasing Defensive Weakness
When Rutgers beat Northwestern almost two months ago, the Scarlet Knights enjoyed the services of key defensive piece Mawot Mag. Mag's injury has helped make Rutgers' perimeter defense critically vulnerable.
Most recently, Rutgers' porous perimeter defense helped Minnesota shoot efficiently from deep and use three-point shooting to pull off the upset.
Players are getting open against and taking advantage of Rutgers' perimeter defense. Because Northwestern loves to shoot threes – it attempts them at the conference's third-highest rate – its offense is primed to thrive today.
Northwestern's Defensive Style
On the other side, the Scarlet Knights are allergic to shooting threes. This is problematic because the Wildcats' defense compels opponents to succeed by shooting threes.
Northwestern's defense uses compact positioning to make it hard to achieve dribble penetration and to breathe and get a decent shot attempt off.
Whereas the Wildcats will be comfortable offensively by doing what they like to do the most, Rutgers' offense will be uncomfortable.
For your second NCAAB pick, add Northwestern ATS to your list of plays today. And don't forget to check out our Illinois betting sites guide if you're planning on placing your wagers from the Prairie State.
NCAAB Pick: Northwestern +5 (-110) at BetOnline

*The line and/or odds on picks in this article might have moved since the content was commissioned. For updated line movements, visit BMR's free betting odds product.