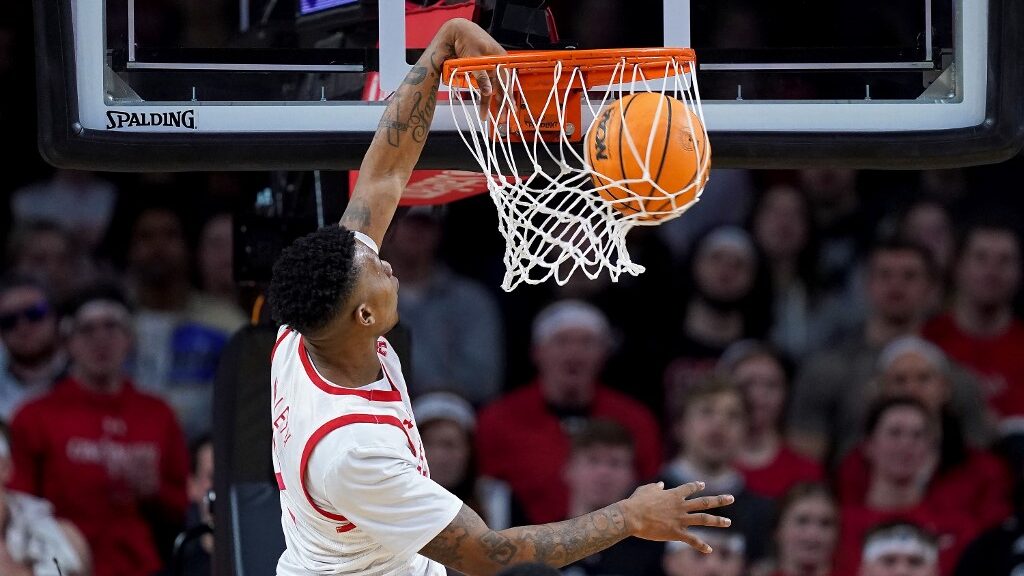 NCAAB Pick: Cincinnati +5.5 (-110) at BetOnline (visit our BetOnline Review)

---
The sportsbooks have released their betting odds for today's college basketball action, and three games, in particular, interest me as worth investing in:
Cincinnati vs. Memphis
Wisconsin vs. Michigan
UCLA vs. Colorado
For reasons that I will explain, you should invest in the side for all three games.
---
Cincinnati Bearcats vs. Memphis Tigers
Sunday, February 26, 2023 – 02:00 PM EST at FedExForum
The First Meeting
It is easy to think that, because Memphis won the first meeting in Cincinnati by seven, that it will surely win by at least as many points in Memphis. But understand some of the anomalies that took place in the first meeting and, relatedly, understand what we should expect to change.
Critically, the Tigers relied on superior three-point shooting efficiency. Their superior efficiency was a consequence of the Bearcats underperforming from deep and of their top shooter performing well.
Their best three-point shooter is Keonte Kennedy, but the shooting guard is currently injured. His efficiency and the momentous timing of his made shots will be missed for Memphis today.
Bearcats Three-Pointers
Teams regularly manage to attempt a lot of three-pointers against the Tigers' defense. Memphis' perimeter defense is vulnerable in this respect for multiple reasons, two being that Tigers defenders like to swarm and collapse inside and to go for turnovers aggressively.
Led by a veteran point guard in David DeJulius, Cincinnati is one of the best teams in the nation at limiting its turnovers, and it will be able to do so especially since it has already dealt with the Tigers defense once before this season.
By preventing turnovers, Bearcats ball-handlers will be able to make the passes they need to find open shooters.
Look out especially for DeJulius, who is shooting 37.8% from deep, and forward Landers Nolley with his 41.5% three-point conversion rate. Fellow forward Jeremiah Davenport is also liable to make four or five threes in a given game.
Bearcats Interior Defense
Memphis' higher-scoring wins tend to rely on a strong performance from forward/center DeAndre Williams. But the Bearcats have one of the conference's top interior defenses, in part due to the multiplicity of inside defenders that they can confound opposing bigs with.
Limiting two-point percentage will be crucial against a Tigers half-court offense that is allergic to attempting three-pointers.
Cincinnati will also use its low-turnover offense to keep Memphis from utilizing its favored transition attack.
NCAAB Pick: Cincinnati +5.5 (-110) at BetOnline
---
Wisconsin Badgers vs. Michigan Wolverines
Sunday, February 26, 2023 - 02:00 PM EST at Crisler Center
Wisconsin's Poor Interior Defense
The Badgers are soft inside, where they lack meaningful physicality, rim protection, and athletic ability in their on-ball defenders as they try to contain dribble penetration.
These deficiencies are evident in Wisconsin's low ranking in limiting opposing two-point percentage.
Michigan's Inside Attack
The Wolverines promise to thrive via efficient inside scoring. Look out especially for guard Kobe Bufkin, who ranks in one of the highest percentiles in rim pressure, and for center Hunter Dickinson, whose size and strength inside the arc alone make him a regular threat to score 20 points.
Michigan uses four-out, one-in spacing to create space inside, which means that the team will often spread out four different players outside the arc leaving one inside. The one inside will likely be Dickinson, although his positioning inside helps open up driving lanes because he'll pull his defender away from the basket. Defenders have to stick to Dickinson because of the threat he poses from both the mid-range and from behind the arc, as evident in his high conversion rates.
When Wisconsin lost 55-73 at a Maryland team that cannot shoot the three, the Terps utilized effective floor-spacing and dribble penetration to thrive offensively. Michigan can do the same by employing the same tactics while relying on more efficient team-wide three-point shooting to pose an additional threat.
Dickinson's Advantage
Dickinson's movement will also be valuable in the ball-screen game. With his momentous energy and size, he will ably attack the thin Badgers interior defense as the roll man in the pick-and-roll. The threat that he poses as a roller regularly elicits the attention of off-ball defenders, who will feel compelled to leave their man unattended behind the three-point line to help out inside.
This sort of thing helps explain why Michigan's good spacing is so valuable – it is harder for defenders to help inside, which they'll need to do against rim-attacking threats like Bufkin and Dickinson, and to remain attentive to Michigan's three-point shooting threats.
Look out for the Wolverines shooters who help Michigan rank fourth in the Big Ten in three-point percentage.
Dug's Defense
Wolverines guard Dug McDaniel is growing as a defender. Boasting a high steal rate, he has matured from a gambler into someone who is more wisely selective about when he goes for steals, making the most of his IQ and anticipation abilities.
But arguably his best asset is hard to summarize with statistics. He is a stifling on-ball defender who will remain glued to the opponent's top guard and perimeter threat. His dedication to defense is evident in his team's win at Rutgers, where the Scarlet Knights' top shooter, guard Cam Spencer, mustered only 11 points while committing three turnovers.
McDaniel's defense will limit Wisconsin's version of Cam Spencer and Chucky Hepburn, leaving Connor Essegian to be the only other Badgers shooter who has been dangerous in conference play. But Essegian has been mired in a cold streak, failing to convert over 30% of his three-point attempts in four straight games.
Wisconsin doesn't score inside much or pose a threat on the offensive glass, so the team suffers little chance to score much without going crazy from behind the arc, and we should expect Michigan to limit an anyhow unfrightening Badgers perimeter attack.
NCAAB Pick: Michigan -5 (-110) at BetOnline

---
UCLA Bruins vs. Colorado Buffaloes
Sunday, February 26, 2023 - 04:00 PM EST at CU Events Center
Don't Worry About Altitude
People like to fade teams when they play Colorado or Utah a few days after playing Colorado or Utah, but the Bruins benefit from playing on Sunday, which gives them an extra rest.
Their recent history in the second leg of the high-altitude road trip anyhow does not justify concern over their ability to win in this situation, even though they have had to play the second leg on Saturday.
Colorado's Defensive Weakness
The spread is as low as it is because Colorado's defense ranks highly, but the Buffaloes defense is reliable rather against offenses like Stanford's that are dependent on shooting the three. UCLA does not have such an offense, and it will routinely punish Colorado inside, much in the way that USC just did.
When Colorado is on defense, one observes too little movement from defenders needing to react to on- and off-ball screening actions. Whether a player catches a pass after using an off-ball screen, whether a ball-handler rejects a screen, and in general, opposing players too often enjoy an easy path to the basket.
Of course, UCLA does not need to get all the way to the basket, as they boast a bevy of efficient mid-range scorers who are comfortable pulling up on the way to the basket.
Plus, UCLA enjoys the services of efficient inside scorer Adem Bona, who will add to the list of centers – Utah's and Arizona's provide two other examples – to thrive against Colorado's interior defense.
Colorado's Offense Struggles
If you don't like the Buffaloes defense to do well – Colorado will allow over 75 points for a third straight game – then it is impossible to like the team to cover, because Colorado routinely struggles to exceed 65 points and faces UCLA's nationally second-most efficient defense.
For our last NCAAB pick, expect a strong UCLA win to prolong the team's excellent form. And if you're an LA local, don't forget to check out our guide on the best California betting sites!
NCAAB Pick: UCLA -6.5 (-110) at BetOnline

*The line and/or odds on picks in this article might have moved since the content was commissioned. For updated line movements, visit BMR's free betting odds product.