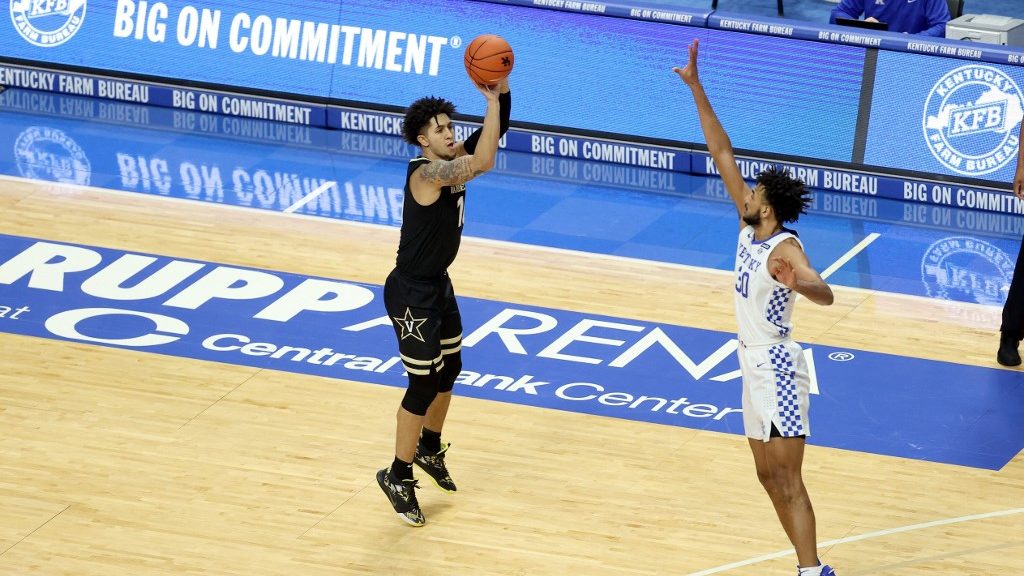 With academics always being a higher priority at Vanderbilt compared to other schools, the Commodores are always going to be at a disadvantage on the athletic front. So, when a player with Scotty Pippen Jr.'s talent decides to leave early, the impact is going to be felt even more at Vanderbilt, both on the floor as well as the college basketball futures.
Pippen Jr.'s declaration for the NBA Draft comes with the caveat that he is not hiring an agent, leaving the door open for the 6-2 guard to change his mind and return to Vanderbilt next season. His decision to go or stay also doesn't suddenly kill the Commodores' chances of a National Championship following a disappointing 9-16 campaign.
Did Pippen Improve Enough to Make the NBA Leap?
Vanderbilt can't be found on the list of contenders at top betting sites currently carrying 2021-22 NCAA Championship numbers. The Commodores weren't to be found before Pippen's decision to test the NBA waters. While it hasn't affected Vanderbilt's chances in that department, his announcement does impact head coach Jerry Stackhouse's job of recruiting to turn the program around and at least make the Commodores more competitive on a year-in, year-out basis.
Pippen improved in every facet of the game from his freshman to his sophomore season. He averaged about eight points per game more despite only playing an additional two minutes per game, and his 20.8 PPG clip ranked second in the SEC behind LSU's Cameron Thomas. Pippen also ranked second in the conference with 4.9 assists per game, both of those numbers making him an easy choice for 1st-Team All-SEC honors.
As the son of one of the NBA's top all-time players, the pedigree to go to the next level is definitely there. Whether or not the skills and ability to make it at the next level are there, that's another story. Pippen was a 3-star recruit when former head coach Bryce Drew brought him to Nashville from Sierra Canyon School in California, with Vanderbilt and Washington State the only Power 6 schools to go after him. If the professional waters are too cold right now, another year under Stackhouse could improve Pippen's NBA Draft stock.
Other Departures Could Deplete 'Dores
Another year with Pippen on the floor would certainly go a long way to improving Vanderbilt's chances, as well as the chances of bettors playing the Commodores on the NCAA Basketball odds. Stackhouse seems resigned to losing his star guard, but is more optimistic when it comes to keeping another sophomore, Dylan Disu, around for another season.
Disu has yet to make up his mind, and the knee injury that cost him the end of the recently-completed season could keep him off the NBA radar and make the decision to return to Vanderbilt easier. The 6-9 forward from Texas was second behind Pippen in scoring at 15.0 PPG, and led the Commodores in rebounding (9.2).
Getting both Pippen and Disu back would obviously be huge. Even if just one of them is on the floor for the Commodores next year, it would be a big plus after the team also lost Maxwell Evans and D.J. Harvey to the NCAA transfer portal. Evans was fourth on the team in scoring (8.5 ppg) while Harvey ranked fifth (6.3 ppg). Additionally, Vanderbilt is losing 6-10 Ejike Obinna in the transfer process.
Can Freshmen From Last Season Take the Next Step?
It's not the first time Stackhouse has dealt with early exits or transfers at Vanderbilt after Aaron Nesmith and Saben Lee departed with eligibility left a year ago. But to lose Pippen and Disu, plus the transfers, could be devastating to the program and put Stackhouse on the coaching hot seat when the 2021-22 season begins.
Stackhouse does have four talented freshmen from last season who will be called upon regardless of Pippen's status. The group is led by Tyrin Lawrence, whose 2020-21 season was cut short by a knee injury. Myles Stute and Trey Thomas were big parts of the rotation as well, along with Isaac McBride who transferred in from Kansas.
The transfer portal taketh away, but it also giveth as Vanderbilt recently added new bodies in that process. Terren Frank – another talent out of Sierra Canyon in California – will be shifting from TCU where he just completed his freshman season, and Rodney Chatman comes in from Dayton where he was a starter the past two seasons. Stackhouse will also be looking to develop his newest Class of '21 recruits, guard Peyton Daniels and small forward Gabe Dorsey.
There's still a lot of work to be done by Stackhouse to get Vandy basketball back to being a consistent threat, but it remains to be seen if the alumni will give him enough time. It's not like Pippen's return will instantly turn the Commodores into popular college basketball picks to win the SEC and make a deep NCAA Tournament run, but it sure wouldn't hurt their chances.