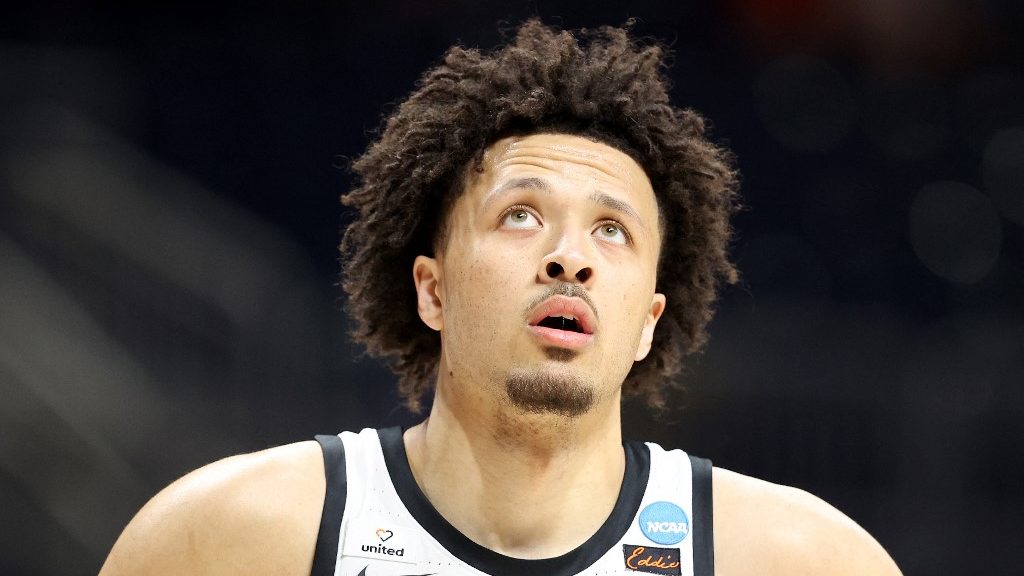 Talent has spread itself out in college basketball over the past few seasons. Gone are the days where five-star players choose from a small handful of schools to consolidate power. Stars are pursuing other options. Some choose to go pro overseas for a year before heading to the NBA Draft. Others have gone to the G-League. A common option in recent years has been to go to smaller schools to be the biggest fish in a smaller pond.
Cade Cunningham did this by playing for Oklahoma State last year. He was only the eighth five-star to ever sign for the Cowboys, and he was the highest-rated player in program history.
Cunningham lived up to the hype last year. He was the best player in the Big 12 after scoring over 20 points a game. He stretched the floor with 40% perimeter shooting and won just about every award possible.
While OSU helped Cunningham become the first player taken in the 2021 NBA Draft, they only made it to the second round. The Pokes proved that they were able to develop talent, but everyone knew this was a one-year deal. How can OSU replace Cade Cunningham?
What Cunningham Provided
Cade Cunningham legitimized Oklahoma State basketball. Regardless of their history, they were seen as one of the best teams in the Big 12. In any discussion, they had to be considered.
Being on the TV screen every week helps OSU in the long run. They can go to recruits and use how they handled Cade Cunningham as proof that they are worth considering. That's valuable but the optics only help so much. What Cunningham truly provided was substance.
Every team had to use multiple people to stop Cunningham. No one could consistently stop him without bringing in help. With his ability to shoot outside, you couldn't put a big on him or play a ton of zone.
Cunningham used his strength and agility to bully opponents, but he also gave his teammates easy looks. That's the one thing that Cunningham did outside of his scoring and rebounding. The only way to describe it is gravity. Every defender took a step in his direction, and that was the step his teammates needed to make a play.
So, what will Oklahoma State do to replace this generational talent?
What OSU Can Do
Obviously, you can't fully replace a generational talent. That's why they're called generational talents. However, you have to do something with the foundation he provided last year.
At the very least, Oklahoma State has to replace 20 points a game. The bad news is that Oklahoma State only had one player average double figures last season. The good news is that they return almost every player from last year's squad except for Cunningham. That chemistry will matter. It will take time to get used to playing without Cunningham, but they at least have some experience playing together.
In terms of new talent, OSU relied heavily on the transfer portal. They didn't sign a player out of high school, but they bring in two former five-star recruits from other schools.
With this happening, it appears that Oklahoma State will be looking more into winning with a committee than relying on one star. These players failed to live up to the hype at their respective schools, and they are looking to rebuild their collegiate careers this season.
No one player will fill in for Cade Cunningham. Bryce Thompson will likely start. Moussa Cisse adds size and depth, and he will be a key rotational player.
Is This Enough?
Oklahoma State knew that they had a one-year window to win it all last year. Still, they have a chance of making the Final Four if everything goes right.
OSU has +6600 odds to win a national title, and there is still minimal value in that bet. Regardless of who they bring in, expectations have to be low for Oklahoma State. To put it simply, there is no chance that the Cowboys can replace Cunningham. They may still make a deep run in the NCAA Tournament, but they will have a weaker roster.