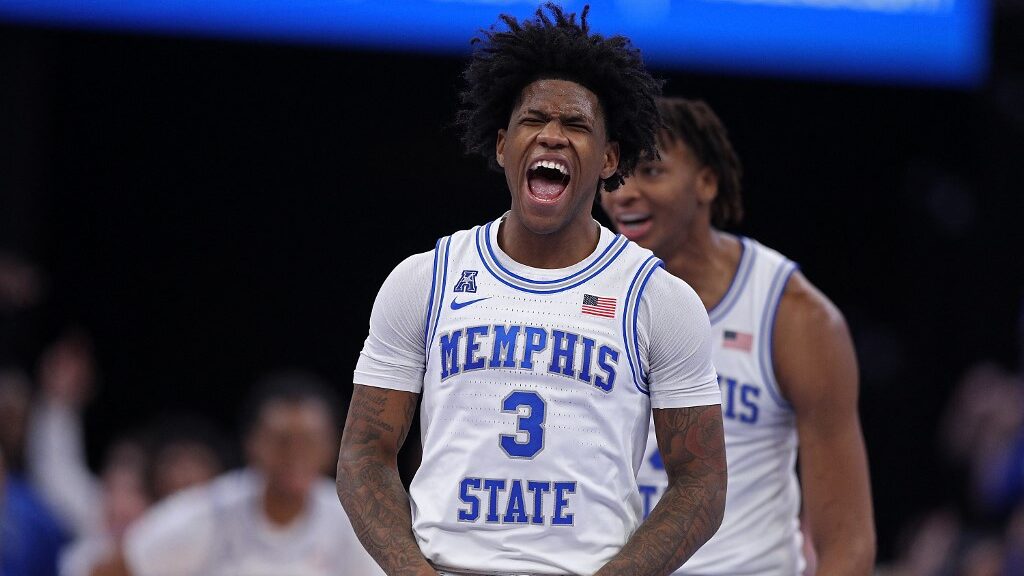 Top NCAAB Pick for Today
NCAAB Pick: Florida Atlantic vs. Memphis – Over 153 (-105) at BetOnline (visit our BetOnline Review)

Picks Summary:
Florida Atlantic vs. Memphis – Over 153 (-105)
Memphis -1.5 (-110)
Score Prediction: Memphis 83 – Florida Atlantic 79
Top Sportsbooks have released their odds for Friday's NCAA Tournament game between the nine-seed Florida Atlantic and the eight-seed Memphis. Both teams won their respective conference tournaments. The winner of this game will, in all likelihood, face the top-seed Purdue in the second round.
But who will be the winner? For reasons that I will explain, you should play both the spread and the total for this game. Read ahead for more information on our top NCAAB picks!
Remember, fans from the Volunteer State who want to wager on this game should check out our top-rated Tennessee betting sites.
---
Florida Atlantic Owls vs. Memphis Tigers
Friday, March 17, 2023 – 09:20 PM EDT at Nationwide Arena
Memphis' Defense
Memphis' defense is predicated on applying pressure to opposing ball-handlers. This pressure will often extend across the length of the court, as the Tigers like to apply a full-court press.
In the half-court, the Tigers will spring double teams in the post, on the wing, and potentially anywhere else. This pressure defense makes it hard for opposing ball handlers to breathe.
The ubiquity of Memphis' double teams forces a variety of opposing players to be comfortable handling and passing the ball.
Depending on where the Tigers spring a trap, an opposing front-court player might have to deal with the sort of pressure that a guard would generally have a better chance of dealing with.
---
How to Handle Memphis' Pressure
Memphis' pressure often leads to quick baskets for the opponent if it does not compel turnovers.
The rapidity with which opponents tend to score against the Tigers' defense — Tiger opponents average a relatively low average possession length — helps explain why the total is so high.
Offenses will thrive against Memphis' defense when they are comfortable scoring quickly against its pressure and when they do so efficiently. Because ball handlers will repeatedly be subjected to double teams, they need to be able to create out of one-versus-two situations.
---
FAU's Experience
Florida Atlantic has the advantage of having faced several pressure defenses in its conference play.
In the C-USA Tournament alone, the Owls beat a UAB team whose defense ranks 80th nationally in turnover rate and 50th nationally in steal rate, and they also won against a Middle Tennessee State team whose defense ranks 25th nationally in turnover rate and 51st nationally in steals rate.
Before their conference tournament, the Owls also faced other teams like UTEP who are likewise known for their ball pressure. This experience will be useful because the Memphis' pressure is something to which they are already accustomed — traps and the like will not surprise them.
---
Can FAU Handle Memphis' Pressure?
Florida Atlantic's offense is built to thrive against the sort of defense that loves to create two-on-one situations against individual ball handlers. Lacking a single key distributor, the Owls play with a four-guard lineup.
They are comfortable passing even when double-teamed, dribbling out of a double team, and generally contributing to their offense's uniquely low turnover rate.
---
Kick-Outs
When opposing players drive inside against Memphis, multiple Tiger defenders will converge around the ball distributor in front of the ball handler at the basket. This convergence tendency is a double-edged sword: it makes scoring at the basket more difficult but leaves the defense more vulnerable behind the perimeter.
As Tigers' opponents like to do, Florida Atlantic will drive inside in order to compel the help defense to converge before kicking the ball out to an open shooter. The Owls' offense is dangerous because Memphis allows a tremendously high rate of three-point attempts while the Owls love to shoot threes and do so efficiently.
Look out for Alijah Martin who shoots 37.7 percent from deep, and also look out for Nicholas Boyd, Bryan Greenlee, and Johnell Davis.
These latter three players convert over 39 percent of their three-point attempts. There are plenty of FAU players who can get hot, especially against Memphis' high-risk defense.
---
The Mid-Range
Owl players generally do not seek to attempt mid-range jumpers, although they will sometimes do so in order to shoot before defenders converge upon them.
Their success in the mid-range area will come, though, primarily against Memphis' zone defense, which the Tigers often like to employ.
For FAU, Davis is a zone killer, as he will receive a pass around the free throw line where he can score on his own by driving to the basket or by flexing his superb 50% conversion rate of two-point jumpers.
---
DeAndre Williams
Memphis' offense will counter by relying heavily on two shot-takers in particular, one of whom is center DeAndre Williams.
It is easy but misguided to like his Owl counterpart, Vladislav Goldin because the latter is much taller (Goldin is a seven-footer) and boasts a tremendous block rate. But Goldin matches up terribly against Williams.
Williams is at his best when facing up his opponent, so he won't play into Goldin's hands by posting up, which would negate his own speed advantage. Goldin is not speedy but slow-footed, which is why he'll sag severely off opposing ball handlers.
In FAU's game against Middle Tennessee State, Blue Raiders' center Deandre Dishman achieved a team-high 17 points largely by facing up and attacking the basket against Goldin and his likewise slow-footed backup.
Memphis' center is, talent-wise, on a whole different level than Dishman, and he'll be too much for the Owls' frontcourt to handle.
---
Kendric Davis
The other key Tigers' shot-taker is point guard Kendric Davis. Davis is an excellent ball handler, the explosiveness of whose movement makes him uniquely difficult to contain inside the arc.
Among other moves, his stop-and-go action tends to succeed in creating space for himself. Despite his driving ability, defenders can't sag off him, though, because he is comfortable pulling up from the mid-range or behind the arc.
With his skill set, he almost always scores over 20 or 30 points in a given game. FAU lacks the length and general defensive ability to alter this tendency.
While, for example, Owls' point guard Bryan Greenlee might seem tough sometimes because of the tight ball pressure that he likes to apply, guarding a guy like Davis too closely will simply allow the latter to achieve a blow-by.
---
The Verdict
This game will be high-scoring because both offenses will be efficient while neither one likes to waste time trying to find a favorable scoring opportunity.
As for the side, March Madness is known to be a guard's game, and Memphis easily has the best one on the court, a veteran X-factor in Davis.
The Tigers are also well-stocked with athletes like Chandler Lawson who will use their size advantage in the front court against FAU's smaller lineup especially when Williams' shooting prowess draws the Owls' center away from the basket.
Besides having a more explosive offense and stronger guard play, the Tigers benefit from having greater NCAA Tournament experience — they played and won one game in last year's tourney.
For your best bets, invest in Memphis ATS and the "over" at the current NCAAB odds.
NCAAB Pick: Memphis -1.5 (-110) at BetOnline

*The line and/or odds on picks in this article might have moved since the content was commissioned. For updated line movements, visit BMR's free betting odds product.