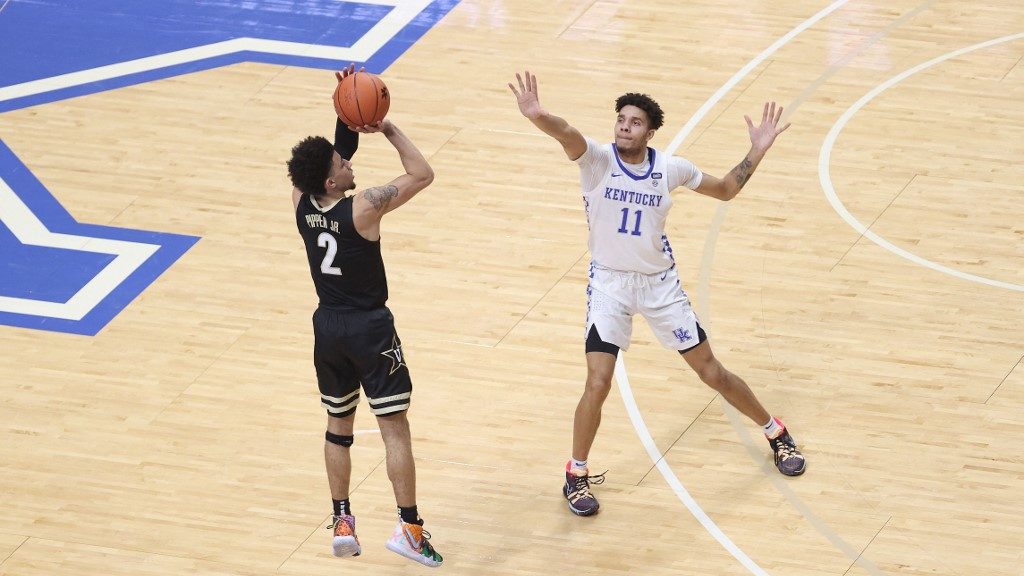 SEC basketball saw plenty of surprises last season. Kentucky had one of the worst years in its program's history. Arkansas had a deep run in the NCAA Tournament, and Alabama surprised everyone by winning both conference titles. Some teams rose, others fell, and plenty left fans in awe. One team that did not surprise anyone was the Vanderbilt Commodores. Vandy went 9-16 and only won three conference games. While this was a failure, it's what people expected. Vanderbilt has failed to succeed with talent in recent years, and they failed to succeed without it in 2020.
There is pressure on Vanderbilt to improve this year, but they want to do more than that. They want to be the next team in the SEC that everyone talks about. With Scotty Pippen Jr. returning this year, they may have enough to make a splash. The Vanderbilt Commodores have +30000 odds to win the national title, so they aren't seen as a dark-horse team in the NCAA Tournament. Still, can Vandy go far this year with their current roster?
The Strengths of the Roster
Vanderbilt has some good and bad news for the upcoming season. The good news is that they bring back plenty of players from last year's team to build continuity and chemistry. The bad news is that this can only do so much when you see how the Commodores played last year. Jerry Stackhouse is looking to turn Vandy around, but he hasn't done it yet.
If he wants to turn Vanderbilt into a conference contender next year, he will have to rely on the returning stars. Dylan Disu would have been a key contributor, but he is now playing for Texas. That leaves Scotty Pippen Jr. as the key returner for the 'Dores. Pippen took a massive leap in almost every statistical category last year. While his usage went up, he somehow became more efficient.
He did a great job of distributing the ball, and he scored over 20 points a game. Vanderbilt also landed some transfers of their own this offseason. No names jump off the page, but this will give them versatility and depth as the season progresses. If Vandy can find Pippen a running mate, they may surprise some people in the SEC.
Jerry Stackhouse
Stackhouse was a great college basketball player and had an extended NBA career. He will always be known for his legacy as a player. While other former players have proven themselves as coaches, Stackhouse has not lived up to the hype. To be fair, he took over one of the worst teams in college basketball. It wasn't that long ago that Vandy failed to win a single conference game.
Now that Stackhouse has a few years under his belt, he has a roster full of his own players. He can now be fairly judged. If Vanderbilt has another disappointing year, fingers will be pointed at Stackhouse. The good news is that he has potential as a head coach. He adds legitimacy when it comes to recruiting, and that was proven by his ability to manipulate the transfer portal.
However, there remains a low ceiling as of right now. Unless Stackhouse reaches another level as a coach, Vandy should keep low expectations in the 2021-22 season. Still, anything can happen in college basketball. Vandy may shock us all. Do they have a realistic shot to go far in the postseason this year?
How Far Can Vanderbilt Go?
Vandy has talent on the roster, but is it enough? If Scotty Pippen Jr. can take another step forward and the Commodores find a replacement for Dylan Disu, Vanderbilt may have an outside shot in the SEC. In such a deep conference, a few upsets can carry a team to the NCAA Tournament. While Vanderbilt has the potential to get to the NCAA Tournament, that is rather unlikely given their current makeup. Anything can happen, but the odds are low. However, they have a chance of being a Cinderella team if they make it there.
If they get to the NCAA Tournament, that means they have enough talent to compete. They can only get there by beating quality SEC teams. At that point, it can come down to who has the hottest hand. Scotty Pippen Jr. is the type of player who can change a team's fortune in a single game, so Vandy may make it to the Sweet Sixteen. However, that is a best-case scenario that remains unlikely.