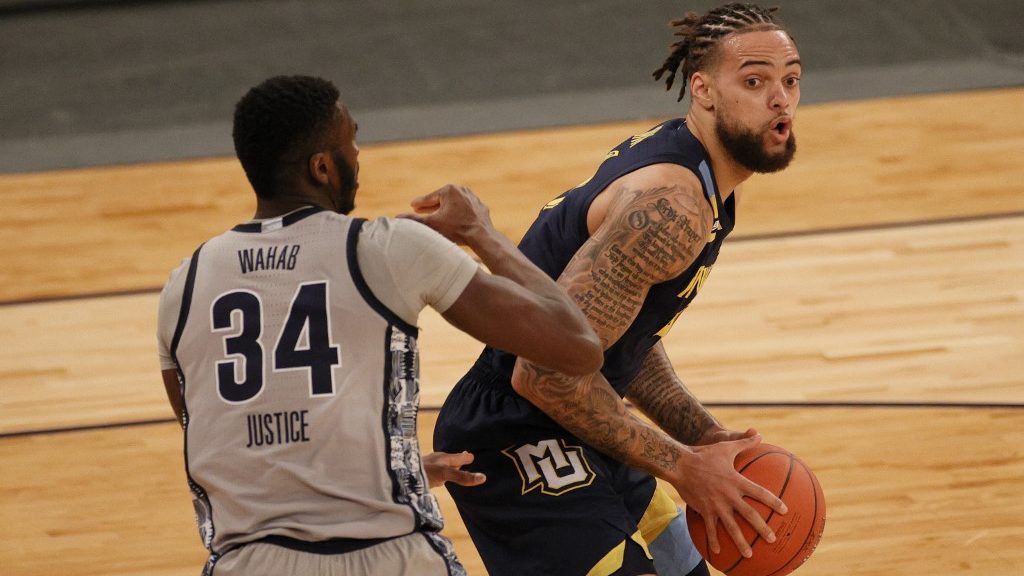 Duke is always seen as a frontrunner in the world of college basketball. After five national championships, Mike Krzyzewski has earned the benefit of the doubt. However, a disappointing season led the Blue Devils to miss the NCAA Tournament for the first time in over 24 years.
Thankfully, college basketball pivots easily. Teams can crash in just one season, but they can rise from the ashes in the following year.
In the past, Duke has always rebuilt with solid recruiting classes. Bringing in three of the top-20 recruits in the 2021 class is a great start, but they are also adding experience with Theo John. The three-year starter at Marquette will join the Blue Devils and try to take them back to new heights.
Transfers add vital experience to young teams, and they can bring a new perspective to the game of basketball. However, John isn't known as a jaw-dropping talent. So, what can fans expect from him in Durham? Can he improve their +1800 odds to win the national championship?
What Theo John Does Well
John started at Marquette for three years. This experience is rare at the college level, so he will help lead an impressive young roster. The recruiting class will be what dictates Duke's success, but John can lead them in the right direction.
On the court, John is a solid defender in the paint. He isn't known to stretch the court, but his athleticism sets him apart as he scores. He used to be a liability in terms of foul trouble, but he has improved at this part of his game over the course of his collegiate career with Marquette.
John won't be the first offensive offensively, but he has to be respected as a scorer. He doesn't create well, but he can make a basket when given the opportunity. If he handles screening duties for Duke, he will get some quality looks at the basket.
John can rack up long rebounds and get blocks when he has to. He's not perfect, but he is a talent, and Coach K recruited him for a reason.
Where Theo John Struggles
John is not a threat to score outside. This isn't a dealbreaker, but it would be nice if he could stretch the floor with his shooting. At his size, he can't rely on simply destroying the paint.
He also didn't get a ton of minutes as a starter. The talent gap from Marquette to Duke will be noticeable, so it's worrisome that he never got more than 26 minutes per game for a season.
Transfers are special at times, but John isn't necessarily a diamond waiting to be found. He's solid, but the ceiling is low. He's transferring for a better opportunity, but that might not lead to many more accomplishments on the court this year.
There are question marks surrounding this addition to the roster. There is no doubt that he can make a roster better, but Duke wants to win a title sooner rather than later. How can he help with that?
Will Theo John Help Lead Duke to a Title?
If Duke wins a championship this year, it won't be because of John's addition. He can contribute to a quality program, but he won't be the key piece.
Duke's recruiting class already has some size and defensive abilities, so John might not start this year. If he does, he could lose his job by the end of the season.
Still, he will be a solid role player for a team looking to make a championship run. In the postseason, depth matters more than anything. John makes Duke's bench look a lot nicer than it normally does, and this should help the Blue Devils make it back to the NCAA Tournament. If everything goes right, it could even help them on a championship run.
When decadent on whether or not to bet on Duke this year, look at their returning players and the recruiting class. Their transfers answer one question, but there are plenty of others to raise.