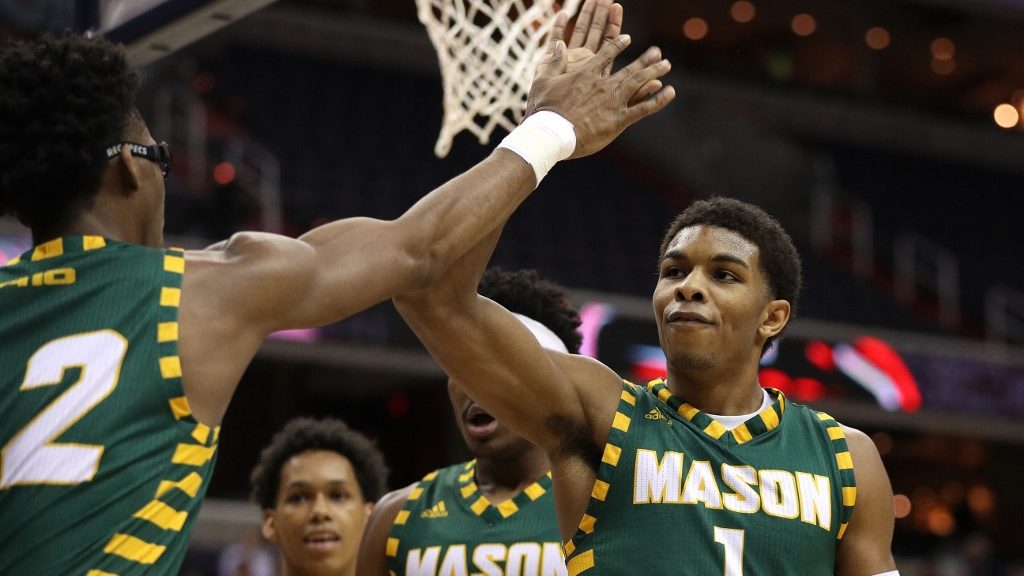 The Arizona Wildcats are in the middle of a culture shift after firing head coach Sean Miller. One of the top programs in the country now has to reinvent itself, which is quite the task. As a whole, the Pac-12 shocked college basketball fans in the 2021 NCAA Tournament. They had a solid record after the first weekend, and UCLA made it all the way to the Final Four.
With plenty of stars returning, the conference will be pivotal in determining who will have a solid 2021-22 season. This gives Arizona a chance to shake things up after finishing fifth in the conference last season. One way to compete in the conference and change the culture is by bringing in transfers, which is what the Wildcats are doing.
Justin Kier is looking to shake things up with his third collegiate team. The George Mason star started every game for Georgia after transferring. With a COVID-19 year keeping him eligible, he will play his sixth year of college basketball with the Wildcats. Arizona has +5000 odds to win it all, but they need smaller goals. Can Kier help the Wildcats win the conference?
What the Arizona Wildcats Need
First and foremost, Arizona needs leaders to help them with this identity shift. Sean Miller has been the head coach of the Wildcats since 2009. The next few seasons will determine if his success is continued or if a blue-blood program falls by the wayside. Tommy Brown recruited Kier with a key focus in mind. Regardless of his success, the senior will only play for one season. He won't be there when Arizona inevitably makes it back in the title conversation. Instead, he will be there when they are building the foundation.
With 50-1 odds to win the national championship, Arizona needs to focus on simply building the foundation. If they can prove that they are still a solid team, it will be easier to recruit over the course of Brown's tenure. Arizona needs leaders to set the standard in Tucson. That's why they recruited senior transfers. While that's what Arizona needs, is that necessarily what Kier can do?
Justin Kier's Skillset
The one thing that only Kier can bring is experience. He's has more starts under his belt than most rosters. Over 100 starts is ridiculous, but that's what happens when you play college ball for five years. Kier has also had to adjust to new schemes before. After he transferred to Georgia, he became more of a perimeter threat and saw a change in his production. While this wasn't his best skill, it shows that he is versatile.
Kier can attack the basket, and this is where he's at his best. Now that he's proven to be somewhat of a threat from deep, it should be easier to drive and distribute. He can be a primary scorer like he was for George Mason, or he can thrive in a particular role like he did for the Bulldogs. At his size, Kier needs to be able to score outside. However, he has to be more efficient than he was for Georgia. He was forced into that role in Athens, and it needs to be more natural for the Wildcats. If he can do that, he will be a key player for Arizona.
Can Kier Carry Arizona to a Conference Title?
According to top sportsbooks, Arizona is not the frontrunner in the Pac-12. That would go to UCLA. Behind them is Oregon, who should have a solid roster. To win the conference, Arizona will have to be better than both of these teams. Arizona is capable of winning the Pac-12, but it is more likely that they are competitive down the road.
While Kier can be a solid player on a tournament team, he won't be the sole reason why Arizona would win the Pac-12. Even when you add in the intangibles, he's not the guy to close the gap in talent. The Wildcats want to be competitive now, and Kier makes them a better team, but they need to wait before they expect to win conference titles.